US-Bangla plane crash death toll now 49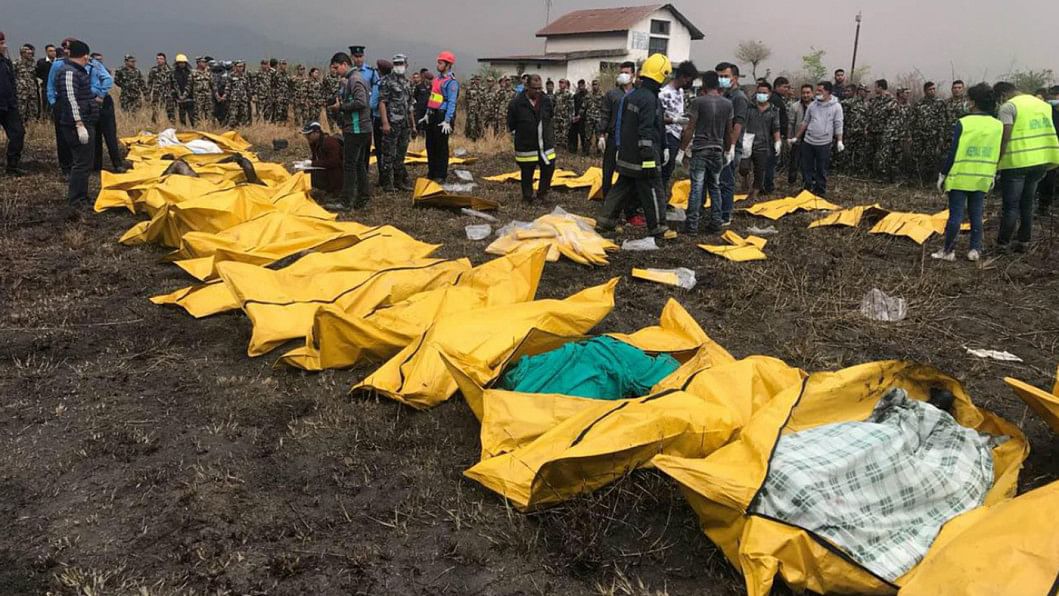 --Total 71 people were on board
--26 Bangladeshi, 21 Nepalis, 1 Chinese and 1 Maldivian are killed
--33 Nepalis, 32 Bangladeshis, 1 Chinese, 1 Maldivian were in the aircraft
--The passengers included 37 males, 27 females, 2 children
-- Black box recovered
-- Tribhuvan airport reopens hours after closed
-- Probe committee formed
At least 49 people were killed as US-Bangla aircraft crashed at Tribhuvan International Airport in Kathmandu today.
Raj Kumar Chhetri, general manager of the airport, told The Daily Star that 49 people – 26 Bangladeshis, 21 Nepalis, one Chinese and another Maldivian -- were killed in the aircraft crash.
The airliner crashed after making an unexpected turn in cloudy weather as it came in to land at the airport, Reuters adds.
There were 71 people on board the plane arriving from Dhaka when it clipped the fence at Kathmandu and burst into flames, said the general manager of the hill-ringed airport.
The plane crashed at 2:18 pm local time.
The 78-seater Bombardier Dash 8 Q400 took off around 12:30pm from Hazrat Shahjalal International Airport in Dhaka with 71 on board -- 67 passengers and four crews, said US-Bangla airlines' General Manager of Marketing (support) Kamrul Islam.
The black box of the aircraft was recovered, Raj Kumar Chhetri said. 
Black box, or a flight recorder, is a device that records information about the performance of an aircraft during flight.
Kamrul Islam, told AFP that 33 of the passengers were Nepali, 32 were Bangladeshi, one was Chinese and one from the Maldives. The passengers included 37 males, 27 females and 2 children.
"All of a sudden the plane shook violently and there was a loud bang," one of the survivors, Basanta Bohora, told the Kathmandu Post daily. "I was seated near a window and was able to break out of the window."
The accident was the latest to hit mountainous Nepal, which has a poor record of air safety. Small aircraft ply an extensive domestic network and often run into trouble at remote airstrips, reports Reuters.
Nepal Police Spokesperson DIG Manoj Neupane told the Kathmandu Post that 22 injured passengers are undergoing treatment at various hospitals in Kathmandu. Twelve passengers have been admitted at Kathmandu Medical College Hospital, Sinamangal, four at Norvic Hospital, Thapathali, three at Grande Hospital, Dhapasi, one at Om Hospital, Chabahil and one at Medicity, Bhainsepati.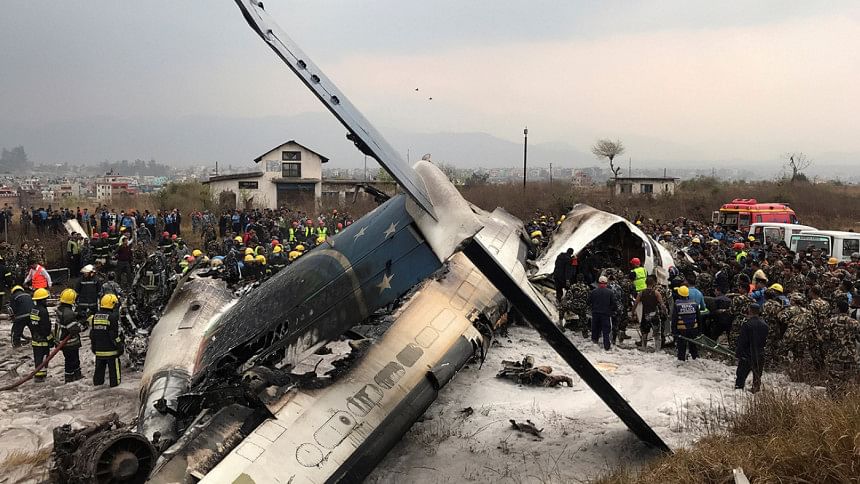 The aircraft was out of control while attempting to land on the runway, Director General of Civil Aviation Authority of Nepal (Caan) Sanjiv Gautam, told the Nepalese daily.
Meanwhile, US-Bangla Airlines Chief Executive Officer Imran Asif said the wrong signal from air traffic control (ATC) tower of Tribhuvan International Airport led to the aircraft crash.
"The ATC (air traffic control) tower misguided our pilots. They (pilots) didn't know where to land on the runway," he said.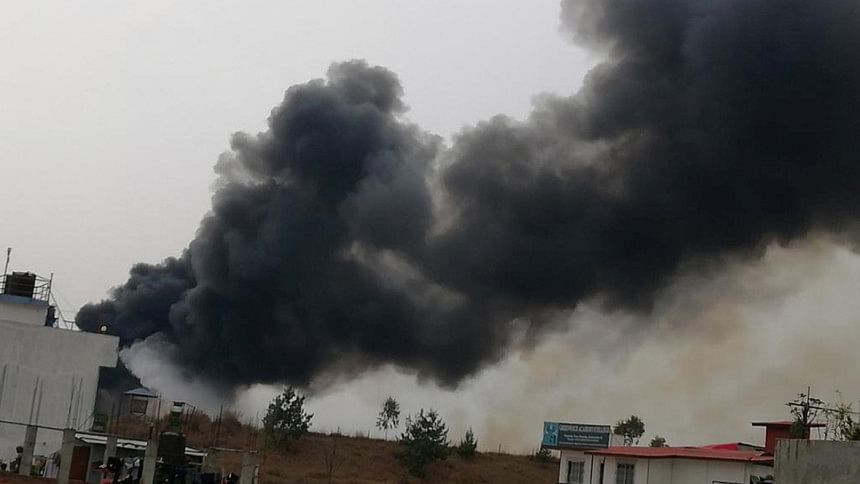 The aircraft that went down on Monday was 17 years old, data from tracking website Flightradar24.com showed. It descended to an airport altitude of 4,400 feet (1,341 m) and then climbed to 6,600 feet (2,012 m) before crashing about two minutes later, the website said.
The two pilots and two cabin crew were Bangladeshi nationals, Kamrul Islam said further.
The Tribhuvan International Airport (TIA) was declared closed following the crash, the TIA GM said. But, the airport authorities resumed its operation hours after its closure.
On March 4, a Jessore bound US-Bangla Airline's plane made a safe emergency landing in Dhaka.
US-Bangla Airlines is a private carrier that launched in July 2014 with the motto "Fly Fast Fly Safe", according to its website.
The Dhaka-based airline made its first international flight in May 2016 to Kathmandu, and has since expanded with routes to South Asia, the Middle East and Southeast Asia.
In 2015, one of its planes overshot the runway on landing at Saidpur in northwest Bangladesh. There were no reports of injuries.
Investigation team formed
Civil Aviation Authority of Bangladesh (CAB) has formed committee to investigate the aircraft crash.
The team has been formed with the members of Aircraft Accident Investigation Group, Rezaul Karim, CAB public relations officer, told The Daily Star.
The team will jointly work with the team formed by the Civil Aviation Authority of Nepal, he added.
Two members of the team already left Dhaka for Kathmandu, Ziaul Kabir, wing commander and director of flight safety of Hazrat Shahjalaj International Airport, told The Daily Star.
Read More: US Bangla plane crash in photos