Nusrat murder: Ex-madrasa principal, 15 others get death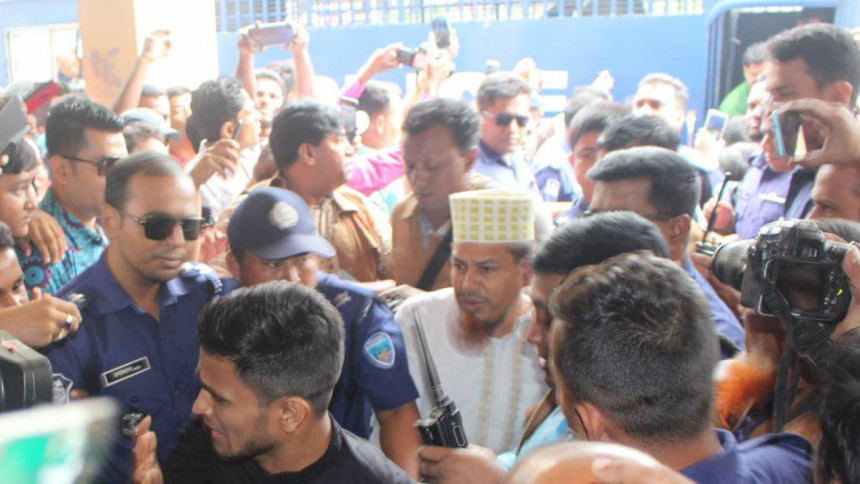 All 16 accused including sacked madrasa principal Siraj Ud Doula and Awami League leader Ruhul Amin were awarded death penalty for killing Feni madrasa student Nusrat Jahan Rafi, who was set on fire in April this year.
The Women and Children Repression Prevention Tribunal in Feni fined all the accused Tk 1 lakh each, our Feni and Brahmanbaria correspondents report from the spot.
The condemned convicts are: former madrasa principal Siraj, former vice-president of the madrasa governing body and Sonagazi upazila Awami League president Ruhul Amin, former member of the governing body and acting general secretary of Sonagazi municipality unit AL Maksudul Alam, madrasa teachers Abdul Kader, and Afsar Uddin, madrasa students Saifur Rahman Mohammad Zubayer, Javed Hossain alias Shakhawat Hossain,  Kamrunnahar Moni, Umme Sultana Poppy, Abdur Rahim Sharif, Iftekhar Uddin Rana, Imran Hossain Mamun, Mohiuddin Shakil, Mohammad Shamim, Nuruddin, and Shahadat Hossain Shamim. Maksudul is also a councillor of Sonagazi municipality.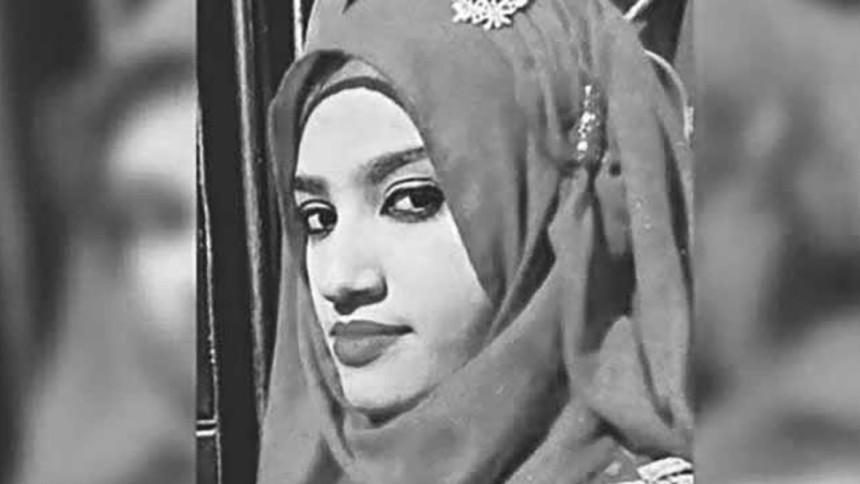 Following the verdict, all the accused were taken to the prison van escorted by tight security and sent back to the jail.
The court premises were brimming with family members and relatives of the accused who broke out in chaos as the accused were being transported through the prison van.
The convicts, except for former madrasa principal Siraj, were all seen screaming and shouting and created further chaos from inside the van as they were being driven away from the court premises.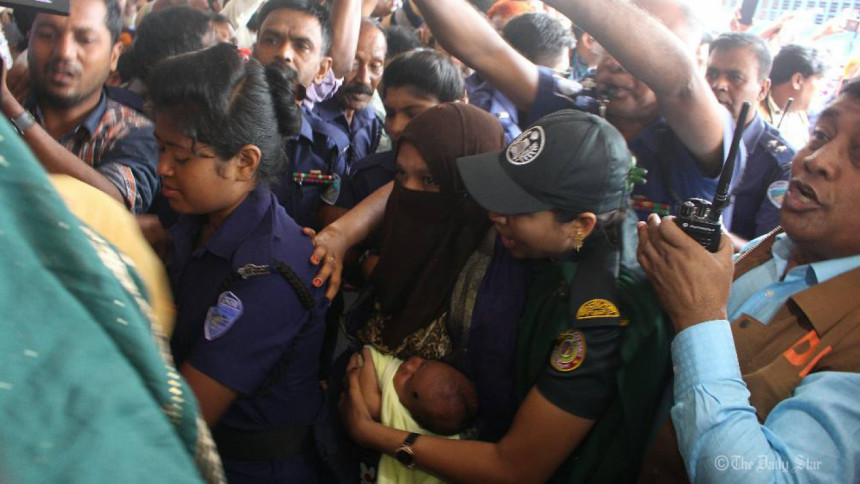 After the verdict, defence lawyer Giasuddin Nannu said all the 16 convicts will file appeals within seven days while Nusrat's brother Mahmudul Hasan Noman expressed satisfaction and demanded immediate execution of the judgement.
HOW WAS NUSRAT KILLED?
Nusrat, an Alim examinee of Sonagazi Senior Fazil Madrasa, was sexually harassed by madrasa principal (now sacked) Siraj Ud Doula on March 27. After the incident, her mother filed a case against Siraj, who was later arrested and sent to jail. 
Since the arrest, the principal's associates were threatening Nusrat's family to withdraw the case. But the family did not do so.
On April 6, Nusrat was set on fire when she went to the madrasa to sit for an exam in the madrasa building.
Around 80 percent of her body was burnt. After fighting for her life for five days, Nusrat died at Dhaka Medical College Hospital on April 10, which triggered a huge public outcry across the country.
On May 29, the Police Bureau of Investigation pressed charges against 16 accused.
Of them, 12 gave confessional statements before the court, according to the prosecution.
Trial of the case began on June 27. The court recorded statements of 87 witnesses. On September 30, the tribunal fixed October 24 (today) for delivering the judgement in the case, he added.