Nusrat murder: Another accused remanded
Md Shamim, an accused in madrasa student Nusrat murder case, was placed on a five-day remand by a Feni court today.
Senior Judicial Magistrate Sharafuddin passed the order after Shamim was produced before the court with a seven-day remand prayer, our Feni correspondent reports quoting PBI Inspector Md Shah Alam, also investigation of the killing case.
Md Shamim was arrested from Dhaka yesterday, the PBI inspector said.
In another development, another arrestee, Hafez Abdul Kader, was produced before the court this afternoon to give his confessional statement over the incident.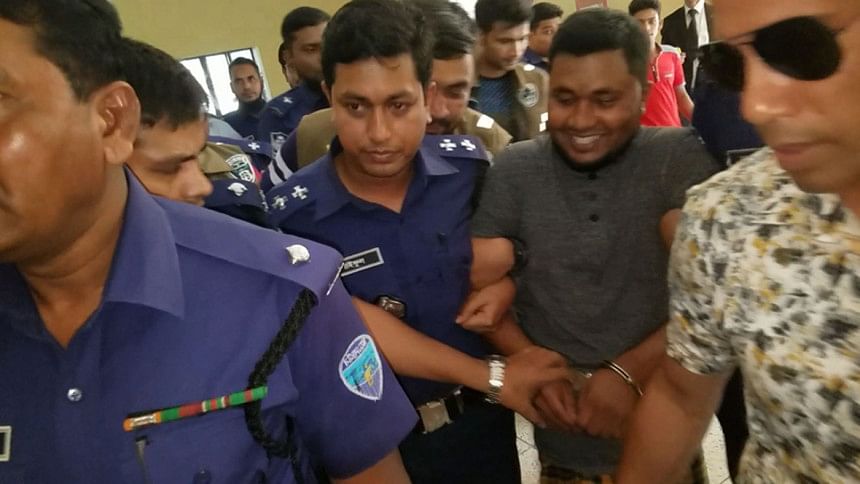 The PBI arrested Kader from Dhaka's Kamrangirchar area last night, said the inspector.
A total of 18 people were as arrested for their alleged involvement in murder of Nusrat Jahan Rafi, the PBI said.
Madrasa student and Alim examinee Nusrat lost her battle for life, five days after she was set afire on April 6 -- an incident that touched off outrage all over the country.
A group of five people poured kerosene on the 18-year-old girl and set her afire allegedly for refusing to withdraw a case against the principal of Sonagazi Islamia Senior Fazil Madrasa over sexual assault on her late last month.
Principal Siraj Ud Doula has been in jail since Nusrat's mother filed a case accusing him of sexually harassing Nusrat at his office room on March 27.