Monkeys, vulture, civet rescued in Dhaka, Panchagarh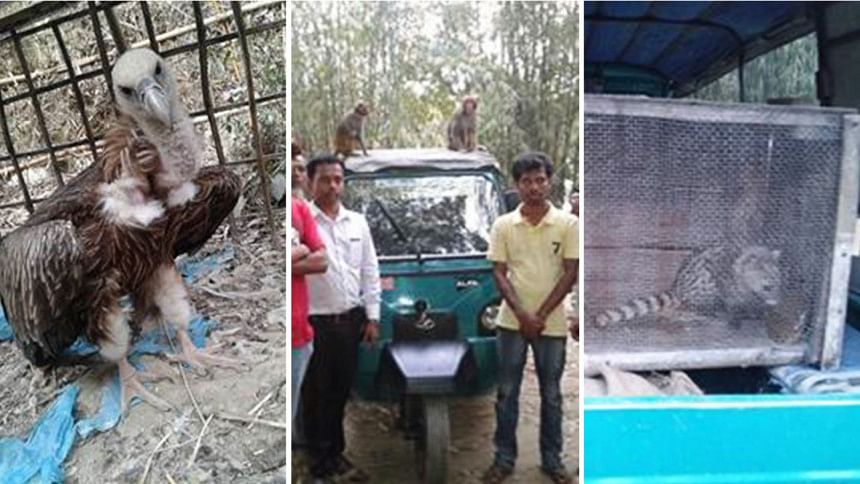 Wildlife department today rescued three Rhesus monkeys, one Indian civet, a griffon vulture and some other wild birds in separate drives through Dhaka and Panchagarh.
As per Bangladesh Wildlife (Protection and Safety) Act 2012, trapping, selling, buying, consuming or caging wild birds is a punishable offence.
In Panchagarh, three Rhesus monkeys, one Indian civet and Griffon vulture were rescued from a park, said Wildlife Inspector Asim Mallick of Dhaka Forest Department, who led the drive.
Quoting the park owner, he said, "The novice park owner claimed not to know if keeping the animals were punishable offence or not, and handed over those to us."
The vulture needs primary treatment while others will be freed in Bodashal Forest in Panchagarh, he added.
In Dhaka's Wari, a mobile team of Wildlife Division led by wildlife inspector Nigar Sultana conducted a drive and rescued two rose ring parakeets and sparrows each from a group of bird vendors, said a forest department press release.
None could be detained as everyone managed to flee the scene sensing their presence, the release added. The birds will be freed at Bhawal Forest in Gazipur.
On information, they also rescued a black kite from Gopibagh area in the capital.