Human chain demands relief material in Panchagarh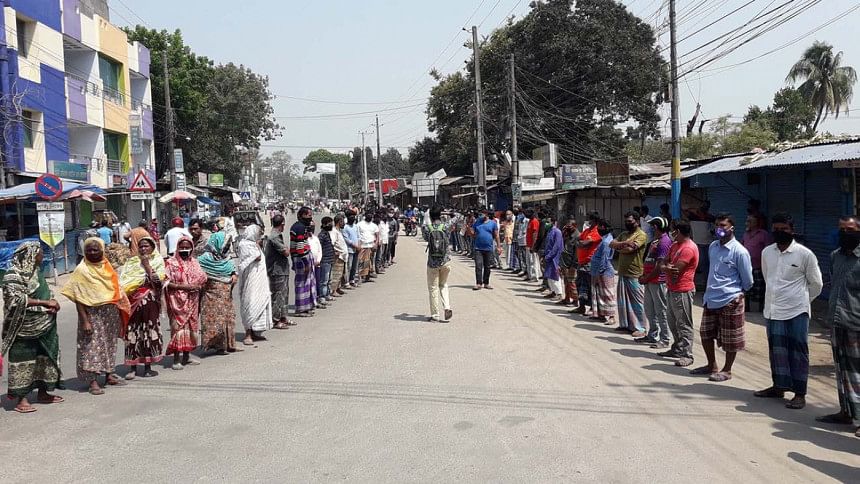 People of low-income groups, including daily wage earners, formed an hour-long human chain at Chowrangi intersection in Panchagarh town on Panchagarh-Dhaka highway this afternoon, demanding relief material immediately.
At the human chain, they alleged that they have been jobless for about 14 days due to the countrywide shutdown to stop the transmission of Covid-19.
Despite government declaration of ensuring food for all during these difficult times, they are yet to get relief assistance from any quarter, they claimed.
Though the local representatives enrolled their names about 10/12 days ago and took copies of their identity cards, they are yet to provide food assistance, they alleged.
Expressing solidarity, Sadar Upazila Vice-Chairman and also President of Panchagarh municipality unit of Awami League Kazi Al Tarique, President of municipality unit of Jubo League Hasnat Md Hamidur Rahman, President of Panchagarh District Press Club Anis Prodhan spoke at the event.
When contacted, Deputy Commissioner of Panchagarh Sabina Yasmin told this correspondent over phone that it's not true that the low-income groups are not getting relief assistance.
The UNOs of five upazilas are distributing relief materials with coordination of local public representatives.
At least 30,645 families of the district have already been provided relief assistance and distribution is on as per list made by local representatives.
After the massive drive of relief distribution if anyone was deprived, they have been asked to call the hotline number, the DC said.