Anti-hartal human chain formed in Gulshan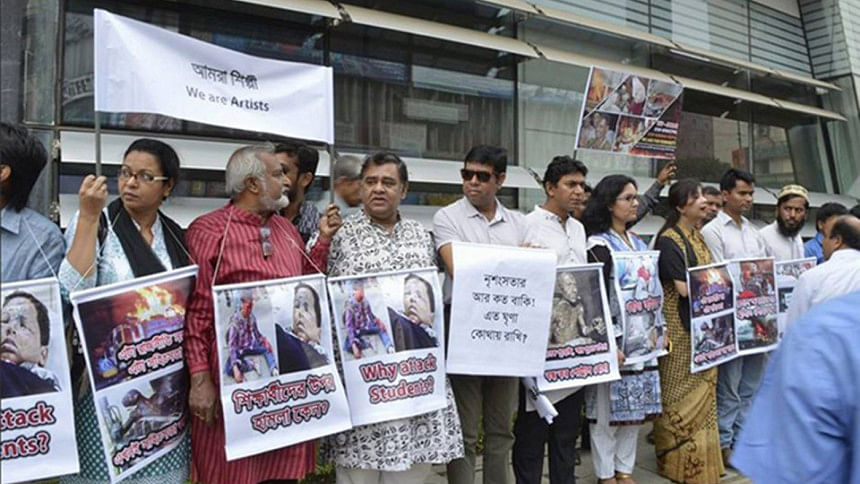 People from different professions formed a human chain at Gulshan-2 intersection in Dhaka today in protest against BNP-led 20-party alliance's ongoing countrywide hartal and blockade.
Freedom fighters, students and teachers, cultural activists and day labourers formed the human chain around 10:30pm, reports our correspondent from the spot.
Around 500 people carrying several types of placards, banners, and festoons with anti-hartal and blockade slogans took part in the human chain that extended up to Kemal Ataturk Avenue.
Noted cultural activists Syed Hasan Imam, Tarana Halim and many others took part in the human chain.
Using loud speakers, the participants said the country is engulfed with acts of criminalism all in the name of political programmes like hartal and blockade.
People do not want repetition of such violent and subversive acts in the name of hartal and blockade, the speakers said, adding that they want to see the end of such political programmes immediately.
They will bring out a silent procession from the intersection and will march towards Khaleda Zia's Gulshan office demanding the immediate withdrawal of hartal and blockade.
The political situation of the country heated up once again, a year after the January 5 elections since the start of this year with the 10th polls' first anniversary – the day ruling Awami League labels as "democracy saving day" and the BNP as "democracy killing day".
On January 5, the BNP-led 20-party alliance called the nonstop blockade protesting the government's resistance on holding their rally marking that day.
Moreover, the alliance is enforcing hartal on top of the blockade.
The blockades and shutdowns have been marked with mindless violence, arsons and train derailments that have claimed 74 lives so far and disrupted education and businesses.