Live update: UP polls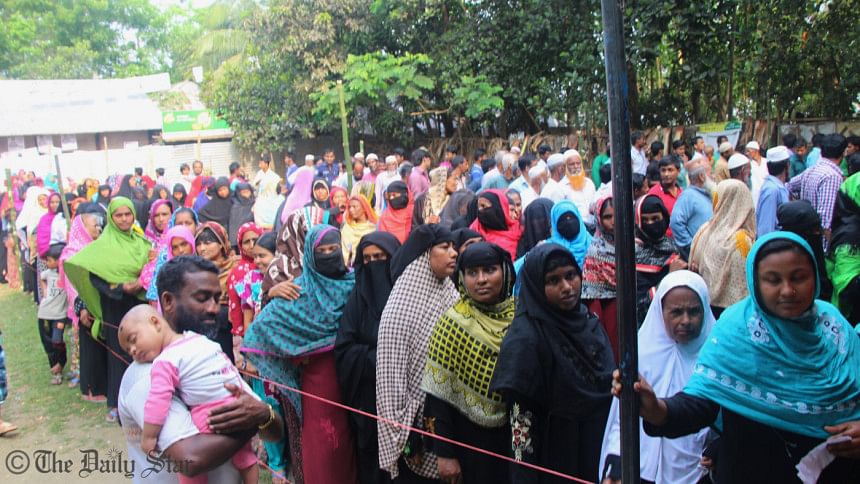 The second phase of the Union Parishad (UP) elections began this morning as 639 unions of 47 districts go to polls. Over 1.12 crore voters will be eligible to exercise their vote under nearly 6,200 polling stations. The UP polls are being held on partisan lines for the first time.
Follow The Daily Star's Twitter account for live updates @dailystarnews.
4:10pm: Two people killed in post-poll violence at Swandip upazila of Sitakunda
4:00pm: The second phase of the Union Parishad election ends. 
3:45pm: 15 polling stations were closed countrywide, returning officials submit written statement to EC. Three polling stations were also said to have been closed, Senior Assistant Secretary Farhad Hossain.   
3:30pm: Four BNP nominated candidates boycott election in four unions of Natore, citing alleged vote rigging.
12:30pm: Man killed in clashes between supporters of rival candidates in Chanchara union, Sadar upazila of Jessore.
11:30am: BNP polling agents forced out of Banglanagar Government Primary School polling center in Taranagar union of Keraniganj upazila. Upon visiting, The Daily Star reporters only found polling agents of ruling AL in the center.
11:15am: Man is killed in a clash between supporters of two member candidates in Shyampur union of Melandah upazila in Jamalpur.
10:00am: AL-nominated candidate's son detained with explosives in Barura upazila of Comilla.
09:30am: 10-year-old boy is killed in a gun attack allegedly by the supporters of a candidate at a polling centre in Keraniganj.
8:30am: Violence halts voting in Aria govt primary school centre in Aria union of Daultapur Upazila in Kushtia.  Polls resumes after 17 minutes.
8:00am: Voting begins in second phase of the UP polls
7:30am: Miscreants try to snatch ballot boxes at a polling centre in Nayanagar union of Melandah upazila of Jamalpur. Voting remains suspended there.