Polls violence due to social instability
Claims CEC; AL sings similar tune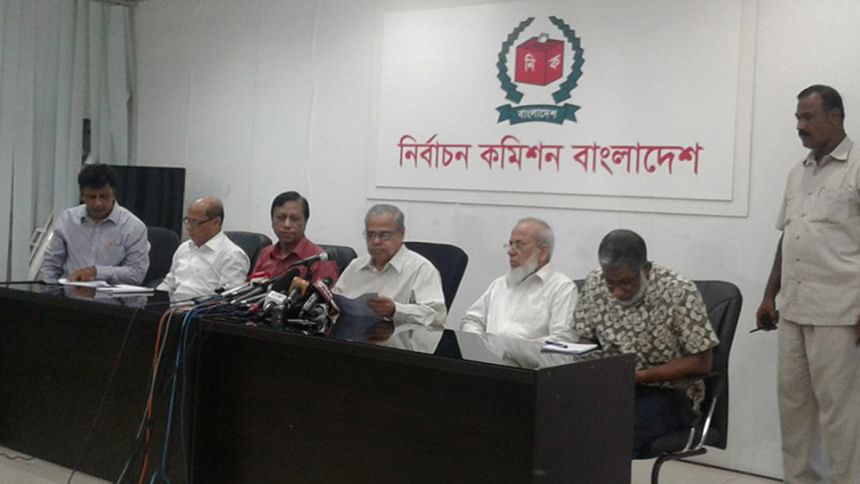 Social instability and rigid stances of union parishad polls candidates were responsible for the election violence, claimed Chief Election Commissioner Kazi Rakibuddin Ahmad yesterday.
"Unrest is witnessed at every layer of our society and this is one of the major causes for the poll violence … we have to bring a change in our social concept," Rakibuddin said at a post-polls press conference at the EC Secretariat when asked who was responsible for the deaths of over 100 people during the union parishad polls.
The CEC came up with the response hours after ruling Awami League Joint General Secretary Mahbubul Alam Hanif made a statement with a similar tune. He had blamed social conflict and instability for violence in the UP polls.
After a meeting at the AL chief's Dhanmondi office around 11:30am, Hanif said no government wants violence as it tarnishes the image of the government.
"All the political parties along with the ruling party should come forward to face such sort of unrest," he added.
The BNP, meanwhile, alleged that both the government and the Election Commission (EC) were responsible for the irregularities and violence during the UP elections.
CEC Rakibuddin said the situation has "definitely improved" in the last phase of the polls as they had been able to stop the election-eve ballot box stuffing. 
"The value of life is coming down while the cost of everything is going up. We are witnessing minors being killed over silly social feuds," he said.
Referring to media reports on election violence, he said apart from some stray incidents, voting in yesterday's polls was fair and peaceful.   
He said the EC does not want to see any deaths but it some times has to take appropriate measures to protect voting centres, the voters, electoral officials and assets of the states.
He said the union parishad polls were more competitive than others and it was one of the reasons for the deaths.
The CEC also blamed the rigid attitudes of candidates. He said some candidates had tried to win the race at any cost disregarding what the voters thought of him or her.
BNP'S REACTION
BNP Vice-Chairman Selima Rahman, after a meeting with the CEC at his office, yesterday alleged that the government and the EC were responsible for the irregularities and violence during all phases of the UP polls.
She alleged that in every election they filed complaints with the CEC and every time he told them that he was taking measures but the situation remained unchanged. 
She said the EC was not working fairly as it was working under the Awami League-led government.