LIVE: Gulshan hostage crisis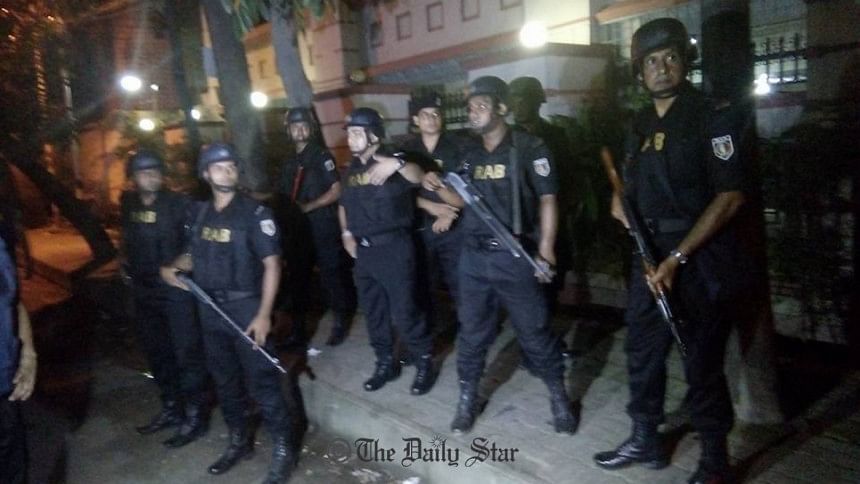 Last updated, Bangladesh Army, paramilitary Border Guard Bangladesh, police and elite force Rapid Action Battalion pushed a joint drive to end the hostage crisis at Gulshan.
So far, 13 people have been rescued. Confirmed casualty toll still stands at two - the two police officers who were shot after midnight.
Our correspondents are reporting LIVE from the spot.
2:28pm: 13 ambulances have entered the cordoned-off area that is Holey Artisan Bakery in Gulshan Road no-79.
1:39pm: 20 hostages were killed beforehand, ISPR says in press briefing without mentioning identities or nationalities. They were mostly killed by sharp weapons.
1:31pm: 9 tanks and 9 jeeps of Bangladesh Army leaving the attack spot in Gulshan.
1:30pm: ISPR briefing media.
1:20pm: ISPR briefing set to begin in moments. Brig Gen Nayeem Ashfaque Chowdhury, director of military operations, will brief the media. With him, Lt Col Md MN Imrul Hassan, captain of paracommando unit, Mujibur Rahman, commander of 46th battalion, and media representatives of Rab, BGB, Bangladesh Navy and Bangladesh Air Force will be present.
1:08pm: Bodies of killed policemen - Banani police Officer-in-Charge Salauddin Khan and Robiul Islam, assistant commissioner of Uttara zone Detective Branch - have reached Dhaka Medical College Hospital morgue.
11:55am: Inter-Services Public Relation (ISPR), the mouthpiece of the military, will hold a press briefing at Dhaka Cantonment at 12:30am, a press release says.
BREAKING: Japanese government says 1 Japanese rescued, 7 unaccounted for in Bangladesh restaurant attack

— The Associated Press (@AP) July 2, 2016
11:50am: 13 rescued, 6 gunmen killed and one held captive, Prime Minister Sheikh Hasina says.
11:25am: Law enforcers take three handcuffed people away, witnesses say. It is not clear who they are.
11:00am: Another explosion heard. It is being speculated that it is the law enforcers who are diffusing the bombs now.
10:25am: No officials are willing to comment on record now. But, according to sources, law enforcers took control of the hostage situation around 8:20am. A police-barricade to the site was withdrawn around 9:00am. 
10:15am: It appears that the hostage crisis has ended. Journalists and police are going in and out of Holey Artisan Bakery now. Now and then, bangs of bomb diffusal area being heard. No official confirmation though.
9:40am: A big explosion-like sound heard.
9:20am: Rab members, who got a look in the inside of the restaurant, tell our correspondents on condition of anonymity there were about five blood-splattered bodies. It was not clear whether they were dead.
9:18am: Among the rescued are Indian and Japanese nationals. Some of them are injured, says Md Jashim, a deputy commissioner of Dhaka Metropolitan Police.
9:15am: Bangladesh Army's operation underway. 13 hostages rescued so far, says Lt Col Tuhin Mohammad Masud, commanding officer of Rapid Action Battalion - 1.
9:12am: Chiefs of Bangladesh Army and Bangladesh Navy leave the site.
8:45am: An ambulance driven by Rapid Action Battalion men carrying one injured is seen passing by. 
8:15am: An ambulance of Rapid Action Battalion is seen to pass by carrying one injured. 
7:51am: Loud noises of probable bomb blasts heard. 
7:48am: Security forces making violent gunfires at the spot. Loud screams are being heard. 
7:40am: Security forces begin offence against the armed assailants in Holey Artisan Bakery in Gulshan. Armoured cars are deployed.
5:05am: Seven Italian nationals are thought to be among the hostages, Italian state television said quoting the Italian ambassador to Bangladesh.
4:45am: Law enforcers ask journalists and relatives to move away further from Holey Artisan. The reason is not clear though.
3:58am: A young man was seen being carried out by law enforcers from the direction of the restaurant. He did not have any shirt and seemed to have been wounded, maybe from bullets.
"He seemed to be dozing," said one of our correspondents.
3:41am: Two hostages, an Argentine and a Bangladeshi citizen, have been claimed to be rescued by law enforcers. 
1:26am: Islamic State claims responsibility of Gulshan attack, SITE Intelligence Group reports.
1:08am: Another cop casualty confirmed. Robiul Islam, assistant commissioner of Uttara zone Detective Branch, has died in the shooting, top police officials confirms The Daily Star
12:29am: Police now trying to communicate with the criminals for negotiation, top police official tells The Daily Star seeking anonymity.
12:14am: Banani police Officer-in-Charge Salauddin Khan, who was injured earlier during the gunfire exchange, has been declared dead, a top official at Dhaka Metropolitan Police (DMP) confirms The Daily Star.
12:05am: Heavily armed police preparing an entry with armoured vehicles.
11:57pm: "Some people being held hostage at gunpoint inside the restaurant," Monirul Islam, additional commissioner of Bangladesh's counter terrorism unit, tells The Daily Star.
11:56pm: Sumon Reza, a kitchen staff of Holey Artisan Bakery, who managed to escape, says an Argentinian and another Italian are among those held hostage inside the restaurant.
11:49pm: US and UK issue alerts for its citizens in and around the Gulshan zone.
    

Reports of shooting and hostage situation in Gulshan 2, Dhaka. Please shelter in place and monitor news.

    — U.S. Embassy Dhaka (@usembassydhaka) July 1, 2016
11:26pm: News comes from Dhaka Medical College Hospital. Two including a policeman and a pedestrian, injured during Gulshan face off, are being treated at the hospital.
11:19pm: Rab Director General Benzir Ahmed urges televisions against live coverage citing security reasons.
11:15pm: Md Suhrawardy, a businessman, who lives nearby says his family informed him of the crisis around 8:40pm. They told him not to go home and that they too heard "Allah hu Akbar" screams before several blasts. The lights of the bakery was out at that time.
11:14pm: Dhaka police Additional Deputy Commissioner Ahad, Banani police officer-in-charge among several law enforcers injured, says Mizanur Rahman, senior ASP in the media wing of Rab.
11:02pm: Cops preparing for a counter offensive. They are gearing up with bulletproof vests, helmets and firearms at the moment.
11:00pm: Cops have retreated in face of indiscriminate firing and bomb blasts. 
According to intelligence gathered by our correspondent at spot, about five assailants entered one Holey Artisan Bakery restaurant on Road 79 and opened gunfire around 9:20pm.
About 8-10 assailants, armed with pistols, swords and bombs took the chef of Holey Artisan Bakery hostage around 8:45pm, said Sumon Reza, a kitchen staff, who managed to escape.
According to him, the assailants shouted "Allah hu Akbar" before blasting several bombs.