Faraaz, Abinta and Ishrat buried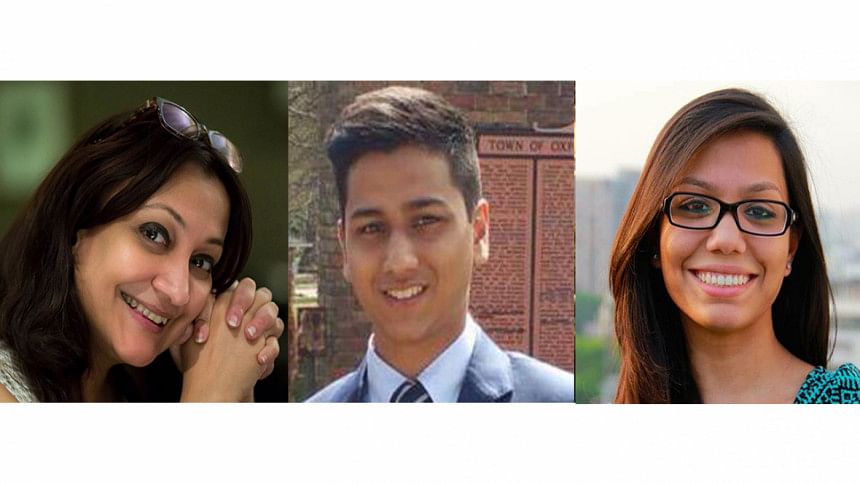 Slain Bangladeshi victims of the Dhaka café attack, Faraaz Ayaaz Hossain, Abinta Kabir and Ishrat Akhond were buried this evening.
Faraaz Ayaaz Hossain and Abinta Kabir were buried at Banani graveyard in Dhaka while Ishrat Akhond was buried at the graveyard of Bangladesh Agricultural Research Institute (BARI) in Gazipur. 
After Asr prayers, the namaz-e-janaza of Ayaaz and Abinta were held at Gulshan Azad Mosque.
The two friends, Ayaaz and Abinta, were among the 20 hostages who were killed during the 12-hour long siege at Holey Artisan Bakery at Gulshan on July 1.
Among others, Prof Emeritus Anisuzzaman, Water Resources Minister Anisul Islam Mahmud, Dhaka North City Corporation Mayor Annisul Huq and former state minister for foreign affairs Abul Hasan Chowdhury were present during the prayers at Gulshan Azad Mosque.
Faraaz was the grandson of Latifur Rahman, chairman of Transcom Group, and Shahnaz Rahman. He was the son of Simeen Hossain and Muhammad Waquer Bin Hossain.
Abinta and Faraaz both were students at Emory University in Atlanta, and had come to Bangladesh for the summer to visit family and friends.
Among other, Ishraf's brothers Yusuf Hayat Akhond, the chief scientific officer of BARI, and Ali Hayat Akhond, her maternal uncles Justice Obaidul Hassan, Sajjatul Hassan and Saiful Hassan were present, while she was buried after second namaz-e-janaza in Gazipur.
Earlier around 10:00am, Prime Minister Sheikh Hasina paid her homage to the victims at the stadium.