Chawkbazar Tragedy: National mourning today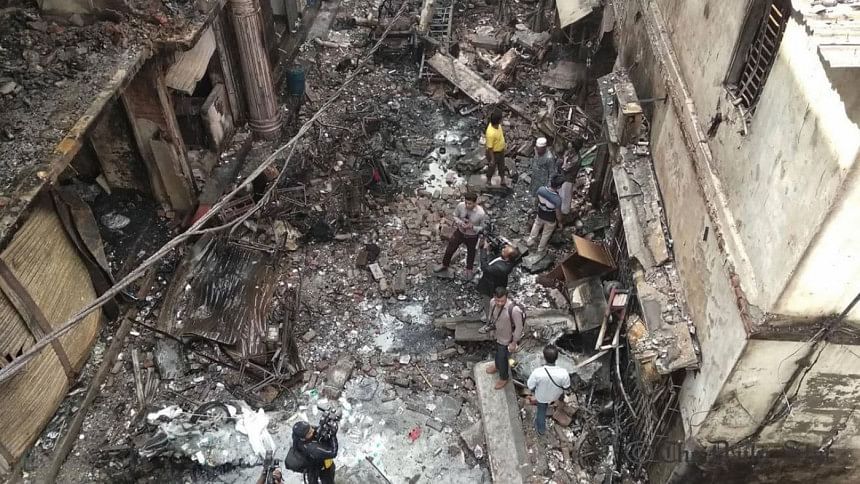 The nation is holding a one-day national mourning for the victims of Chawkbazar fire that claimed 67 lives on Wednesday and Thursday.
The Cabinet Division yesterday issued a circular asking all government, semi-government, non-government and autonomous organisations to keep the national flag at half mast.
Meanwhile, the parliament yesterday unanimously adopted a condolence motion expressing profound grief at the deaths.
Speaker of the parliament Shirin Sharmin Chaudhury moved the motion in the House and prayed for the eternal salvation of the departed souls.
She also expressed her sympathy to the bereaved family members of the victims and wished early recovery to the injured.
The fire was originated from a gas cylinder blast and instantly fueled-up by chemicals that were stored in nearby buildings.
One such chemical warehouse was situated on the basement of the Haji Wahed Mansion.
After receiving strict directions, the authorities shifted the chemical storage of the Mansion to Keraniganj.
Ibrahim Khan, deputy commissioner of Lalbagh police, said the drive to remove chemicals from the old town would continue in association with Dhaka South City Corporation and other authorities.
Electricity connection in the area had been disrupted because of the inferno since Wednesday. Yesterday, it was restored.
A probe committee, formed by Ministry of Home Affairs, visited the spot yesterday and collected evidence.
Pradip Ranjan Chakrabarty, additional secretary for Security Services Division under the home ministry, said they gathered information from primary and secondary sources and would prepare a report based on those findings.
Urging everybody to stop playing blame game, former information minister Hasanul Haq Inu said immediate actions should be taken to relocate the chemical warehouses form the old town.
Inu termed the Chawkbazar fire a "humanitarian disaster" and "failure of urban planning and management in the city".
He said, "The government, administration and businessmen cannot shrug their responsibilities of the fire."
Elsewhere, father of Tanjil Hasan Rohan -- Mohammad Hasan -- was seen searching Rohan with his photograph in hand yesterday, the way he spent his days since the blaze broke out.
Tanjil went to the spot with his friends on the fateful night but never returned, Hasan said.
"I have not found my son," he shed tears.
Many of the bodies charred beyond recognition.