Traders fume at chemical drive
Taskforce against illegal warehouses, factories in Old Dhaka face protest, drive resumes after mayor's intervention
The authorities on several occasions after 2010 Nimtoli fire urged the traders of Old Dhaka to relocate their chemical factories and warehouses from residential areas. But they did not pay heed to the repeated requests.
And when the government is going for tough action against such hazardous establishments after the deadly Chawkbazar fire, a section of them are creating obstacles to the move.
A taskforce comprising officials of 14 government agencies was forced to suspend their operation in the face of angry protests from local traders in Bakshibazar, on the second day of the month-long crackdown.
The drive resumed after around two hours following direct intervention of Dhaka South City Corporation Mayor Sayeed Khokon. Another taskforce, however, carried out its work in Shaheednagar area without hindrance.
On Monday, the mayor announced that a month-long crackdown would be launched against warehouses of "dangerous chemicals", and utility lines of 21 such establishments in Shaheednagar and Islambagh were snapped on Thursday.
At least 71 people were killed and scores injured in a chemical-fed fire in Chawkbazar on February 20, forcing the government to act against chemical factories and warehouses in the old town.
PROTEST IN BAKSHIBAZAR
A taskforce led by Brig Gen Sharif Ahmed, chief health officer of DSCC, started the drive on Joy Chandra Nag Road at Bakshibazar around 11:00am.
They first disconnected utility lines of three buildings for illegally storing plastic raw materials.
But trouble ensued when they attempted to disconnect utility lines of another building housing a plastic factory and several warehouses.
Some 30 to 40 traders along with their staff started chanting slogans against the drive and alleged that they did not get enough time to shift their warehouses and factories.
Abu Motaleb, director of Federation of Bangladesh Chambers of Commerce and Industry, who seemed to be leading the protest, said the taskforce was taking action against the factories and warehouses which do not store 29 "dangerous chemicals" listed by the authorities.
He tried to raise the same issue during Thursday's drive in Islambagh.
"As a member of the taskforce, I am supposed to know about the drive but I was not informed," said Motaleb.
This newspaper could not verify the claim.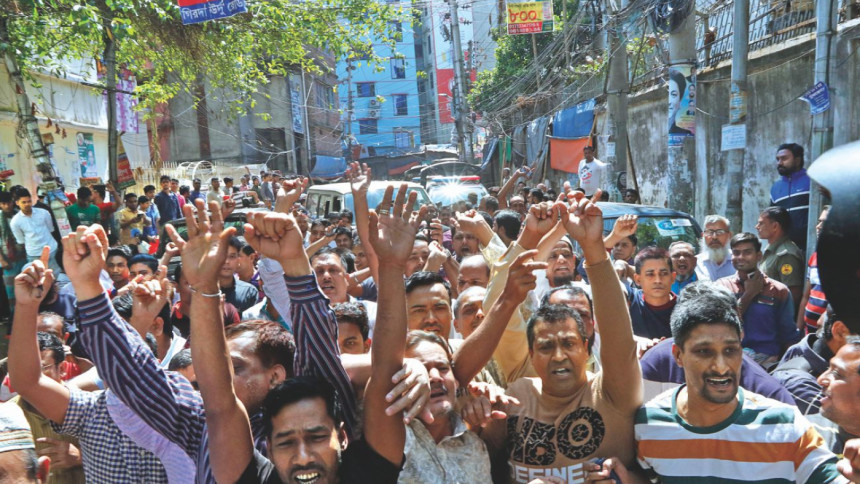 Ali Ahmed, senior vice president of Bangladesh Plastic Babosayee Samity, said the drive against warehouses of raw materials for producing plastic is not acceptable as "those are not flammable".
"If government wants to shift all warehouses and small factories from Old Dhaka, we need time and land," he said.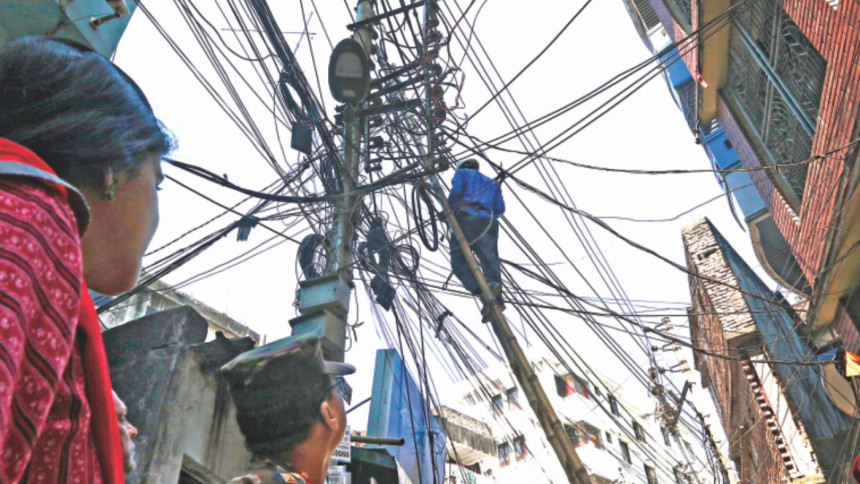 But Easmin Akhter, assistant director of Department of Environment, said those raw materials are flammable and help spread the fire.
She said none of the warehouses and factories has taken any approval from DoE and such establishments in residential areas are totally unacceptable.
In the face of protest, the taskforce, however, left the spot around 12:30pm and returned to the Nagar Bhaban.
MAYOR INTERVENES  
Talking to journalists at Nagar Bhaban around 1:30pm, Khokon admitted that a section of traders were opposing the drive and said he would go to the spot to understand the situation.
"Our drive will continue. I will be present at the scene while the drive will be conducted," he said.
"The city authorities will ensure safety of its dwellers at any cost. We will follow a zero tolerance policy in this regard," he added.
"I will go there [Bakshibazar] and if any warehouses, illegal factories and existence of chemicals are found, action would be taken as per the law. We won't budge an inch from our position."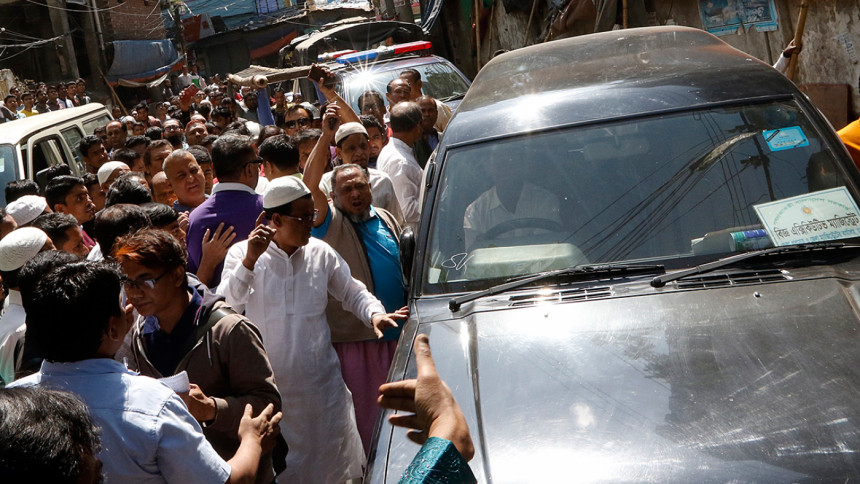 Replying to a question, he said the traders were given nine years after the Nimtoli fire. "Isn't nine years enough?"
Khokon said he and his predecessors on several occasions conducted drives against chemical warehouses and factories in Old Dhaka.
The mayor said they were not destroying or confiscating any goods, they were only disconnecting utility lines considering those building risky.
The traders will get time to move those, he added. 
"If they think everything will calm down after two months and they will continue their businesses as usual, we won't let that happen," he added.
Khokon reached Bakshibazar area around 2:20pm with additional forces and disconnected the utility lines of the building in question.
There are some misconceptions among locals and businessmen here, the mayor said, adding, "Our drive is only against illegal goods and warehouses. No other industries or households will be affected."
The taskforce, however, did not conduct drive to any new building.
After the chemical-fed fire in Nimtoli claimed 124 lives in 2010, the government took up four projects to relocate four types of industries -- chemical, plastic, printing and light electronics -- from this part of the capital.
Around nine years down the line, the implementation of those projects still remains at the preliminary stage mainly due to problems associated with land acquisition and bureaucratic tangles, say officials.
Against this backdrop, the industries ministry selected two temporary sites in the capital and Tongi to relocate chemical warehouses and factories from Old Dhaka.
Industries Secretary Abdul Halim on Wednesday said they would start relocation within the next 15 days.
There are some 4,000 chemical warehouse and factories in the old town, posing serious fire risk to people of the heavily congested area with narrow roads and lanes.
REALITY OF BAKSHIBAZAR
Many buildings in Bakshibazar are used for commercial purposes, violating environmental laws and putting the residences of the area under huge risk, locals said.
"We are living here as the rent of houses in the area is comparatively low," Shahin Sarkar, a resident of Joy Chandra Nag Road said.
The taskforce raided their house but found the warehouse in the building empty.
Shahin said his wife was a teacher of a nearby college and that's why they had to live in this area.
Appreciating the drive, he said, "We have seen flame of the Chawkbazar fire from our house …. We are in continuous fear of fire."
Sumaiya Aktar, another resident of the area, whose building's utility lines were disconnected for housing plastic raw materials, said they are also aware of fire risk but they have hardly any choice.
"It is hard to find a building in the old town without a warehouse or factory," she said.    
DRIVE AT SHAHEEDNAGAR
A taskforce led by Subarna Shirin, assistant commissioner and executive magistrate of the Office of Dhaka Deputy Commissioner, disconnected utility lines of eight buildings in Shaheednagar area yesterday.
"Those buildings were mainly storing plastic raw materials and shoe factories without any approval," Shirin told The Daily Star last night.
They had no environment or fire clearance and some of them were shoe factories taking electricity lines from residential buildings, she added.
She, however, said they did not face any problem in carrying out the drive and it will resume today.