BNP slams Amit Shah; demands withdrawal of his statement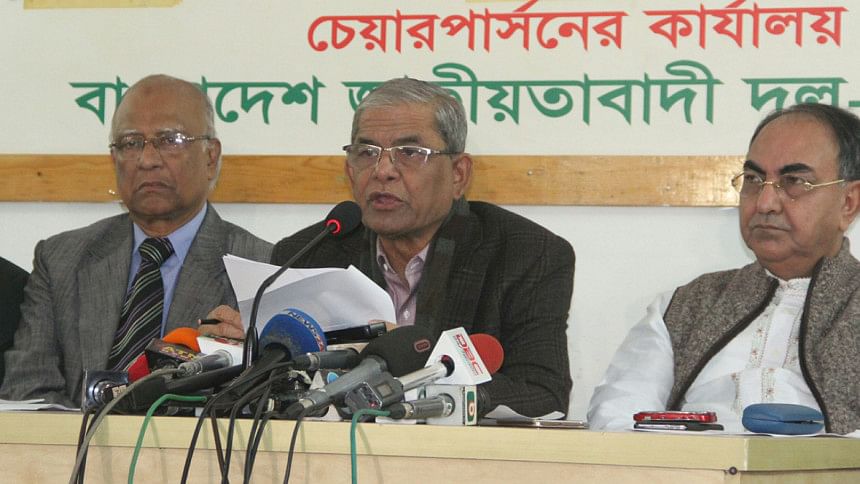 BNP today criticised Indian Home Minister Amit Shah for describing the party as a repressive one and demanded immediate withdrawal of his statement.
Amit Shah, while addressing on the much-talked-about Citizenship Amendment Act in the Indian parliament on December 9, pronounced BNP Chairperson Khaleda Zia's name and blamed her for that she carried out repression on minorities when she was in power, BNP Secretary General Mirza Fakhrul Islam Alamgir said.
Showing the lame excuse, Amit Shah also said the trend of repression on minorities in Bangladesh is still being continued and thus India has forced to pass the Citizenship Amendment Act, Fakhrul said at a press conference at party Chairperson Khaleda Zia's Gulshan office in Dhaka.     
"An untrue speech was given in the Indian parliament about Bangladesh and Bangladesh Nationalist Party.  We expect that the Indian government would withdraw the statement for the greater interest of people of both the countries. And, India would refrain from saying like this in future for the sake of mutual cooperation," the BNP leader said.
Coming down hard on Amit Shah, Fakhrul said the Indian home minister compared Bangladesh with Pakistan and Afghanistan randomly and showed a lame excuse in supporting of the act saying that the religious minorities in Bangladesh are being repressed as Islam is its state religion.
Through his comments, the ruling Bharatiya Janata Party President has attempted to brand Bangladesh Nationalist Party a repressive one deliberately in supporting to the controversial act, the BNP leader alleged.  
"Diplomatically Bangladesh-India relation is now passing through a golden chapter. However, Amit Shah blamed the friendly neighbour for repression on Hindu, Buddhist and Cristian," Fakhrul said.
The political atmosphere in the region is being pushed towards a conflicting situation in a bid to establish a Hindu dominated state, keeping gun on the shoulders of Bangladesh and Bangladesh Nationalist Party, Fakhrul said.
"BNP strongly believes that Indian Home Minister Amit Shah and official spokesperson of the Ministry of External Affairs Raveesh Kumar's statements in this regard are untrue, unprofessional, unilateral, biased, misleading and extremally questionable," Fakhrul said.
Terming the CAA as undemocratic, discriminatory, unconstitutional and against humanity, Fakhrul said the act has been passed in the Indian parliament targeting the Muslim minority in India.  
Fakhrul also blasted the government for its silent role over the National Register Citizens issue and said it is a threat to the country's people and sovereignty as well.
The Bangladesh government is claiming that the issue of NRC is Indian internal matter while Bangla speaking people are being pushed in through different bordering areas from India, the BNP expressed concern over the issue.