Removal of BCL leaders a recognition of corruption: Fakhrul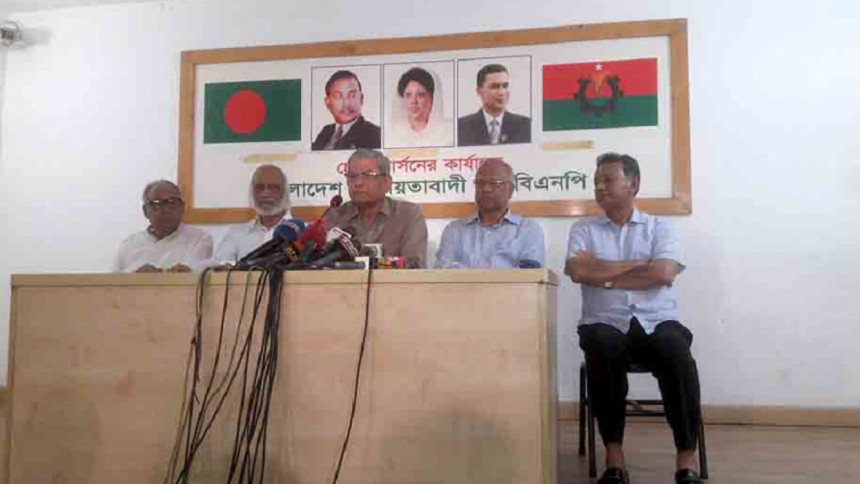 BNP Secretary General Mirza Fakhrul Islam Alamgir today said the removal of the two top leaders of Chhatra League proves that they (ruling party men) have indulged in all-out corruption and extortion together.
"It (removal of the BCL leaders) is a recognition of corruption and it has been proved that they (ruling party leaders) are indulging in the corruption," Fakhrul came up with the reaction while addressing a press conference at party Chairmen Khaleda Zia's Gulshan office in Dhaka this evening.
Rezwanul Haque Chowdhury Shovon and Golam Rabbani were removed last night from the posts of Chhatra League president and general secretary for their controversial activities. Awami League President Sheikh Hasina gave this decision on the two leaders of the pro-AL student body.
Referring to their corruption, Fakhrul said corruption and extortion spree is going on across the country and only an incident has been exposed that forced the prime minister to remove two leaders of her party's student front.
The government has established autocracy in the country during its 10 years rule by destroying all democratic institutions deliberately, Fakhrul said at the press conference arranged for marking the International Democracy Day.
On this occasion, Fakhrul called upon all people to come forward with the spirit of the Liberation War for waging a collective movement to free Khaleda Zia from jail and to build a democratic country.
"We are 100 per cent committed to the democracy as our party has introduced multi-party and parliamentary democracy in the country and ensured freedom of the press," he said.
Citing the overall scenario of the repression on the opposition party men, Fakhrul said the ruling quarter has materialised a reign of terror during its 10 years rule.    
A few weeks ago, the UN human rights commission expressed grave concern over human rights situation in Bangladesh and found that there is no similarity between the acts and words of the government, Fakhrul said.
The Canadian government has recently also expressed their similar reaction over the prevailing human rights situation in Bangladesh, he said.
Amnesty International and Human Right Watch have recently published the overall human rights situation of Bangladesh in their reports, the BNP leader said.
He also blasted the government for not giving any space to opposition political parties in politics and said at present there is no opposition political party in Bangladesh.
About Jatiyabadi Chhatra Dal council, he said the government does not believe in democracy and multi-party democracy and thus it has hindered the council using the court.