Ruling quarter infected by disease of making illegal money: Fakhrul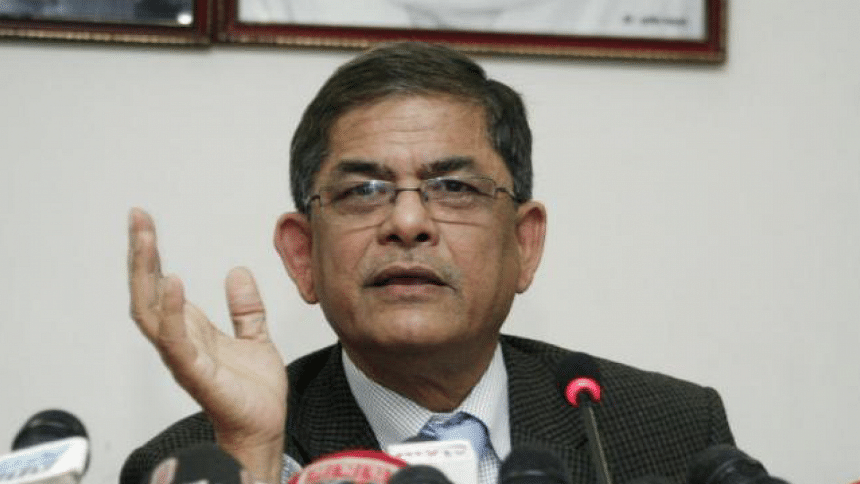 BNP Secretary General Mirza Fakhrul Islam Alamgir today said that the ruling quarter is infected by the disease of making money through illegal means.   
"She (PM) said making money is a disease. But your people are infected by the disease largely," Fakhrul made the remarks while addressing a programme in Dhaka a day after Prime Minister Sheikh Hasina termed the trend of making money illegally as a "disease".
While addressing a programme in Dhaka yesterday, the prime minister termed the trend of making money illegally "a disease" and warned that her government would not allow anybody to lead a lavish life with stolen money.
"Now you are calling upon your golden sons to go through the right way," Fakhrul said referring to the prime minister's remarks.
Coming down heard on the government as it is claiming that Bangladesh has emerged as a role model in development, Fakhrul said, "What is the role model? It is role model of indulgence in corruption, terrorism and children and women repression."
Referring to the global financial integrity reports, Fakhrul said thousands crore of money is being siphoned off from banking sector of the country while the capital market has been looted."  
He also expressed his condemnation to the foreign minister as he described the repression on expatriate female workers is a common matter and said such type mentality of the foreign minister is very dangerous for the countrymen.  
"We can't accept anyhow that our women would work abroad ignoring their dignity," the BNP leader said.
Foreign Minister AKM Abdul Momen recently told journalist that around 2.70 lakh femalw workers went to Saudi Arabia and of them eight thousand have been deported and 53 bodies have been brought home from there.
The number is very small as a percentage, the foreign minister said.