PM to return home with good news, BNP hopes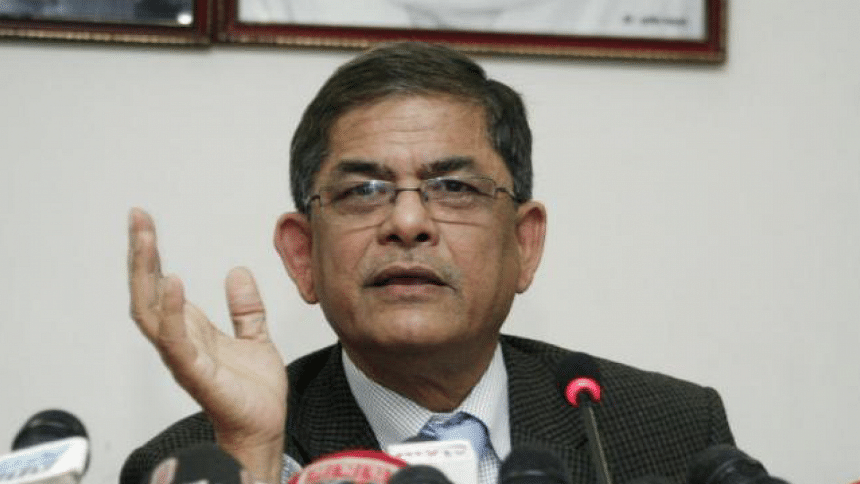 BNP hopes that Prime Minister Sheikh Hasina would return home from India with good news after ensuring the due share of water from Teesta and other common rivers.
"The Prime Minister has gone to India. We are staring at her that she would return home with the good news that we will get due share of water from Teesta and other common rivers," BNP Secretary General Mirza Fakhrul Islam Alamgir said today.
While addressing a human chain organised by Peshajibi Parishad in front of the National Press Club in Dhaka, Fakhrul said, "The government claims to have very strong relations with India, but we got frustrated every time as the prime minister earlier returned home giving India everything without solving our outstanding problems."
The prime minister went to New Delhi on Thursday morning to join the World Economic Forum (WEF) Summit where she would hold meetings with top Indian leaders.
During her four-day official visit, Sheikh Hasina will hold a bilateral meeting with Indian Prime Minister Narendra Modi and meet President Ram Nath Kovind on October 5.
The PM's India tour, the first after her re-election for three consecutive tenure, comes after her visits to China in July and Japan in May.
During those visits, the Rohingya crisis was one of the main topics of discussion as Bangladesh faces a formidable challenge of sheltering more than 1.1 million Rohingyas.
The BNP leader said the killing of Bangladeshi people along the border with India is yet to be stopped while the problem over the Teesta water has not been solved.
He urged the government to resolve these outlasting problems with India and take steps for reducing the huge trade gap between the two countries.
Referring to Indian minister and some of its leaders' remark that the people who were excluded of the NRC in Assam will be sent to Bangladesh, Fakhrul said, "We, as a citizen of Bangladesh, are worried over the issue."
"We don't think our people went to India, but we got worried when India's ministers make different remarks over the issue," he said at the human chair held pressing home their demand for the immediate release of the party's imprisoned Chairperson Khaleda Zia.