BNP demands JU VC's removal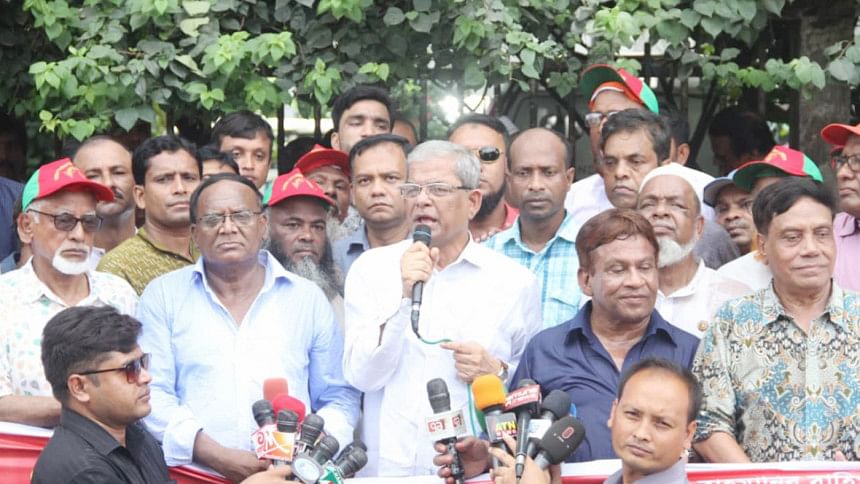 BNP Secretary General Mirza Fakhrul Islam Alamgir today demanded removal of Jahangirnagar University (JU) Vice Chancellor Farzana Islam for reportedly bribing Chhatra League leaders. 
"Why only the two top leaders of Chhatra League be removed. Then, what will happen to the vice chancellor? Immediately, the vice chancellor should resign or she should be sacked," Fakhrul made the demand while addressing a human chain in Dhaka this noon.
"The offence of demanding bribe has been named as fair share. This means, the BCL men demanded fair share and the vice chancellor has given Tk 1 crore as a bribe," the BNP leader said.
Chhatra League President Rezwanul Haque Chowdhury Shovon and General Secretary Golam Rabbani have reportedly demanded "4 to 6 per cent" in cuts from a Tk 1,445-crore project at the JU campuses from its Vice Chancellor Prof Farzana Islam.
Amid the widespread allegation over the bribery scam, BCL President Shovon and General Secretary Rabbani were removed from their respective posts on Saturday.
Referring to the removal of two top Chhatra league leaders, Fakhrul said, "Corruption has eaten up every sector and institution including health, education and judiciary due to absence of accountability of the government."
As part of the party's protest programme, Jatiyatabadi Muktijoddha Dal, a front body of BNP, organised the human chain in front of the National Press Club demanding the immediate release of party chairperson Khaleda Zia from jail.
"There is no space to seek remedy as all institutions have plunged into corruption," Fakhrul said.
Besides in a statement, Liberal Democratic Party President Colonel (retd) Oli Ahmed said that the entire nation has got stunned following the alleged bribery incident of Chhatra League top leaders at JU.
Reports on the pillow scam in Rooppur Nuclear Power Plant, curtain procurement scam in Faridpur medical college hospital and others allegations of corruption have already published in different newspapers and the government knows who are behind these, he said.
The government did not take any measures against such corruption and thus student and youth fronts of the ruling Awami League have plunged into an all-out corruption, Oli Ahmed said.