Yet another blogger killed
Niladri Chattopadhyay stabbed to dead in Dhaka flat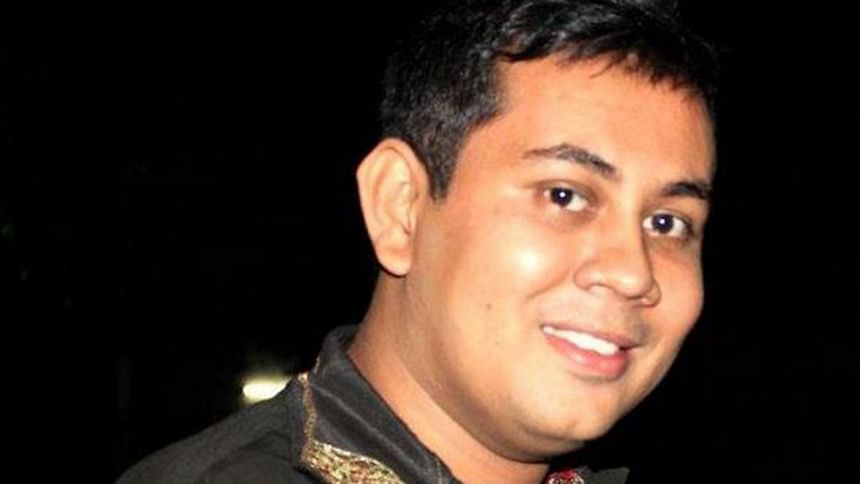 Yet another online activist was stabbed to death by unknown assailants at his East Goran residence in Dhaka this afternoon.
A group of four youths stabbed blogger Niladri Chattopadhyay, 40, indiscriminately in his flat on the 4th floor of a five-storey building around 1:30pm, the victim's wife Asha Moni told The Daily Star.
One of the attackers, wearing jeans and black T-shirt, came in guise of a tenant and requested Niladri, an employee at a nongovernment organisation (NGO), to show the space of their flat, Asha said.
Also READ: Ansar-Al-Islam claims responsibility for Niladri murder
In her reply, Asa said, she had told the man that they had no space to rent out at the flat where they had been living for two years.
The man then said he needed to get an idea of the space at their flat as he was looking for a similar flat in the building which was locked at that time, she said.
Then they showed the man their flat and led him to the main gate, Asha said, adding that she noticed him working with his mobile phone.
Suddenly, three other youths appeared and attacked Niladri with sharp weapons, Asha added.
The attackers threatened to kill Asha and her sister, Nasrin Tonni, who was visiting them, during their attempt to save Niladri.
"One of the killers pulled out a gun and brandished it at us," she also said.
The assailants left the building, leaving Niladri dead on the spot, the victim's wife said.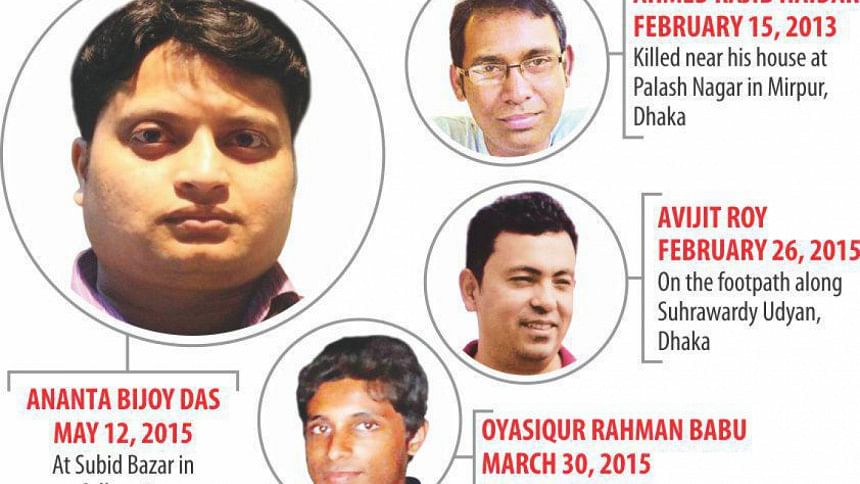 Niladri completed his Master's in philosophy from the Dhaka University.   
Shamim, a tenant of the building, told The Daily Star that he saw several youths going down the stairs, chanting slogans like "Allahu Akbar" after the incident.
READ more: Blogger killed again in Bangladesh
Niladri was working with Research and Development Collective (RDC) in Paribagh of Shahabagh, she said.
His wife alleged that law enforcers at Shahjahanpur and Khilgaon police stations declined to register a general diary over the death threats Niladri received from anonymous callers before Ramadan this year.
His childhood friend Dipok Shil said that Niladri had earlier told him about the threats.  
"Niladri never came third in any examinations at our school in Pirojpur," said Dipok.
He got A+ both in SSC (2005) and HSC (2007) in science group.
The body of Niladri was taken to the Dhaka Medical College Hospital.
Members of Criminal Investigation Department (CID) visited the crime scene around 5:30pm.
In March, Oyashiqur Rahman was hacked to death in Dhaka. Blogger Avijit Roy, who courted controversy by championing atheism and also tackling issues such as homosexuality, was killed in Dhaka in February.

Also READ: No arrest yet
We are Sorry #Niloy - the Civilised World Failed You. Another #Blogger Killed in #Bangladesh @ibnkhabar pic.twitter.com/nsyFthrGz9

— Akash Soni (@Akashtv1) August 7, 2015
Talking to The Daily Star Online, Imran H Sarkar spokesperson of Ganajagaran Mancha said he knew Niloy as an active blogger who used to write about the war crimes trial, human rights and minority communities rights in his blog.

Also READ: Blogger Avijit Roy hacked to death
"Niloy was an activist of the pro-liberation platform. He was killed because there is no justice in the country," he said.
"I am embarrassed to raise any demand to the government for the arrest of the perpetrators as bloggers are being killed but no killer has yet been tried," he said expressing disappointment.


Also READ: Qaeda unit behind Avijit killing?
"We will stage a demonstration at Shahbagh crossing this afternoon protesting the killing. The next course of protest programmes will be announced after the rally," he said.
"The government should arrest the killer within the next 24 hours. Otherwise we will go for a tough action programme," he warned.