No arrest yet
Cops start probe into Ananta murder; brother sues 4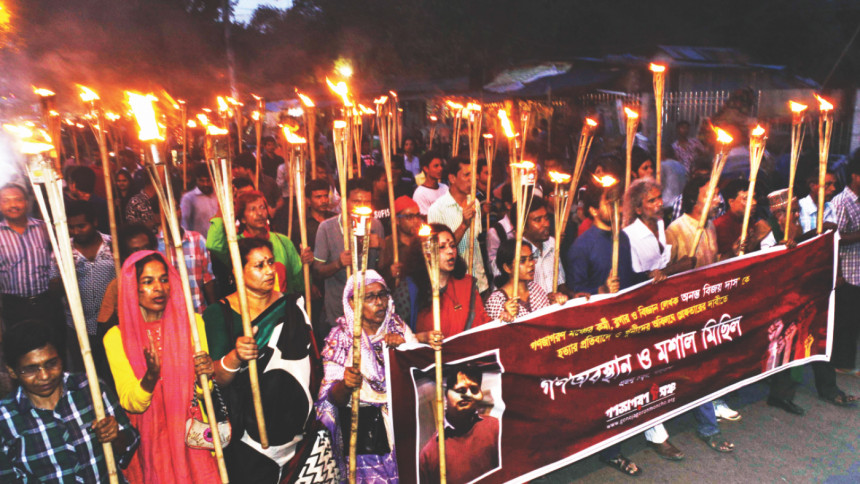 Amid public outcry over the killing of secular blogger Ananta Bijoy Das, Sylhet police yesterday started probing the murder incident.
Law enforcers raided various areas in the city, but were yet to arrest anyone.
They talked to the family members of Ananta and said several teams of law enforcers were working to identify the killers.
"We have taken whatever steps are required to identify the killers. We cannot tell you anything for the sake of investigation," Sylhet Metropolitan Police Commissioner Kamrul Ahsan told journalists while visiting Ananta's house in the city's Subid Bazar yesterday.
Ananta was hacked to death by four masked men in broad daylight near his house on Tuesday morning. An organiser of local Gonojagoron Mancha, Ananta was in a state of fear since the murder of blogger Avijit Roy on February 26, and was planning to leave the country.
Ratneshwar Das, elder brother of Ananta, filed a murder case with the police station early yesterday, accusing four unidentified people.
He said his brother had no personal or professional enmity with anyone. 
Ananta was killed in a similar way the other bloggers were killed, he said and added that he suspected religious fanatics for the murder.
Meanwhile, a half-day hartal, called by Gonojagoron Mancha protesting the killing of Ananta, was observed in Sylhet city yesterday.
Several activists of the Mancha brought out processions at different points of the city.
People of all walks of life in Subid Bazar area also formed a human chain, demanding the immediate arrest and punishment of the killers. Addressing the programme, locals said Ananta was a simple man who was murdered just for his write-ups on Facebook.
They demanded that the government arrest and bring the killers to justice. They said the killers would be inspired if they were not arrested and brought to book. 
Locals will hold a really in the city tomorrow to press home their demand.
Gonojagoron Mancha will also hold demonstrations across the country tomorrow, demanding the arrest of the killers.
Its convener Imran H Sarker said Ananta was an active participant and one of the decision-makers of Sylhet unit Gonojagoron Mancha.
"He tried to protest against injustice, communal repression, repression against women, and voiced for the rights of garment workers and indigenous people through his write-ups. He used to work in the field-level as well," Imran told The Daily Star.
Recalling his memories with Ananta, Imran said Ananta joined the Shahbagh movement and met him several times during the movement to discuss the next course of action. 
"His last visit was about three months ago when we were demonstrating demanding the execution of war criminal Muhammad Kamaruzzaman," Imran said.