Covered van workers call strike from tomorrow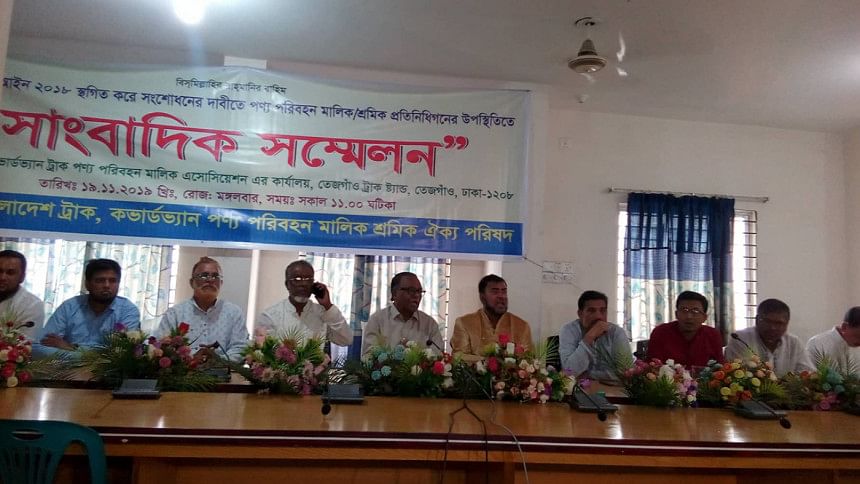 Bangladesh Truck Covered-van Goods Transport Owners Workers Unity Council will go on an indefinite strike across the country from tomorrow demanding amendment of the new Road Transport Act-2018 after postponing the law.
The council has presented a nine-point demand for the amendment and will enforce the indefinite strike from 6:00am tomorrow, Convenor of the council Rustam Ali Khan announced today.
The announcement was made today at a press briefing at Tejgaon truck stand.
After announcing the strike, the workers blocked a road in the area for one hour since 11:30am, our staff photographer reports.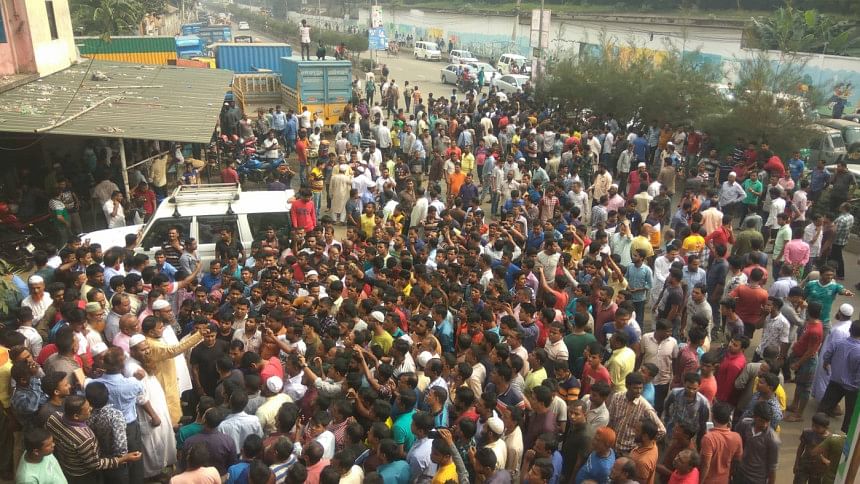 The key demands are: The road accident cases must be bailable; owners must not be harassed in road accident-related cases; licences must be given to the drivers as per their skills; fines must be reduced and at least three years must be given to renew relevant documents of the vehicles.
On October 22, the Road Transport and Highways Division issued a gazette, stating that the Road Transport Act (RTA) would be effective from November 1. Parliament had passed the RTA in September last year, replacing the Motor Vehicle Ordinance, 1983.
According to section 105 of the new act, if anybody gets seriously injured or killed in a motor vehicle-related accident, it would be considered an offence under the relevant sections of the Penal Code-1860.
However, no matter what section 304(B) of the Penal Code contains, if anybody causes accident by reckless and negligent driving, and kills or injures someone severely, the person will face a maximum sentence of five years in jail or fine or both, reads section 105 of the RTA.
The offences that fall under section 105 are not bailable.
The maximum punishment under section 302 of the Penal Code is death penalty while it is life imprisonment under section 304(B).
The law also hands hefty fines for violation of traffic rules.
For driving without licence, the maximum penalty is six months in jail or a fine of Tk 25,000 or both. It is same for running unfit vehicles.
The maximum punishment for driving vehicles without registration is six months' jail sentence or Tk 50,000 in fine or both. The highest punishment for honking banned horns is three months' jail term or Tk 10,000 fine or both.
The law says the maximum punishment for illegally modifying vehicles' body parts is three years' jail sentence or Tk 3,00,000 fine or both.