Murder case filed over baby's death during strike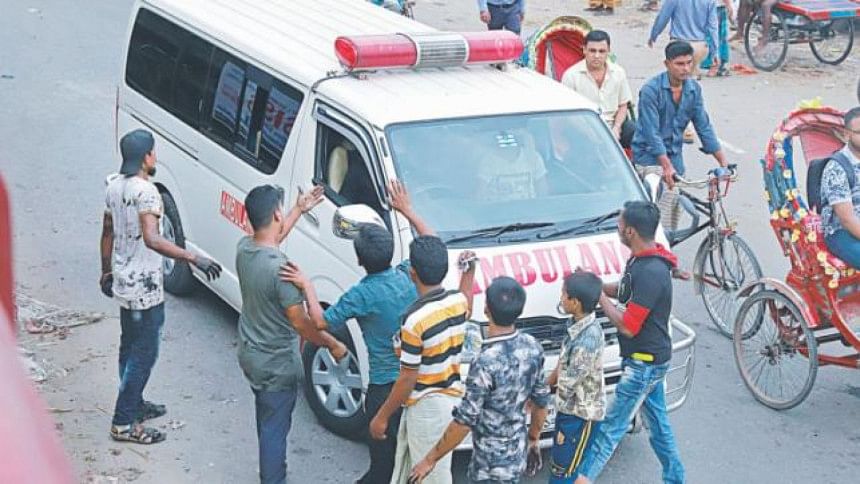 At least 160 alleged transport workers have been accused in a case filed in connection with obstructing an ambulance carrying a child during the recent transport strike that led to the child's death in Moulvibazar.
Akbar Ali, uncle of the seven-day-old girl, filed a murder case with Baralekha Police Station against 160-170 unidentified people Wednesday night, hours after the High Court asked the inspector general of police to take action.
The baby died in Chandgram of Moulvibazar on Sunday after transport workers held the ambulance on its way to Sylhet MAG Osmani Medical College Hospital for an hour and a half.
The parents started for the hospital from Baralekha Upazila Health Complex around 10:00am that day but the vehicle was repeatedly stopped on the road, including at Baralekha Bazar and Daser Bazar, the victim's uncle had earlier told The Daily Star.
When they reached Chandgram, the ambulance was halted again and this time its driver was beaten up and the key of the vehicle was taken away.
Akbar said the father, mother, and the grandparents of the child are devastated. "All we want is justice," he said.
Yeasin Ali, officer-in-charge of Baralekha Police Station, told The Daily Star that the case was filed against unnamed transport workers under sections that deal with murder, obstruction of free movement, vandalism of public properties, and illegal assembly.
Two other children -- one in Moulvibazar and one in Sunamganj -- also died failing to reach hospital during the 48-hour strike enforced by Bangladesh Road Transport Workers Federation.
The workers went on strike on Sunday and Monday demanding amendments to the recently passed Road Transport Act-2018.
After a writ petition was filed with the High Court over the deaths of the three children, the court on Wednesday issued a rule upon the inspector general of police to take action against the people responsible for the deaths.
Abu Yousuf, additional superintendent of Moulvibazar police, said, "I have visited the victim's family and assured them that they will get all necessary legal support to get justice." 
Md Shahjalal, superintendent of Moulvibazar police, said, "We feel sorry for the death of an infant during the strike and will take action as one case has been filed. If the IGP's office issues any instruction following the HC directive, we will take additional action."
Abdul Matin, general secretary of CNG Transport Workers Union of Baralekha upazila unit, had denied the claim that transport workers had halted the ambulance. He said autorickshaw workers had put up barricades at different points on the road but no one was involved in stopping the ambulance.