Excesses committed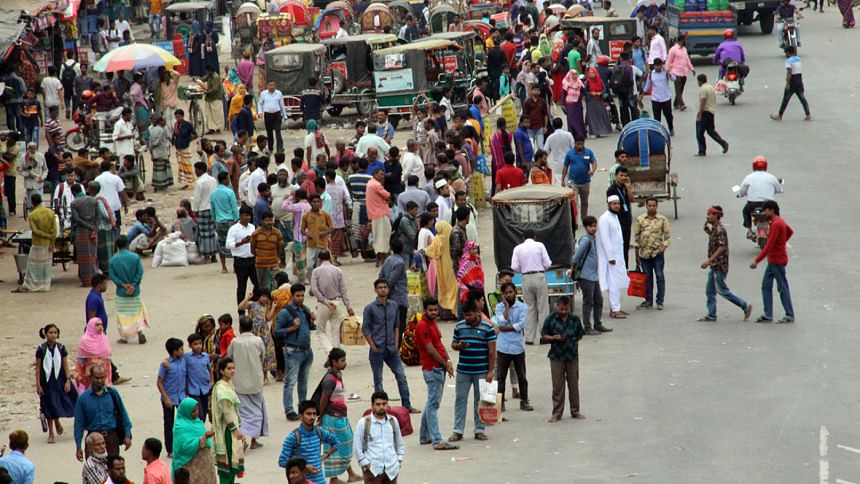 Already helpless due to the transport workers' strike, commuters yesterday struggled to find alternative modes of transportation to reach their destinations, which was, oftentimes, made impossible.
Transport workers on strike harassed people by smearing burnt engine oil on drivers' faces, forcing them to get off the roads, and, in some cases, physically assaulting them.
Several video clips of such harassment by the workers went viral on social media, drawing huge public outcry.
READ MORE: Sufferings in Dhaka
However, Osman Ali, general secretary of Bangladesh Road Trasport Workers Federation, when speaking to The Daily Star, claimed that "one or two over-enthusiastic protesters" might have done this, adding, that the workers were given instructions not to picket.
In Shanir Akhra, protesters intercepted private cars and smeared burnt engine oil on the drivers' faces for bringing cars out on the street.
A photojournalist of The Daily Star, between 8:30am and 12:30pm, saw at least 25 people, mostly drivers, with engine oil smeared on their faces in the area.
Nearly a hundred transport workers divided themselves into several groups and intercepted Dhaka-bound vans, motorcycles, pick-up vans and rubbed burnt oil on the vehicles and drivers' faces before letting them go.
The workers also misbehaved with photojournalists of different media outlets when they tried to capture the harassment on camera.
At 9:00am, the workers halted a Dhaka University bus and verbally abused the students, blaming them for the enactment of the new law. The students were forced to get off and walk.
Even motorcyclists were not spared and many rickshaw passengers were forced to walk, even though rickshaws were out of the strike's purview.
In Narayanganj, some transport workers vandalised a Narayanganj Govt Mahila College bus and smeared engine oil on the driver's face. Three college students had gotten stains on their uniforms during the incident, Mojibor Rahman, driver of the bus, told The Daily Star.
Transport workers took position at different important roads, including the Dhaka-Sylhet and Dhaka-Chattogram highways, and stopped BRTC buses, CNG-run auto-rickshaws, motorcycles, rickshaw vans, and empty ambulances.   
At 9:30am, some transport workers blocked the Prime Minister's Personal Secretary Sajjadul Hassan's car at Shimrail intersection for about half an hour. Upon Inspector Molla Taslim Hossain's request, they later let it go.
Many people who tried to reach their destination through app-based ride-hailing services and auto-rickshaws also faced the wrath of the workers.
A group of transport workers were seen blocking private cars and CNG-run-three wheelers from moving through Jurain Natun Rasta and forcing them to park beside the road near Ghuntighar.
"It is totally wrong as we are not involved in this strike. I failed to get my passenger from Gendaria railway station," said an Uber driver, seeking anonymity.
He said he protested when the transport workers stopped him around half-km away from his destination, but was forced to turn back without his passenger.
A video posted on Facebook showed protesters intercepting CNG-run and battery-run auto-rickshaws and the drivers' faces being smeared with burnt engine oil.
In one video clip, some teenagers were seen smearing burnt engine oil on battery-run auto-rickshaw drivers' faces in front of Sarak Bhaban.
A wedding-party was also blocked by workers in Kanli Bridge area of Daulatpur Bazar of Baralekha Upazila around 3:00pm. A clash broke out when a companion of the groom began videotaping the incident, said Mohammad Mosharraf Hossain, sub-inspector of Baralekha Police Station, adding that the injured were taken to Bianibazar Upazila Health Complex for treatment.
Similar incidents of harassment by protesters were reported in Khulna and Rajshani as well.