Trouble from transport strike
Workers call off agitation upon govt promises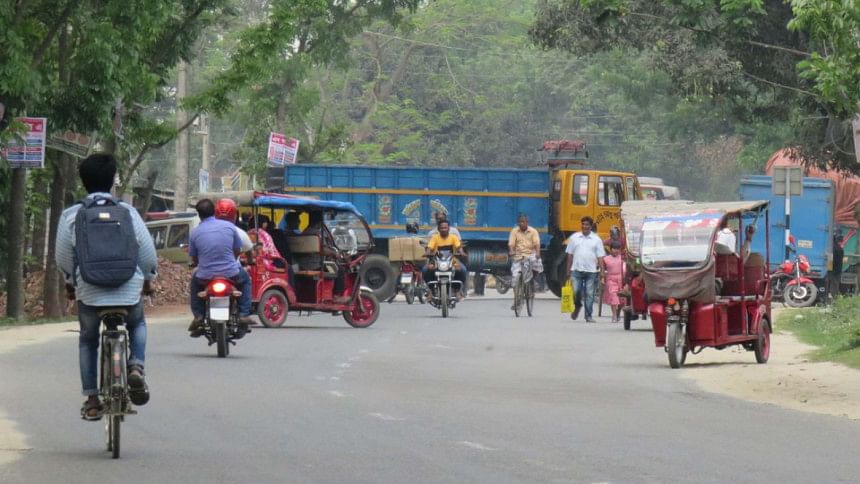 The transport strike in Chattogram and Rangpur was called off yesterday after it caused immense suffering to commuters and businesspeople.
Transport workers in Chattogram declared to postpone their strike till May 4 following discussion with the deputy commissioner of the district. They announced their decision around 12:00 noon.
Besides, Rangpur's regional committee of Bangladesh Road Transport Workers Federation (BRTWF) called off their indefinite strike following a meeting with the deputy commissioner of Dinajpur.
On Wednesday, transport workers had begun the strike protesting the death of Jalaluddin, 55, a driver of a Shyamoli NR Travels bus.
Jalaluddin was beaten to death on April 22 by a group of people who claimed to be detectives in Chattogram's Patiya upazila. The law enforcers denied their involvement.
In Chattogram, transport workers observed strike in 36 routes, mostly on Chattogram-Cox's Bazar and Chattogram-Dhaka from 6:00pm Wednesday to 12:00 noon yesterday. They imposed the strike on inter-district buses only.
Due to unavailability of buses, many commuters were forced to walk or try other means of transport for reaching their destinations.
Mosharref Hossain, general manager of Hanif Paribahan, told The Daily Star last night that no bus of his company operated on Dhaka-Chattogram and Dhaka-Cox's Bazar routes during the strike.
Dinesh Chandra Das, general manger of Shyamoli NR Travels, echoed Mosharref's comments.
In Rangpur, along with the commuters, businesspeople also suffered as both inter-district buses and goods-laden trucks remained out of operation in the division from 6:00am to 12:00 noon yesterday.
People in four districts in Rangpur division -- Dinajpur, Nilphamari, Panchagarh and Thakurgaon -- suffered the most due to the strike.
PUBLIC SUFFERINGS
Ayon Chakraborty, a master's final-year student of Chittagong College, started from Lohagara upazila of the district for the city around 6:00am yesterday.
It was the last date to fill-up his form and submit the fees for his final examinations.
"I first took a rickshaw and advanced a couple of kilometres. Then I requested a motor-biker to give me a lift and he agreed," Ayon said.
After several kilometres, Ayon took lift from a private car to reach the city and managed to fill-up his form, Ayon told The Daily Star in front of his college's gate around 12:30pm yesterday.
Meanwhile, sexagenarian Azhar Uddin started from Nabinagar of Brahmanbaria to Chattogram city with fruits, milk and fish of his own farm to visit his son, who lives in the port city.
He failed to get on any vehicle on the road and had to return to his home. He was frustrated.
Elsewhere, a large number of people gathered at Dinajpur Bus Terminal to get tickets of different buses but failed.
Many of them were seen travelling on battery-run three-wheelers to reach their destinations.
"I came out of home to go to Bogura to see my ailing mother. Then I came to know about the strike at the bus terminal," said Altaf Hossain of Dinajpur's Barabandar area.
People who had to travel for short distances were also seen using battery-run three-wheelers.
REASONS OF CALLING OFF STRIKE
Transport workers in Chattogram postponed their strike as the administrations assured the agitating transport workers that their demands would be met.
Besides, BRTWF, the workers federation in Rangpur, called off their indefinite strike as the DC of Dinajpur assured them that the victim's family would receive Tk 3,000 every month from the government.
Along with that, the victim's family would get Tk 2.5 lakh to build a house and the victim's differently-abled son would be given disabled allowances, the DC promised.