Commuters suffer for 4th day as no bus runs in various dists
Rajshahi, Chattogram transport workers join work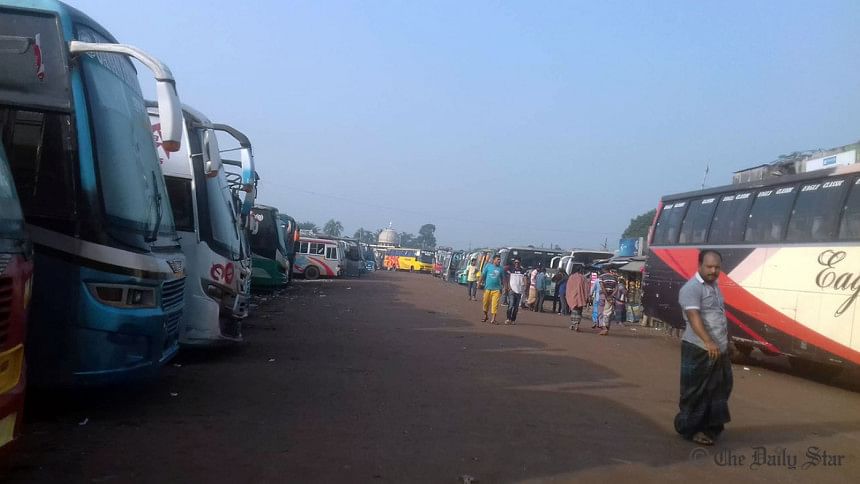 Commuters in different parts of the country have been facing immense sufferings for the fourth consecutive day today following the work abstention being observed by a section of transport owners and workers demanding amendments to the new Road Transport Act-2018.
In Khulna, buses, mainly those travelling on long routes, were not leaving or entering the district due to the strike.
Bus movement remains suspended on at least 18 routes from Khulna to other districts, reports our Khulna correspondent.
"Our central leaders will sit in a meeting in Dhaka at noon and a decision will be then taken in this regard later," the correspondent reports quoting Nurul Islam Baby, President of the Khulna Motor Workers' Union. 
Many locals thought the transport strike was called off after truckers withdrew their strike around 1:00am today.
Owing to the confusion, hundreds of commuters showed up at Shonadanga bus terminal in Khulna only to find out no buses were leaving the terminal, reports the correspondent after visiting the spot.
Currently, commuters are having to use either easy bikes or other local modes of transport to travel to their destinations.
In Dinajpur, although the transport workers observed strike till yesterday, the vehicular movement was normal in the morning.     
But the workers went into work abstention again from 11:00am today halting bus movement to five other districts.
Buses were available until the strike was enforced again in the morning, our Dinajpur correspondent reports quoting Golam Rabbi, general secretary, of the local transport owners and workers' association.
In Tangail, no bus or trucks were leaving or entering the district since this morning, reports our correspondent.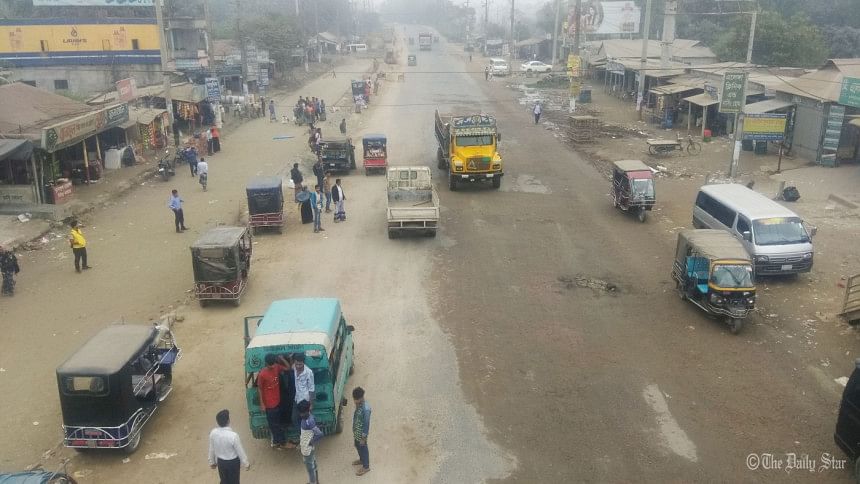 Passengers are having to use auto-rikshaws, trains or other alternative modes of transportation to travel to their destinations.  
Meanwhile bus strike was also being observed in Kushtia, Meherpur and Chuadanga districts, reports our Kushtia correspondent.
No decision of withdrawing the strike has been taken yet, our Kushtia correspondent reports quoting Mahbubul Haq, president of Workers' Union (Kushtia).
In Rajshahi, movement of all kind of vehicles including passenger buses and goods-laden trucks was restored to normalcy.
In the morning, buses and trucks left for Dhaka, Chaipainawabganj, Naogaon from the district as usual, reports our staff correspondent from Rajshahi.
In Chattogram, public bus services are almost normal in the districts, our correspondent reports.   
However, the number of vehicles were much lower than usual as transport from Rangpur, Gaibandha, Kushtia, Jashore and Khulna did not enter the district.
Owing to the transport crisis, bus fares were also hiked adding to commuters' sufferings.
Transport owners and workers have enforced the indefinite strike, defying Road Transport and Bridges Minister Obaidul Quader's call for them to refrain from such programmes centring the new transport law.
However, truckers and covered-van drivers called off their strike last night after halting transport of goods across the country for about 18 hours, which hit businesses hard.
After the law was enforced, the drivers said they feel unsafe as many of them have no valid documents.   
The new law, with increased fines for traffic offences, was supposed to be put into effect on November 1. But it was delayed as transport associations had allegedly been lobbying against it.
Although central leaders of transport owners and workers associations said they did not instruct their units to go for the strike, many workers have been observing work abstention since November 18.