A silence too costly
Outrage over death of 3 kids during 48-hr transport strike; state's inaction denounced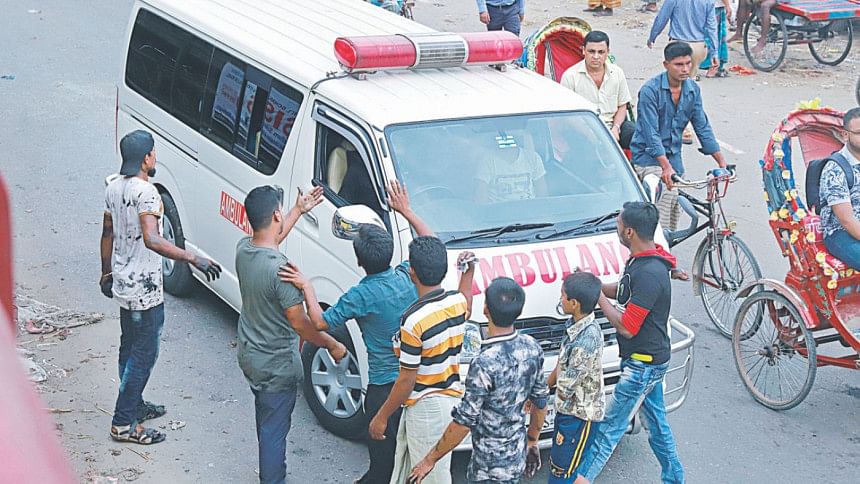 The tragic death of three infants during the 48-hour strike by road transport workers has touched off an angry outcry in the country with rights activists putting the blame partly on the state because of its failure to ensure citizens' safety.
They said the babies could have been saved had the government acted properly. Demanding justice, they also urged the authorities to take sensible precautions in a situation like this so that no precious life meets an untimely end.
On Monday, a two-day-old baby boy, suffering from pneumonia, breathed his last on his father's lap while on their way to Sunamganj Sadar Hospital as the workers did not allow the vehicle to pass.
Two baby girls -- seven-day-old and eleven-month-old -- died on Sunday as their families could not take them to hospitals due to the strike in Barlekha upazila of Moulivbazar.
During the "work stoppage" enforced by Bangladesh Road Transport Workers Federation led by Shipping Minister Shajahan Khan, the workers smeared used engine oil on the faces of some drivers and passengers, including some female students.
The federation in a press release yesterday, however, said certain quarters made its "peaceful and logical movement" controversial by obstructing ambulances and harassing people. It demanded exemplary punishment to them.
Never before has the country seen ambulances or vehicles carrying patients being obstructed during a strike, said rights activist Nur Khan Liton. Similarly, used engine oil has never been smeared on people's faces.
With such activities, the transport workers spread a sense of panic and hatred, he observed.
"What actually happened in the name of strike is nothing but a total anarchy. And one of the consequences of the strike is the death of the children as they could not be taken to hospitals," he also said.
"Those who enforced the strike in no way can avoid responsibility of the death. At the same time, the state also cannot shrug off its responsibility as such deaths could have been avoided had it acted properly and taken steps."
Sheepa Hafiza, executive director of rights organisation Ain O Salish Kendra, said the transport workers barred an ambulance and harassed citizens. "But we're surprised to see how the state kept silent."
She argued, "The state could have taken steps, and it can take steps if it wants, since this is what the state is entrusted with."
A strike could be observed in many ways, she added. The students showed how to handle an emergency situation skilfully during their recent demonstrations for road safety.
National Human Rights Commission Chairman Kazi Reazul Hoque said inflicting sufferings upon public, hurting businesses and humiliating people in the name of realising demands are unpardonable crimes and violation of human rights.
"Those who committed the crimes must be brought to book," he said.
What's more regrettable, the NHRC boss said, is that the workers federation issued a threat to go for such strikes further.
He hoped that the government would play a proactive role and hold discussions with them so that people would not have to suffer and no life is lost.
'MY SON DIED ON MY LAP'
The two-day-old son of Moynul Islam, a resident of Dakshin Sunamganj upazila, was found to have been suffering from pneumonia on Monday morning and local doctors at Ganiganj Bazar referred the infant to Sunamganj Sadar Hospital, around 10km from the place.
There were a few CNG-run auto-rickshaws at Ganiganj Bazar but the transport workers were not allowing any vehicle to run.
"My son died on my lap and I couldn't do anything for him," said Moynul, as he burst into tears.
"What was my newborn son's fault? I begged them to let us pass, but they did not," he said, adding the workers turned down the requests of the bazaar committee. 
On Sunday morning, Kuton Miah and Sayera Begum of Ojmir village of Barlekha upazila in Moulvibazar took their seven-day-old baby girl to Barlekha Upazila Health Complex.
The doctors there referred the baby to Sylhet MAG Osmani Medical College Hospital so they rented an ambulance.
"But as we started, we were blocked by transport workers first at the Upazila Bazar. After half an hour, we were allowed to pass only to be barred again in Dasher Bazar area," said Kuton.
"We requested them. But they beat up the ambulance driver instead. When they saw that my baby girl died, they let us move," he said as he described the tragic moment.
Crying inconsolably, Sayera Begum said, "I told them that my daughter is sick and we are going to hospital, but they did not listen to us ... My daughter died on my lap."
On Sunday afternoon, the life of 11-month-old girl Shukria Begum of Shahbajpur area of the same upazila was cut short.
Daughter of Hamida Begum and late Salik Ahmed, Shukria too was suffering from pneumonia, but the family could not take the baby to hospital, according to Selim Ahmed Khan, said panel chairman of Uttar Shahbajpur union.
Meanwhile, a lawyer brought the issue of the death of children to the attention of the High Court bench of Justice Sheikh Hassan Arif and Justice Razik-Al Jalil by placing two newspaper reports and sought a suo moto order.
The court asked the lawyer to submit a petition before it today in this regard, Deputy Attorney General Mokhlesur Rahman told The Daily Star.
Despite the deaths, police took no action against anyone so far as they are waiting for people to file complaint.
Yeasin Ali, officer-in-charge of Barlekha Police Station, said, "We are still waiting to get complaint from the affected family. If they do not file any case, we may then consider filing a police case."
Similar was the version of Ikhtiar Uddin Chowdhury, officer-in-charge of Dakshin Sunamganj Police Station.
"So far we know, the family did not find any vehicles on road, so the baby died. Now, who will stand accused?"
However, Golam Subhan Chowdhury, a lawyer of the Supreme Court, said the transport workers who created obstructions on roads can be made accused of murdering the babies and the police can take legal action on their own.
[Our Sylhet correspondent contributed to this report]