Revision of proposed Road Transport Act demanded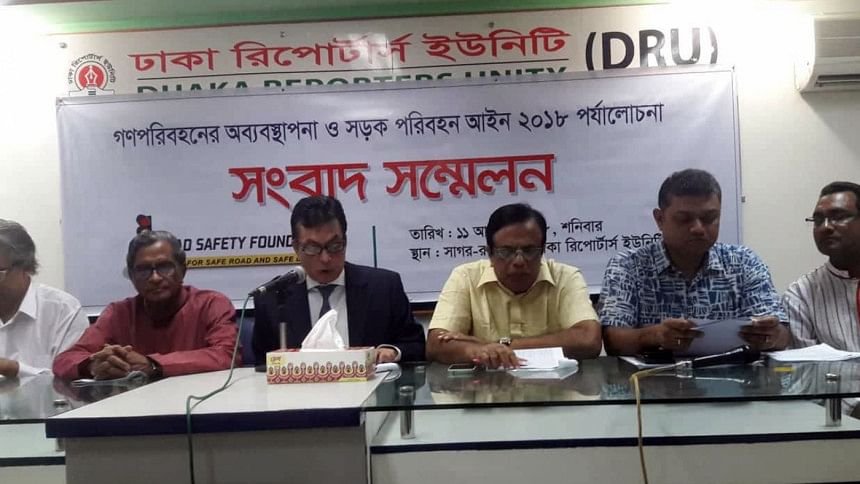 Road Safety Foundation, a nongovernment organisation working for road safety, today demanded the draft of Road Transport Act-2018 should be revised as "the proposed law does not protect the interest of transport workers or general people".
The current draft law protects only the interest of the owners, said MA Hamid Sharif, vice chairman of Road Safety Foundation.
The organisation also placed a total of 16 demands to the government for safer roads at a press conference at the Dhaka Reporters Unity this afternoon.
Among their demands were, public transport system and management must be kept out of political influence, increase the punishment and duration of road accidents and to continue drives against incompetent drivers.
They also demanded, all vehicles with outdated papers should be removed from the streets, public transport should be run on a franchise method instead of ownership system and that public transport should run on a separate lane and the quality of public transport needs to be improved.
Meanwhile, speaking at the press conference Shubrata Chowdhury, executive president of Gonoforum, demanded an end to the unstable situation in the country centering the student protest including arrest of students and attack on journalists.
A draft law approved by the cabinet on August 6 proposes a maximum punishment of five years' imprisonment for causing death to a person by reckless driving, drawing strong criticism from road safety campaigners who termed the sentence insufficient to end anarchy on roads.