Pahela Baishakh celebrated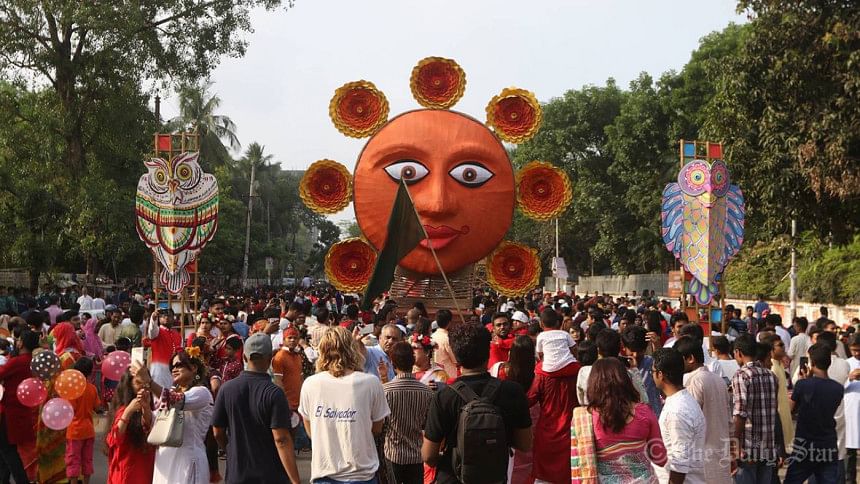 Pahela Baishakh, the first day of Bangla calendar 1425, was celebrated across the country yesterday with due festivities and enthusiasm.
Like the previous years, different socio-cultural organisations and educational institutions organised various programmes to mark the country's biggest cultural festival under tight security measures.
Students of the Faculty of Fine Art of Dhaka University (DU) brought out a 'Mongol Shobhajatra (procession of good wishes)' with a slogan around 9:00am in the capital.
Vice Chancellor of Dhaka University Mohammad Akhteruzzaman led the procession that marched different streets in Shahbagh area.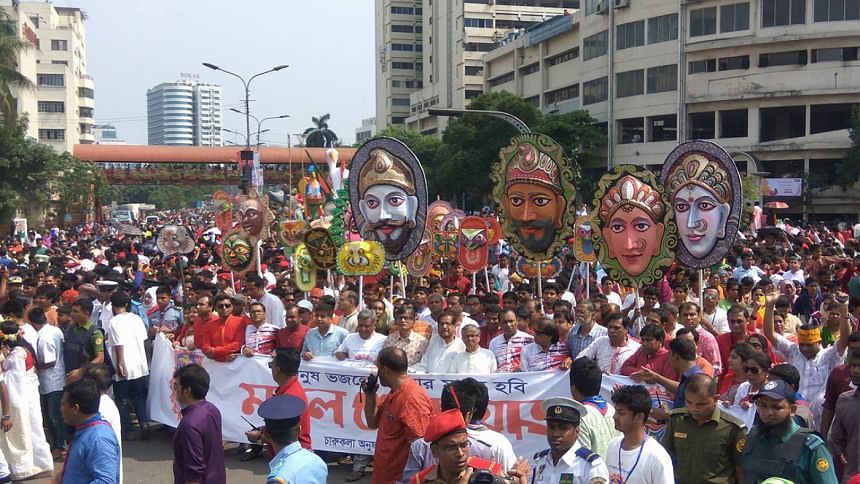 The theme for this year's Mangal Shobhajatra has been determined as "Manush Bhojle Sonar Manush Hobi" (to become the ideal being, respect fellow humans), an excerpt from a popular Lalon song, to embrace the path of humanity.
Men, wearing panjabi-pyjama, women wearing saree with red borders and children with colourful dresses thronged the traditional Mongol Shovajatra to mark the day with festivities.
Meanwhile, police have taken tight security measures during the hours of the celebrations.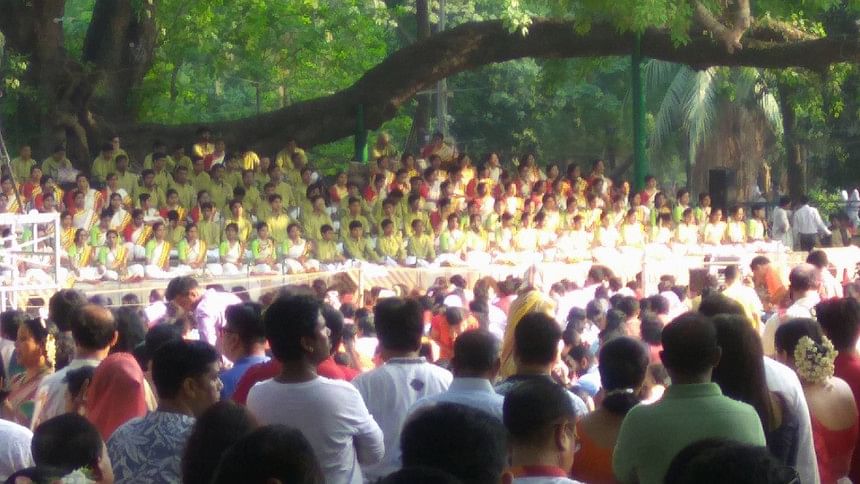 Venues of Pahela Boishakh celebration particularly the main venue Ramna Park, Dhaka University, Suhrawardi Udyan, Rabindra Sarobar and its surrounding areas have been brought under stringent security arrangement by setting up closed circuit camera televisions, archways, and watch towers and deploying law enforcers in large numbers.
Police also requested the city dwellers to leave Ramna Park and Suhrawardi Udyan areas by 6:00pm and Rabindra Sarobar area by 7:00pm on the day. The DMP also asked to complete all open-air programmes by 5:00pm, except the one held at Rabindra Sarobar.
DMP security measures
Dhaka Metropolitan Police (DMP) on Thursday said it has taken heightened security measures centring on Pahela Baishakh celebrations.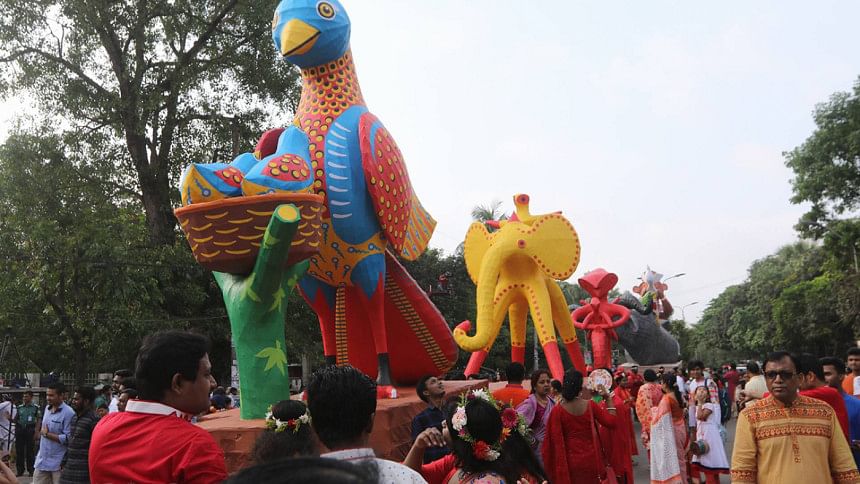 "SWAT and bomb disposal units, and special teams of detective branch will be deployed," said Asaduzzaman Mia, DMP commissioner, while addressing reporters at DMP Media Centre on Minto Road. "No one can enter the Mangal Shobhajatra in the middle as the procession will be escorted by police," he said.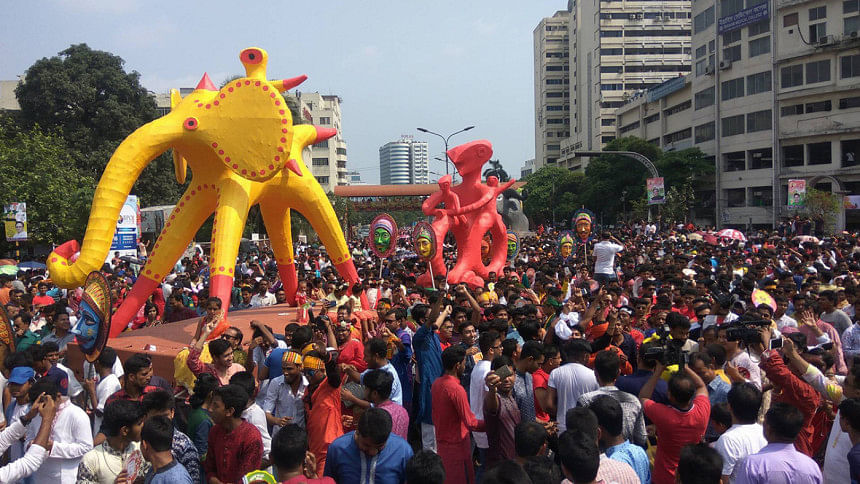 Traffic movement was restricted on seven routes.:Banglamotor-Ruposhi Bangla-Shahbagh-TSC-Doyel Chattar, Ruposhi Bangla intersection-Kakrail-Matsya Bhaban-Kadam Foara, Matsya Bhaban-Shahbagh-Katabon, Palashi intersection-Shaheed Minar-High Court crossing, Bakshibazar-Shaheed Minar, Nilkhet-TSC and DU Shahidullah Hall crossing-Doyel Chattar. This year, DMP also took part in the celebration. Law enforcers distributed sweets and flowers at entry points of Ramna, Suhrawardy Udyan and Rabindra Sarobar.
The celebrations of Pahela Baishakh have become an integral part of Bangalees since it began over six centuries back.
Mughal Emperor Akbar introduced the Bangla calendar in the 1556 of the Gregorian calendar in a bid to streamline the timing of land tax collection in the then 'Subah Bangla' region, the much of which falls under Bangladesh.
The day is a public holiday.