The Bengali belle's ultimate guide to Baishakhi beauty!
Without a doubt, Baishakh is the most awaited season in the Bengali calendar. What could be more uplifting than the warm sun filtering through the windows and clear blue skies? Luscious summer fruits are on their merry way and the air is redolent with a rejuvenating energy. With the promise of new beginnings, hopes and dreams Baishakh fills our lives with much-needed positive vibes. And we Bengalis sure know how to welcome the New Year in style, with much splendor and pomp!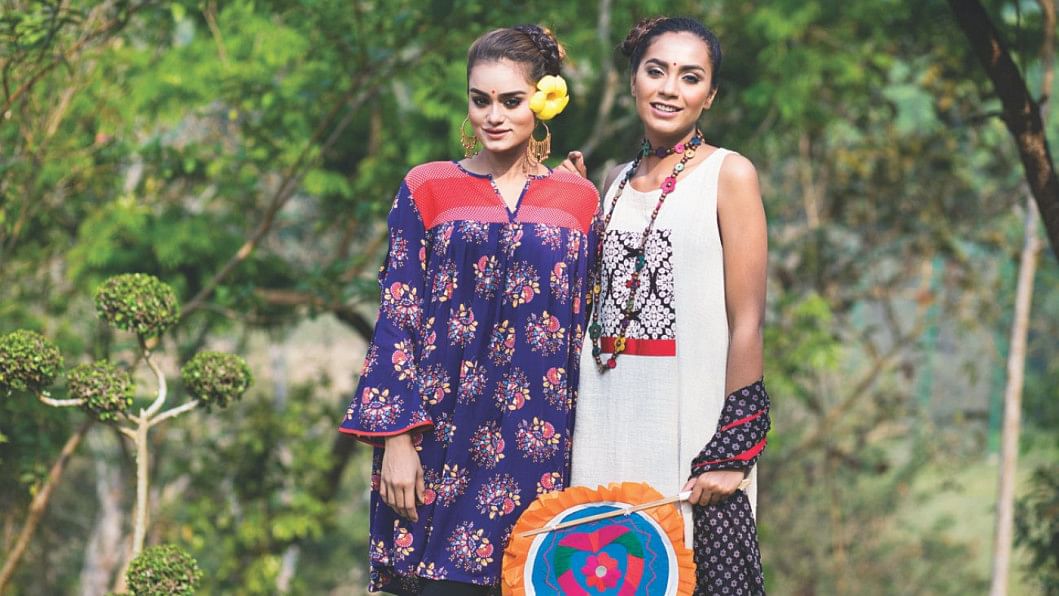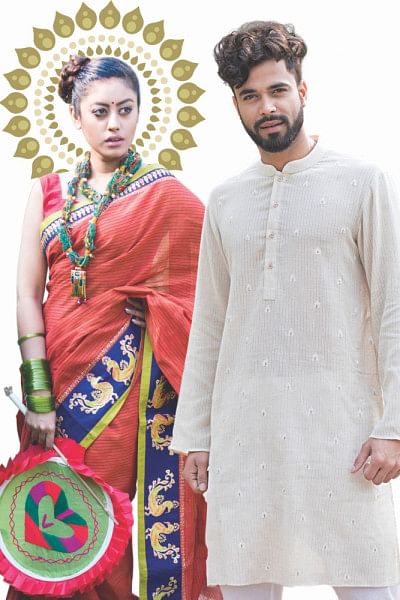 Baishakhi celebrations start off early, usually attending the musical soiree or at various house concerts. The mood is fresh and festive, so a simple cotton sari is perfect. Matching simple traditional jewellery and flowers in the hair are the accessories du jour.


A simple swipe of traditional kajol, certainly not the kohl, and some lipstick in an earthy tone is all you need. Foundation might be too heavy so opt for light-coverage BB creams. Fragrant beli and glass bangles will complete your look, along with a red teep. A timeless expression that will see you through the family lunch and maybe up to the chotpoti fuchka with cousins in the afternoon.


Your friends may meet up at the Uttara Club Baishakhi Meet and perhaps, then you are off to The Westin for dinner and to Amari for sheesha! With a schedule this tight, there is hardly any time for doing something radically different without missing out.


If you have no time for an outfit, changing your makeup will do the trick. Smoke up your eyes with some chocolate/black shadow and darken the kajol. Freshen up your base with a cushion foundation and add some blush in a rich, berry shade.


Put on a bright red lipstick, spritz on some floral perfume and swap your simple earrings into something bold and voila! You are ready to paint the town red.
Modern Dhakaiites now embrace tradition with an international flair. And the ever stylish fashionistas in Dhaka have elevated this traditional holiday to the next level, and you better keep up! 


On the other hand, if an outfit change is the order of the day, then step up your game. A beautifully embroidered Jamdani or Muslin will look traditionally chic, as will cotton or silk Gadwal.


Another option is to pick a statement blouse — sleeveless or off-shoulder, one with intricate embellishments. Pair it with either a traditional weave or even chiffon or georgette. It will surely turn heads wherever you go. If shalwar kameez is your preference, then opt for something with ruffled sleeves and maybe a high-low hemline to stand out in a crowd. Red and white maybe the colour palette for this occasion, but you can choose something different too.


Nighttime makeup is different than daytime, so a smoky eye will highlight every Bengali belle's most beautiful feature. Experiment with different jewel tones such as berry, purple and emerald instead of the usual black or brown. Bring some Baishakhi flair to your look by wearing fresh flowers in your hair.


Now that all has been said and done about the outfit and makeup, here are a few tips to keep in mind to celebrate Baishakh in style —


Sunscreen is key. Baishakhi sun is ruthless, so do not forget sun protection if you plan to stay outdoors, even for half an hour. Choose one with a high SPF to protect your skin from sun damage and premature aging. Apply a generous layer before moisturiser.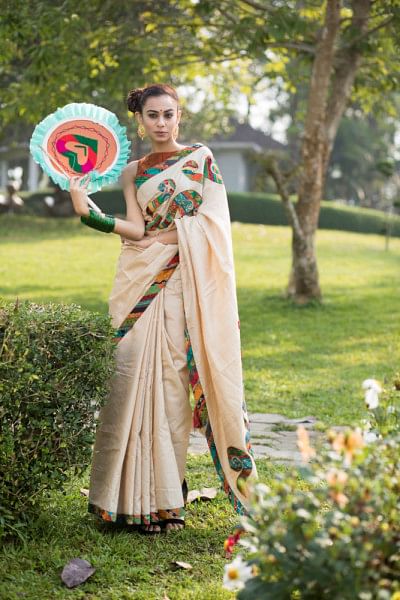 Humidity is abundant and inevitable so setting your makeup is paramount. Use a primer as a base, pick an oil-free foundation that will stay shine-free throughout the day and set your makeup with a good quality setting spray to keep your face looking fresh.


Stay hydrated. A lot of times we do not realise our dehydrated status until our head starts to spin! Drink water the first thing in the morning, and keep sipping on juices, infused waters and lemonades throughout the day to beat the heat.


Choose lightweight, breathable fabrics to keep yourself cool. Give heavy brocades and velvets a miss and choose cottons, soft silks, chiffons and georgettes instead.
Photo: Sazzad Ibne Sayed
Model:  Oshin, Raj, Torsha, Rabbi, Mysha
Wardrobe: Chondon
Styling: Sonia Yeasmin Isha
Make-up: Noyon Ahamed
Location: The Palace Luxury Resort, Bahubal, Habiganj