Mangal Shobhajatra: An Intangible Cultural Heritage of Humanity
Tens of Thousands to take part in the secular carnival tomorrow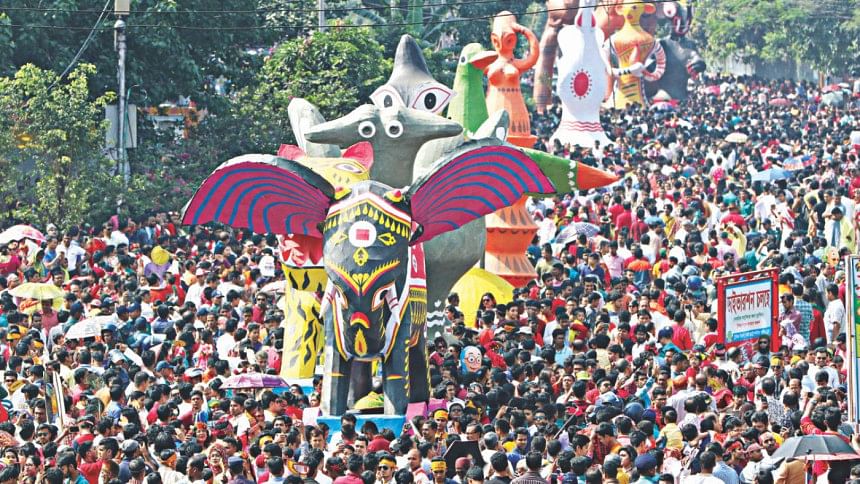 Mangal Shobhajatra on Pahela Baishakh, the largest secular festival close to the hearts of Bangalees, got inscribed on UNESCO's Representative List of Intangible Cultural Heritage of Humanity in 2016. It is a vibrant and colourful procession in which tens of thousands of people from all walks of life join freely and spontaneously as part of their celebration of the Bangla New Year.
The Faculty of Fine Art (FFA), popularly known as the Charukola, University of Dhaka (DU), has kept the Mangal Shobhajatra free of commercial signage of big companies. Instead, the teachers, students and the alumni of FFA raise funds by selling artworks, sora, masks and crafts they create.
Diverse folk themed designs that speak of our time-honoured heritage and culture will feature in this year's carnival. The theme for this year's Mangal Shobhajatra has been determined as "Manush Bhojle Sonar Manush Hobi", an excerpt from a popular Lalon song, to embrace the path of humanity. This year's rally, led by Vice Chancellor of DU and accompanied by pro-vice chancellors, treasurer, deans, teachers, students and people from all walks of life, will start at 9am from FFA premises, according Professor Nisar Hossain, Dean of FFA, DU.    
In 1989, the students organised a colourful procession titled "Mangal Shobhajatra" -- literally meaning wellbeing procession -- on Pahela Baishakh. Since then, the students and teachers of Charukola have remained in the forefront for organising Mangal Shobhajatra every year. It has become an integral part of Pahela Baishakh, the biggest celebration of secular Bangalee culture. Every year, the procession centres on a theme relevant to the country's culture and politics.
Mangal Shobhajatra features various animal-shaped carnival floats, large colourful masks, replicas of birds, butterflies, traditional dolls and other motifs of Bangladeshi culture that highlight the traditional folklore of Bangladesh. 
To hail Pahela Baishakh, artists, cultural organisations and schools across the country and Bangalees living around the world are all set to usher in the dawn of Bangla year 1425 through various programmes.
Artists of FFA, DU have been busy for almost a month to make the Mangal Shobhajatra a grand success. Teachers, students and alumni of FFA are now busy giving final touches to the giant structures. The 20th batch students of FFA are in charge of organising Mangal Shobhajatra for the year.
"This year we have designed the colossal structures of the sun, water buffalo, tepa putul with bird, elephant, heron, king and queen, fish, birds and other folk motifs for Mangal Shobhajatra," said Professor Shishir Bhattacharjee, one of the key organisers of the event.
The outer wall of FFA wears a new look with numerous folk designs. Artists have extensively worked to enliven the wall with palanquin, horse rider, pied piper, conch player, village women, tree, floral motifs, tiger, owl and many other designs.
A number of flamboyant masks that will be on display at the colourful procession are complete. Large masks made with paper, papier-mâché and fiber have been made to augment the visual delight of Mangal Shobhajatra. Students of FFA were seen busy yesterday decorating the Fine Art School (inside FFA, DU) with a new lease of life.