The lights won't stop shining
2019's notable deaths in Bangladesh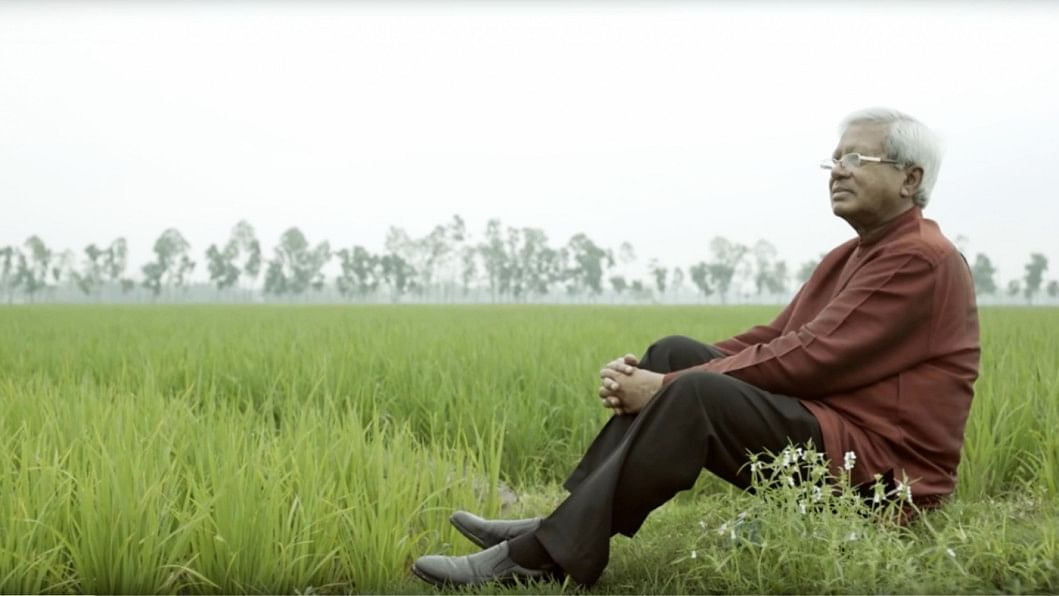 Do not stand at my grave and weep
I am not there. I do not sleep.
I am a thousand winds that blow.
I am the diamond glints on snow…
Do not stand at my grave and cry;
I am not there. I did not die...
The verses of the poem "Do Not Stand At My Grave And Weep" of American poet Mary Elizabeth Frye throw light on the lives of people who live in the midst of their works even after death.
This year, the nation lost some great people, who will not stop shining even after their death. They will live in their accomplishments and contributions to humanity. Here is a compilation of the souls in the eve of the NEW YEAR 2020.
Sir Fazle Hasan Abed KCMG (1936-2019)
"Abed was one of the foremost leaders of thought as well as action of our time," Nobel laureate economist Amartya Sen said commemorating Sir Fazle Hasan Abed.
Sir Fazle, who tirelessly fought poverty and inequality in the last 47 years, left the universe at the age of 83 on December 21 conquering the hearts of millions of people across the world.
After his death, people from all over the world have shared their memories and feelings about Sir Fazle, founder of the world largest NGO Brac.
Former US President Bill Clinton wrote: "He was a great gift to humanity." "We will forever draw inspiration from his work," said Bill and Melinda Gates. "His life is a lesson for us," wrote World Bank Group President Jim Yong Kim.
The comments of the world's top personalities bear the mark of how large the portfolio of Sir Fazle was. His identity, however, synonymous it may be with Brac, actually far exceeds the organisation he built. Sir Fazle, who showed the path of how to listen and learn, to fail and to get up again in the service of humanity, was an institution unto himself, selflessly dedicated to bettering the lives of those around him.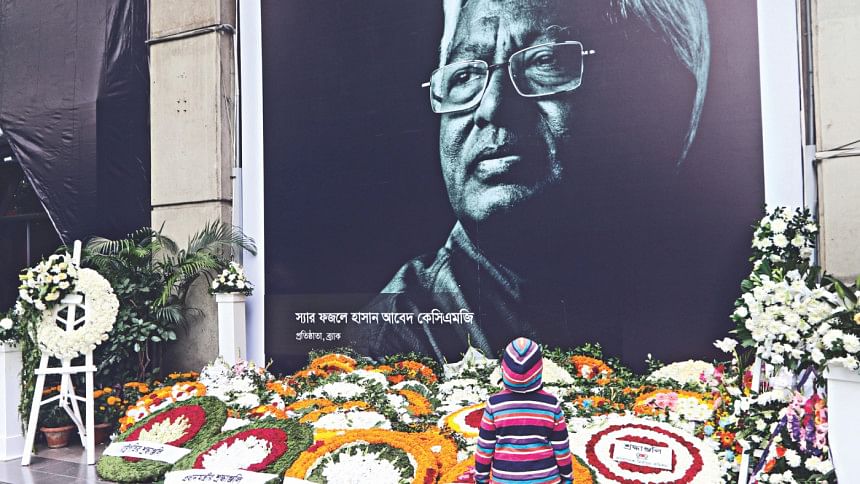 Sir Fazle Hasan Abed was born in Baniachong of Habiganj on April 27, 1936, to Siddiq Hasan and Syeda Sufya Khatun. He studied Accountancy in London, qualifying as a Cost Management Accountant in 1962. While he was working as a senior corporate executive at Pakistan Shell, the 1970 cyclone and 1971 Liberation War in Bangladesh dramatically changed the direction of his life. He left his job and moved to London, where he helped initiate Action Bangladesh and HELP Bangladesh in support of the Liberation War.
Early in 1972, after the war was over, he returned to the newly-independent Bangladesh, finding the economy in ruins. The return of 10 million refugees, who had sought shelter in India during the war, called for urgent relief and rehabilitation efforts. Sir Fazle established BRAC to address the needs of refugees in a remote area of north-eastern Bangladesh, guided by a desire to help the poor develop their own capacity to better manage their lives.
Today BRAC is one of the largest NGOs in the world, operating across eleven countries in Africa and Asia. Its primary objectives are to alleviate poverty and empower the poor. In 2018, for the third consecutive year, BRAC was ranked first among the world's top 500 NGOs by Geneva-based 'NGO Advisor' in terms of impact, innovation and sustainability.
Sir Fazle has been honoured with numerous national and international awards for his achievements in leading BRAC, including the Yidan Prize for Education Development (2019), Dutch Royal Knighthood (2019), LEGO Prize (2018), Laudato Si' Award (2017), Jose Edgardo Campos Collaborative Leadership Award, South Asia Region (2016), Thomas Francis, Jr. Medal in Global Public Health (2016), World Food Prize (2015), Trust Women Hero Award (2014), Spanish Order of Civil Merit (2014), Leo Tolstoy International Gold Medal (2014), CEU Open Society Prize (2013), Inaugural WISE Prize for Education (2011), Entrepreneur for the World Award (2009), David Rockefeller Bridging Leadership Award (2008), Inaugural Clinton Global Citizen Award (2007), Henry R. Kravis Prize in Leadership (2007), Palli Karma Shahayak Foundation (PKSF) Award for lifetime achievement in social development and poverty alleviation (2007), UNDP Mahbubul Haq Award for Outstanding Contribution to Human Development (2004), Gates Award for Global Health (2004), Gleitsman Foundation International Activist Award (2003), Schwab Foundation's Social Entrepreneurship Award (2003), Olof Palme Prize (2001), InterAction Humanitarian Award (1998) and Ramon Magsaysay Award for Community Leadership (1980).
He is also recognised by Ashoka as one of the 'global greats' and is a founding member of its prestigious Global Academy for Social Entrepreneurship. In 2009, he was appointed Knight Commander of the Most Distinguished Order of St. Michael and St. George by the British Crown in recognition of his services to reducing poverty in Bangladesh and internationally. Sir Fazle was a member of the Group of Eminent Persons appointed by the UN Secretary-General in 2010 to advise on support for the Least Developed Countries. In both 2014 and 2017, he was named in Fortune Magazine's List of the World's 50 Greatest Leaders.
The many honorary degrees received by Sir Fazle Hasan Abed include those from Princeton University (2014), the University of Oxford (2009), Columbia University (2008) and Yale University (2007).
Prof Muzaffar Ahmed (1922-2019)
One of the political luminaries of the country Professor Muzaffar Ahmed, was the last surviving member of the advisory council of the Mujibnagar government that led Bangladesh's Liberation War in 1971.
The veteran politician died on August 23, 2019 due to age-related complications.
Muzaffar was the president of Bangladesh National Awami Party (Pro-Moscow NAP) for over five decades.
Muzaffar Ahmed was also a founder of a special guerrilla force comprising the members of National Awami Party (NAP), Communist Party of Bangladesh, and Bangladesh Chhatra Union in 1971.
The leftist politician, who had a political career of more than eight decades, refused to accept Swadhinata Padak in 2015, saying he did politics for the people and the country without expecting any recognition.
He was a forefront leader during the Language Movement, the Liberation War, and the anti-autocrat movements.
Born on April 14, 1922, in Cumilla's Debidwar, he completed his graduation and post-graduation from the department of economics at Dhaka University with distinction.
He was a teacher of the Economics Department of Dhaka University in 1952-54. He left teaching in 1954 to dedicate more time into politics.
Prof Muzaffar started his political career in 1937 by joining leftist students' organisation Student Federation. He came to the limelight in 1954 when he defeated Muslim League leader Mofiz Uddin in the East Bengal Legislative Election.
He was a pivotal figure in forming the National Awami Party under the leadership of Maulana Abdul Hamid Khan Bhasani in 1957.
As Pakistani military dictator Ayub Khan issued an arrest warrant against him in 1958, he went into hiding. From his hideout, he organised movements against the Ayub Khan regime. He came into open politics after eight years of being in hiding. He became the joint secretary of the undivided Pakistan NAP.
In 1967, he became the president of the-then East Pakistan NAP(Pro-Moscow), as the main NAP was divided on the question of following pro-Soviet and pro-Chinese line. After independence, NAP was later renamed NAP (Pro-Moscow).
He played a leading role during the movement of 1969 to oust dictator Ayub Khan, for which he was put behind bars.
He attended the Round-Table Conference in Rawalpindi in 1969 summoned by Ayub Khan as a leading political figure of former East Pakistan.
Muzaffar performed duties as one of the members of the six-member advisory council to the provisional government of Bangladesh formed in exile in 1971.
During the Liberation War, he played a significant role in building world opinion in favour of Bangladesh's independence by taking part in the UN General Assembly.
After the independence of Bangladesh, Muzaffar started to expand his party NAP.
In 1979, he was elected a Member of Parliament. He was also NAP, CPB and other progressive forces' candidate for the 1981 presidential election. His party NAP joined the ruling 14-party alliance in 2008.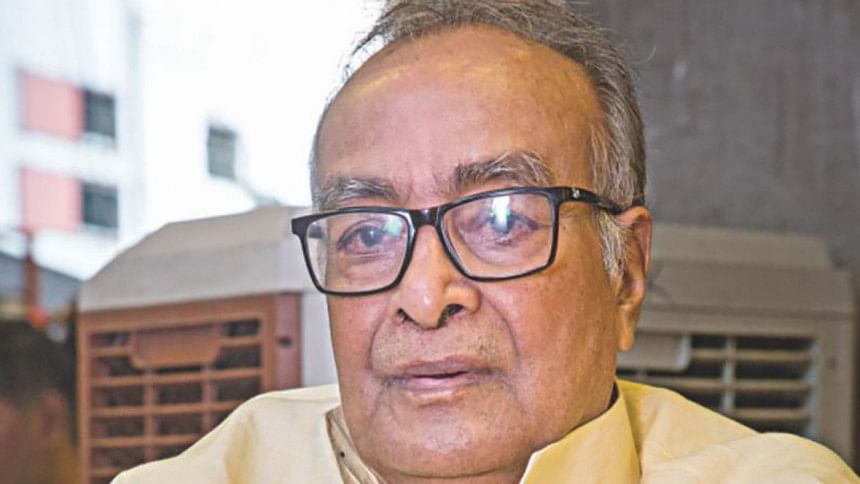 Momtazuddin Ahmed (1935-2019)
Renowned theatre personality, language movement activist and Ekushey Padak recipient Momtazuddin Ahmed passed away June 2, 2019. He was 85 years old.
Momtazuddin Ahmed made remarkable contributions in many different fields of our culture -- the most prominent being theatre. His theatre troupe, which he led for decades, Topkhana, was one of the most popular ones in its time.
Born on January 18, 1935, in Malda of West Bengal, the legendary playwright had written 25 stage plays in total, all of which were revered highly amongst critics and the general public. Some of his notable works are Shatghater Kana Kori, Jomidar Dorpon, Hridoy Ghotito Bepar Shepar, Nattotroyi, Rakkhushi and Bokulparer   Shadhinota.
Besides writing scripts, he also directed and acted in many plays.
Momtazuddin also acted and wrote scripts for many popular television dramas. Among those, Bondhu Amar and Shohochor are the most popular.
As a teacher, he was a respected figure in multiple renowned institutions in the country for over 32 years. He was a parttime lecturer in the Department of Drama and Music in Jagannath University and Dhaka University.
From 1976 to 1978, he was in charge of formulating the national curriculum and text books. From 1977 to 1980, he was the director for Bangladesh Shilpakala Academy's Research and Publications division. He also served the Bangladesh Permanent Mission to the United Nations as cultural minister.
He was also known for his talent as a writer. Among his notable works, Ami and Lalu Shalu Ebong Syed Waliullah stand out. Ki Chaho Shankhachil and Raja Anushwarer Pala are included in the curriculum of Kolkata's Rabindra Bharati University.
An avid activist during the 1952 Language Movement, he was jailed many times while he fought for the Bangla language.
In 1976, he was honoured with the Bangla Academy award for his contributions as a playwright.  In 1997, he won the prestigious Ekushey Padak, one of the highest civilian honours in Bangladesh. He also won the Alaol Literary Award, as well as special recognition from Bangladesh Shilpakala Academy.

Ahmed Imtiaz Bulbul
Shob Kota Janala Khuley Dao Na, the song he composed with the lyric of Nazrul Islam Babu, himself a freedom fighter, will remain a timeless elegy for martyred freedom fighters of 1971.
The protagonist of the song asks all to wipe out their tears and not to sing a heart-breaking song as now is the time to celebrate the victory, while the tune of Bulbul expresses unbearable feelings of losing someone very close.
The man behind many such evergreen patriotic songs, as well as numerous popular numbers, passed away on January 22, 2019. He was 63.
Legendary musician and freedom fighter was buried at Martyred Intellectuals' Graveyard in Mirpur.
The songbird of Bangla music received various awards for his contribution to the music industry, most remarkably the Ekushey Padak, the President's Award, the Shikha Anirban Award (the highest honour conferred by the Bangladesh Armed Forces) and the Bachsas Award (11 times).
He won the National Film Award for music direction in critically acclaimed films Premer Tajmahal and Hajar Bochhor Dhorey.
Starting his career as a music director in the film Megh Bijli Badol, he composed numerous songs for films.
His famous works include O Majhi Nao Chhaira Dey, Shei Rail Liner Dharey, Sundar Suborno Tarunya Labonya, Amar Sara Deho Kheo Go Mati and Amar Babar Mukhey Prothom Jedin.
Bulbul was in his early teens when he joined the war in 1971. Initially, he took part in a number of guerrilla operations in Dhaka and subsequently joined Sector 2.
He was arrested twice by the Pakistani occupational forces and their local collaborators. He was tortured behind bars but miraculously escaped death at the time.
The army was executing all freedom fighters they had caught. On the 17th day, the Pakistani Army was transporting us to another location. I knew the area very well, and we found the opportunity to flee from captivity.
Bulbul was a great friend, a great companion, who has done a lot for his country, family and friends. The country has lost a loyal son, an incredible musician and a pride of the nation.
The experience in the Liberation War left an indelible impression on Bulbul's artistic career that he mentioned in many interviews.
"After independence, I composed patriotic songs for BTV. Those songs were rendered by Sabina Yasmin ... In the 1980s, for eight years, BTV used my composition Shob Kota Janala as a prelude to the news bulletin," Bulbul told The Daily Star in an interview.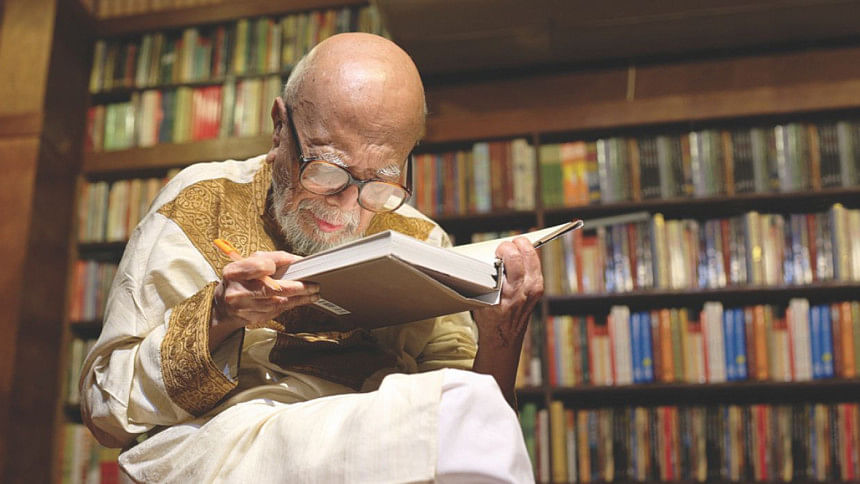 Al Mahmud (1936-2019)
Al Mahmud, one of the major poets of Bangla literature, died on February 15. He was 83.
Mir Abdus Shukur Al Mahmud emerged in the realm of Bangla literature in 1950s. He won over the hearts of hundreds with his masterpiece poetries "Lok Lokantor" and "Sonali Kabin".
His other literary creations include Mayabi Porda Dule Otho, Arobbo Rojonir Rajhash, Bokhtiyarer Ghora, Dinjapan, Ditiya Bhangon, Pankourir Rokto, Nodir Bhitorer Nodi, Prem Prokritir Droho Ar Prarthonar Kobita and Upomohadesh.
With more than 50 books in his six-decade long career, he is considered as one of the finest novelists, short story writers and essayists in the country.
Political and economic issues and nature are some of the major hallmarks of his writings that are full of metaphors, images and striking themes.
Al Mahmud received the Bangla Academy Award in 1968.
The frequent uses of colloquial dialects and his outspoken approach fetched him international acclaim.
He regularly wrote about for Chatushkon, Chaturanga, Mayukh and Krittibash.
In Dhaka, he started writing regularly for Sikandar Abu Zafar's Shamokal, a magazine published between 1959 and 1970.
After independence, Mahmud joined The Daily Ganakantha as an assistant editor. In 1975, he joined Bangladesh Shilpakala Academy as assistant director and retired from the academy as a director in 1993.
He also edited and ran a number of journals, magazines and dailies.
Al Mahmud's last publication was his autobiography titled "Jiban Jakhan Bak Ghore". It was published in 2018 Amar Ekushey Grantha Mela.
Born in Brahmanbaria on July 11, 1936, Al Mahmud was honoured with many awards including Ekushey Padak, Kabi Jasim Uddin Award, Joy Bangla Award, Humayun Kabir Memorial Award and Jibonananda Memorial Award in recognition of his contribution to Bangla literature.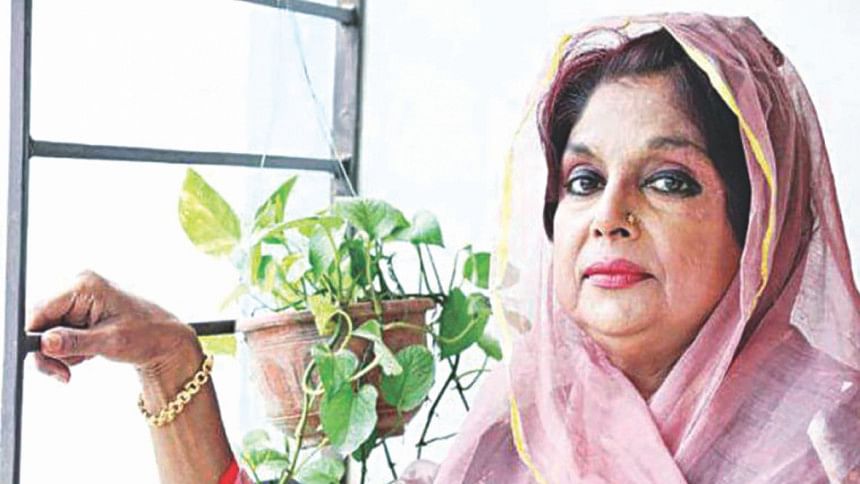 Shahnaz Rahmatullah (1952-2019)
The queen of modern Bangla music passed away on March 23, 2019 at the age of 67.
The artiste was born in Dhaka to M Fazlul Haque and Aasia Haque. Under her mother's watchful grooming, she was taught singing as a child and gained public recognition from a young age.
Her professional experience began at the age of 11, as a playback singer of Notun Shur (1963), and appeared on television from 1964.
All her life, she was revered also for ghazals. In recognition of her timeless songs, she was awarded Ekushey Padak, National Film Awards, Bangladesh Shilpakala Award and many more.
After the Liberation War, she sang Ek Nodi Rokto Periye, considered to be one of the finest patriotic songs ever written in Bangla, for Khan Ataur Rahman's Abar Tora Manush Ho (1973).
After a BBC survey of 20 greatest Bangla songs of all times, listeners selected Ek Nodi Rokto Periye as the 9th best.
The song, written and composed by Khan Ataur Rahman, recalls the contribution of the freedom fighters during the 1971 war.
Her other evergreen songs include Ekbar Jete De Na Amar Chotto Sonar Gaye, Je Chhilo Drishtir Shimanay, Ek Tara Tui Desher Kotha, Amar Desher Matir Gondhe,  Sagorer Teer Theke, and Phuler Kane Bhramar Ese.
Shahnaz had wrapped up her career as a singer on personal grounds seven to eight years ago. The announcement came as a shock to many of her fans. She recorded three songs for an album, Badal Diner Pakhi, and that marked the end of the memorable career.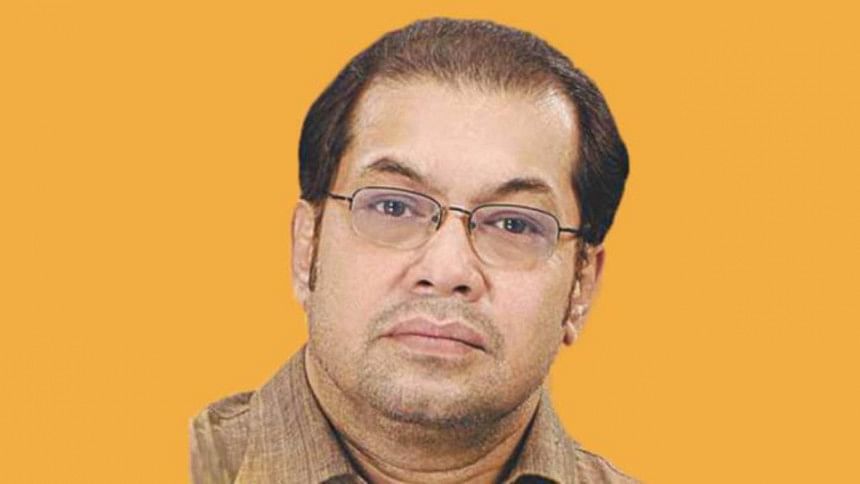 Subir Nandi (1953 – 2019)
The 66-year-old National Award and Ekushey Padak winning artiste died on May 7, 2019.
Whether he sang Nazrul Sangeet, film scores, modern Bangla songs, folk tunes, or raga-based melodies, his voice would always capture the nuances and majesty of this land.
Having performed on all platforms, including radio, television, film, and stage, Subir Nandi had never fallen below his potential and maintained the high bar he had set for himself.
His voice that aged like fine wine cemented his stature as one of the leading playback singers at the country. He was known to touch the hearts of his listeners with the tinge of romantic melancholy he embellished his songs with.
The versatile artist, who considered singing to be a form of meditation and prayer which provided him with peace, was set to perform live in the recent tribute to Manna Dey on his 100th Birth Anniversary this month, but could not make it to the programme.
Born in Sylhet on November 19, 1953, Subir spent his childhood in Dhaka and Kolkata. He and his nine siblings were trained in music under Ustad Babar Ali Khan. He grew up listening to Pankaj Mullick, Kundan Lal Saigal, Sandhya Mukhopadhyay, and Manna Dey. At the beginning of his career, Subir was also a Nazrul Sangeet student.
In 1972, he recorded his first song, "Jodi Keu Dhup Jele Deye", written by Mohammed Muzakker and composed by Ustad Mir Kasem.
In 1979, he sang one of the biggest hits in his career -- "Din Jaye Ko-tha Thake", a timeless song from a film with the same title. The lyrics were written by Khan Ataur Rahman.
The artiste had the distinction of performing at the House of Commons in the United Kingdom in 1994.
He is credited with recording over 2,500 songs, including super-hit tracks like "Amar E Duti Chokh", "Ekta Chhilo Sonar Konna", "Bhalobashi Shokaley", "Tomare Chharite Bondhu", "Tumi Emoni Jaal Petechho Shongshare", "Ami Brishtir Kachh Theke", "Koto Je Tomake Beshechhi Bhalo", "Chandey Kolongko Achhey Jemon", "Keno Bhalobasha Hariye Jaye", "O Amar Ural Pongkhirey", "Bondhu Hote Cheye", "Bondhu Tor Borat Niya", "Paharer Kanna Dekhe" and "Hajar Moner Kachhe".
Subir won the Bangladesh National Film Award five times as Best Male Playback Singer for his timeless work in the films "Mahanayak" (1984), "Shuvoda" (1986), "Srabon Megher Din" (1999), "Megher Pore Megh" (2004) and "Mohua Sundori" (2015).
Subir learned folk music from Bidit Lal Das, a Bangladeshi folk singer. He was a member of a musical troupe named Bidit Lal Das and his team, which was founded in 1972. Other members of the troupe were Akramul Islam, Jamaluddin Banna, Rakhal Chakrabarty, Himangshu Goswami, Himangshu Biswas and others. They used to perform as a group and travelled to many countries like China, India, the USA, the UK and Norway.
The group sang the song "Sadh Er Lau Banailo More Boiragi" in many performances, as it was a huge hit though incomplete. Com-posed by Bidit Lal Das, the number was completed with joint efforts by Ustad Rashbihari Chakrabarty and Kobi Giasuddin. It became so famous that Bangabandhu Shiekh Mujibur Rahman invited the troupe to his home. Subir was fortunate to be there with the team and came to limelight gradually.
Since the beginning of his career, Subir collaborated with most of the music directors of our country. He worked with eminent composers like Alauddin Ali, Pradeep Saha, Satya Saha, Samar Das, Sheikh Saadi Khan, and Alam Khan.
He also worked with the musical stars from the younger generation like Habib Wahid, S I Tutul, Bappa Mazumder, Emon Saha, Shouquat Ali Imon, Kabir Bokul and others.
Subir sang duets with all of his contemporary female artistes like Runa Laila, Sabina Yasmin, Shahnaz Rahmatullah, Ferdousi Rahman, Kanak Chapa and others.
A four-time recipient of Bangladesh Cine Journalist Association Awards, Subir was awarded the Ekushey Padak in 2019. Citi-bank conferred on him the Gaan-e Gaan-e Gunijon Songbordhona award in 2012 while Channel i honoured him with the Lifetime Achievement Award in their annual music awards ceremony in 2018.
The singer left behind his wife Purabi Nandi, daughter Falguni Nandi and a host of relatives, friends, fans and well-wishers.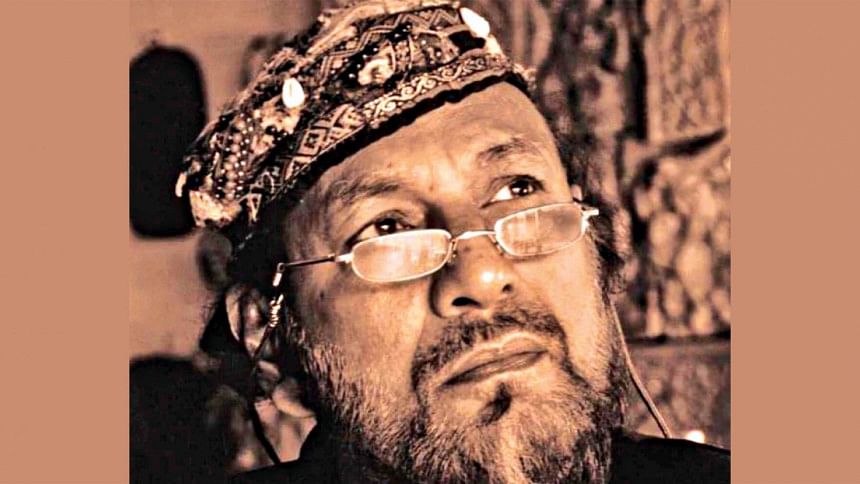 Kalidas Karmakar (1946-2019)
Internationally-acclaimed artist Kalidas Karmakar passed away on October 18 at the age of 73.
The paintings of the Ekushey Padak winner symbolically represents the connotations of Liberation War, social phenomena, unwanted political unrests and the life sketches of the people of this part of the world.
Kalidas once created six statues to signify the historic six-point demand of Father of the Nation Bangabandhu Sheikh Mujibur Rahman. They also featured the bodies of the martyred intellectuals and the freedom fighters.
Kalidas was born on January 10, 1946 in Faridpur. The artist completed his graduation from the Government College of Fine Arts and Crafts in Kolkata in 1969.
Before completing his graduation in fine arts from the College of Fine Arts and Crafts, Kolkata, India, Kalidas had a two-year pre-degree study at the Institute of Fine Arts, now Faculty of Fine Arts of Dhaka University. He attained many scholarships and fellowships in different countries.
For his contributions to fine arts, Bangladesh government awarded Shilpakala Padak in 2016 and the Ekushey Padak in 2018 to the renowned artist.
"The mind of every Bangalee is as soft as the alluvial clay and, at the same time, it is as hard as the stone after that clay gets burnt with fire. For that very feature, we got tough against Pakistanis and liberated our motherland in 1971," Kalidas said in an interview with The Daily Star a few years back.
Commemorating Kalidas after his death, Malay Bala, associate professor of the DU Faculty of Fine Arts, said Kalidas celebrated his life in an artistic way. "One can easily find his vivacious presence in his creations. His artistic realm is diverse. He did paintings, prints, sculptures, installations and performances. His artworks are modern and thought-provoking."
Recalling Kalidas, Waliur Rahman said, "Kalidas was an institution himself. He was a philosopher, a thinker and a rebel."
"He was a brilliant artist," Ramendu Majumdar observes.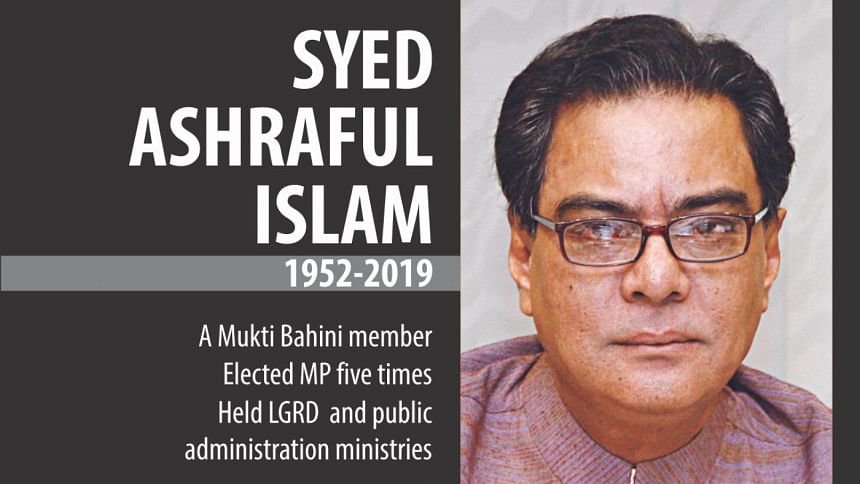 Syed Ashraful Islam (1952-2019)
Syed Ashraful Islam, was one of the brightest stars in Bangladesh politics, passed away on January 3, 2019. He was 68.
His death came just four days after he was elected MP from Kishoreganj-1. He was elected MP from the same seat four other times -- 1996, 2001, 2008 and 2014.
Known for his honesty, humility and simplicity, he was a giant of a politician.
Son of Syed Nazrul Islam, the acting president of Mujibnagar Government, Ashraf was a charismatic leader too, but more than anything else. He commanded respect from across the political spectrum, a rarity in Bangladesh politics.
Born in Mymensingh in 1952, Ashraf started his political career during his student years with Chhatra League and became General Secretary of BCL's greater Mymensingh district unit. He was a member of the Mukti Bahini during the Liberation War.
Following the killing of his father on November 3, 1975, inside Dhaka Central Jail along with the three other national leaders, he left the country for the UK. There, he engaged in activism with the Bangladeshi community and worked to organise the Awami League in the UK.
On his return home in 1996, he was elected MP and served as the State Minister for Civil Aviation and Tourism Ministry from 1996-2001. During his second term in parliament from 2001-2006, he was a member of the House Committee on foreign affairs.
After the 2008 election win, he became minister for the Local Government, Rural Development and Cooperatives. Later in July 2015, he was given the charge of the public administration ministry, a post he held till his death.
During the turbulent times of the 1/11 changeover, Ashraf, together with another AL veteran Zillur Rahman, ran the party when Sheikh Hasina was in jail.
Later, he was elected party general secretary in 2009 and 2012. He was made a presidium member of the party in 2016.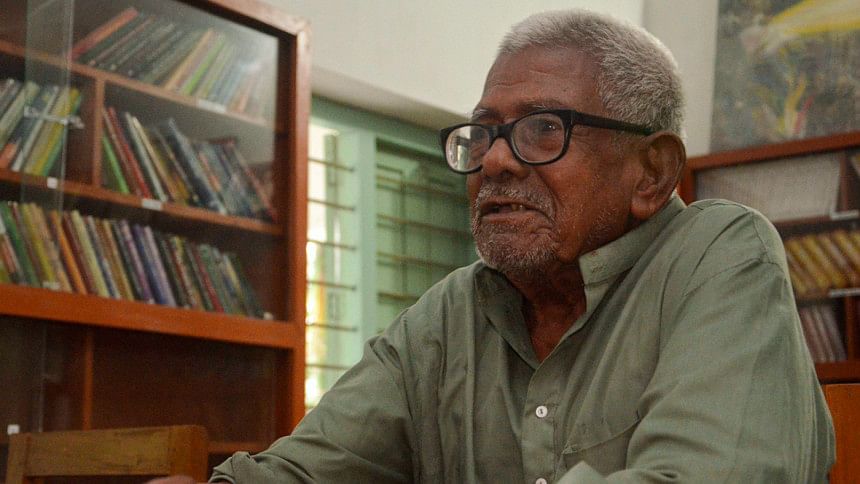 Polan Sarker (1921-2019)
Polan Sarker had revered for his life-long endeavour to educate people by walking around his locality and lending books.
The 'Walking library' passed away at the age of 98 at home in Bausa village of Rajshahi's Bagha upazila on March 1, 2019.
Born as Harez Uddin in Natore's Bagatipara upazila on September 10, 1921, Polan Sarker was a self-made man with a passion for learning.
After his father's death, Polan and his mother moved to Rajshahi to live with her parents. He could not continue formal education after class six. But his eagerness to learn did not wane.
He became involved with theatre artistes in the area, reading scripts for folk plays and participating in them. He developed a habit of buying books from local libraries, gradually becoming a voracious reader.
Soon Polan became skilled enough in Bangla to be hired for writing legal deeds, business agreements, and keeping meeting minutes.
At one point, he was the chairperson of a local high school committee, where he used to give and lend books to students. This is when he realised his true calling -- in not just gaining knowledge, but also disseminating it.
After he was diagnosed with diabetes in his 80s, he was told to walk at least three kilometres a day. He used this as an opportunity to walk to villagers' homes and lend them his own books.
He continued to hand-deliver the books for almost three decades.
In 2008, he built a library on his own land with assistance from Rajshahi Zilla Parishad. The library now has five book distribution points at different villages.
Inspired by his initiative, some youths of his village joined him and created a movement for reading books.
Polan Sarker was awarded the prestigious Ekushey Padak in 2011 for his dedication to social welfare.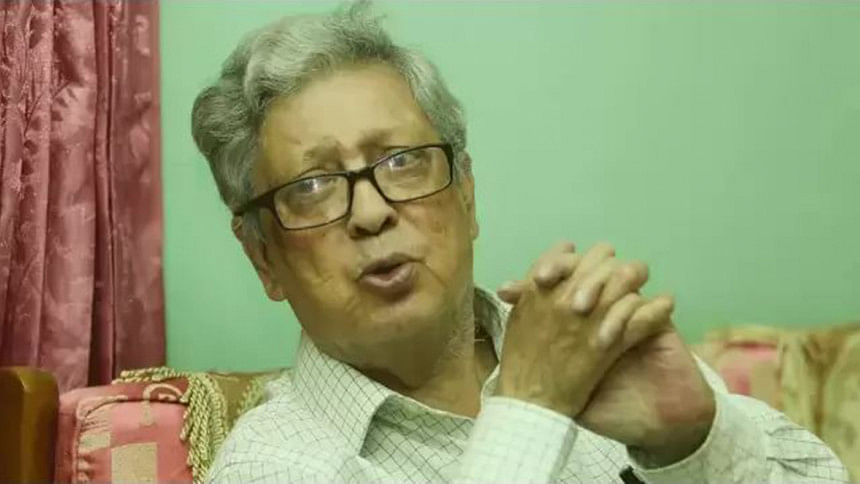 Ajoy Roy (1935-2019)
An Ekushey Padak winner and retired Dhaka University physics teacher, Prof Ajoy Roy December 9, 2019. He was 84.
The renowned academician was the father of writer-blogger Avijit Roy, who was brutally stabbed to death on the Dhaka University campus on February 26, 2015.
Born on March 1, 1935 in Dinajpur, Prof Ajoy obtained his Honour's and Master's degrees from Dhaka University and obtained his PhD in physical chemistry from Leeds University, England.
He joined as a teacher at the physics department in DU in 1959 and went into retirement in 2000. He was also a professor of University Grants Commission.
The veteran educationist participated in many progressive movements, including the Language Movement in 1952, 1969 Mass Upsurge, and Non-cooperation Movement. He joined the Liberation War in 1971.
During the war, Prof Ajoy was the general secretary of the teachers' association. He mobilised opinions of Indian educationists against the atrocities of Pakistani occupation forces.
Founder of "Shikkkha Andolan Mancha" (a platform for education movement), Prof Ajoy was the editor-in-chief of Muktanwesa magazine, a Bengali publication for promoting freethinking.
He was the general secretary of the Asiatic Society of Bangladesh.
Prof Ajoy also played an active role in protecting victims when there was a wave of violence and oppression against the Hindu community in 2001. Besides, he worked for promoting the rights of the people of the Chattogram Hill Tracts.
He worked as a columnist in different national newspapers of Bangladesh.
Best known for his prominent role in promoting human rights and freethinking, Prof Ajoy, before his death, donated his body for research purposes.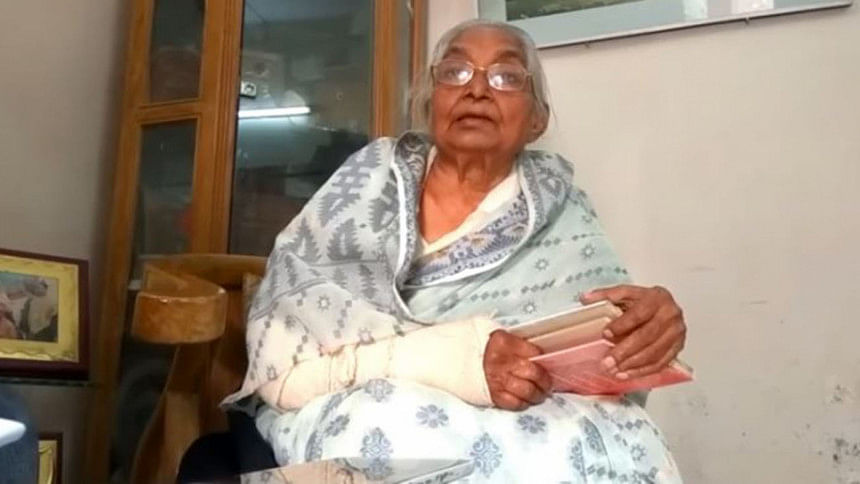 Rowshon Ara (1932-2019)
Rowshon Ara Bachchu was among the women who had fought shoulder to shoulder with their male counterparts for establishing the right to speak in the mother tongue – Bangla during the 1952 Language Movement.
The veteran language hero passed away on December 3, 2019 at the age of 87.
On February 21, 1952, her group was among the first to defy the section 144 of the then Pakistan government and gather under the historic Amtala on the Dhaka University campus.
They broke the police barricade to march towards the assembly at Jagannath Hall.
Police swung into action firing teargas shells and beating up the protesters. The battle between the protesters and the police spilt out on to the streets. As they kept marching, shooting began, killing Salam, Barkat, Rafique, Jabbar, Shafiur and others.
Born in Kulaura on December 17, 1932, Rowshon completed her intermediate from Barishal's Brojomohun College in 1948.
Rowshon got involved in student politics after she was admitted at DU in 1949, from where she completed her bachelor's degree in philosophy in 1953.
In her professional life, she worked as a teacher at several schools and colleges in the city, including Kakoli High School and Nazrul Academy. She went on retirement in 2002.
Besides, Jatiya Party Chairman HM Ershad, Freedom fighter and former mayor of undivided Dhaka City Corporation Sadeque Hossain Khoka, Noted novelist Rizia Rahman, Young director, actor and writer Humayun Sadhu, Nazrul exponent Khalid Hossain, Senior journalist Mahfuz Ullah, Ekushey Padak awardee poet Rabiul Husain, Actor Saleh Ahmed, Comedian Anis, Legendary cinematographer Mahfuzur Rahman, Cinematographer Mahfuzur Rahman, Noted Film actor Tele Samad, Talented musician Prithwi Raj, Prominent artist Rafique Siddiqui, Ex-chief justice Mahmudul Amin Chowdhury are the among the noted persons who died in 2019.
The article is a compilation of different news reports published in The Daily Star. Besides, the biography of Sir Fazle Hasan Abed was taken from the website of Brac.