The death of a radiant star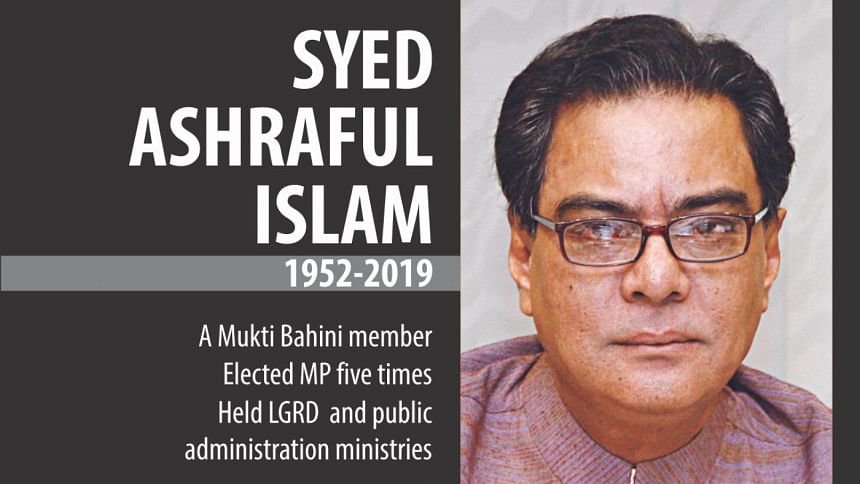 He was one of the brightest stars in Bangladesh politics. Known for his honesty, humility and simplicity, he was a giant of a politician. He was a charismatic leader too, but more than anything else, he commanded respect from across the political spectrum, a rarity in Bangladesh politics.
Syed Ashraful Islam had built an image of his own in a country where politicians often thrive on muscle power, greed and cronyism. But with his own brand of politics and oratory prowess, he lifted the ethical standards in politics.
The man, who stood by his party -- the Awami League -- in good times and bad, died at Bumrungrad International Hospital in Bangkok around 9:45pm yesterday, said his personal assistant Tofazzal Hossain. He was 68.
Son of Syed Nazrul Islam, the acting president of Mujibnagar Government, Ashraf had been suffering from lung cancer for long. He went to Thailand for treatment on July 3 this year.
His death came just four days after he was elected MP from Kishoreganj-1. He was elected MP from the same seat four other times -- 1996, 2001, 2008 and 2014.
His death came as shock to the country men, irrespective of their political affiliation. Soon after the news broke, social media flooded with messages of grief and prayers for his departed soul.
He left behind his only daughter and a host of relatives and well-wishers to mourn his death. His wife Shila Islam died of cancer at a London hospital in October last year.
Ashraf's body will be flown to the country tomorrow, said Anwarul Kabir, a close aide to Ashraf.
President Abdul Hamid and Prime Minister Sheikh Hasina expressed deep shock at his death.
"His [Ashraf's] death is an irreparable loss to the country's political arena… People will remember his contributions with due respect for long," the president said in his condolence message.
Hasina recalled with profound respect Ashraf's outstanding contributions to the country's politics.
 "The nation has lost a very honest, dedicated and courageous leader and his death is an irreparable loss to the country's politics as well as the Awami League," she said.
The PM also remembered with "deep gratitude" his strong role during the 1/11 changeover in 2007.
"This public leader will continue to live in people's hearts forever for his work," she said.
Born in Mymensingh in 1952, Ashraf started his political career during his student years with Chhatra League and became General Secretary of BCL's greater Mymensingh district unit. He was a member of the Mukti Bahini during the Liberation War.
Following the killing of his father on November 3, 1975, inside Dhaka Central Jail along with the three other national leaders, he left the country for the UK. There, he engaged in activism with the Bangladeshi community, and worked to organise the Awami League in the UK.
On his return home in 1996, he was elected MP and served as the State Minister for Civil Aviation and Tourism Ministry from 1996-2001. During his second term in parliament from 2001-2006, he was a member of the House Committee on foreign affairs.
After the 2008 election win, he became minister for the Local Government, Rural Development and Cooperatives. Later in July 2015, he was given the charge of the public administration ministry, a post he held till his death.
During the turbulent times of the 1/11 changeover, Ashraf, together with another AL veteran Zillur Rahman, ran the party when Sheikh Hasina was in jail.
Later, he was elected party general secretary in 2009 and 2012. He was made a presidium member of the party in 2016.