Tributes shower on Abed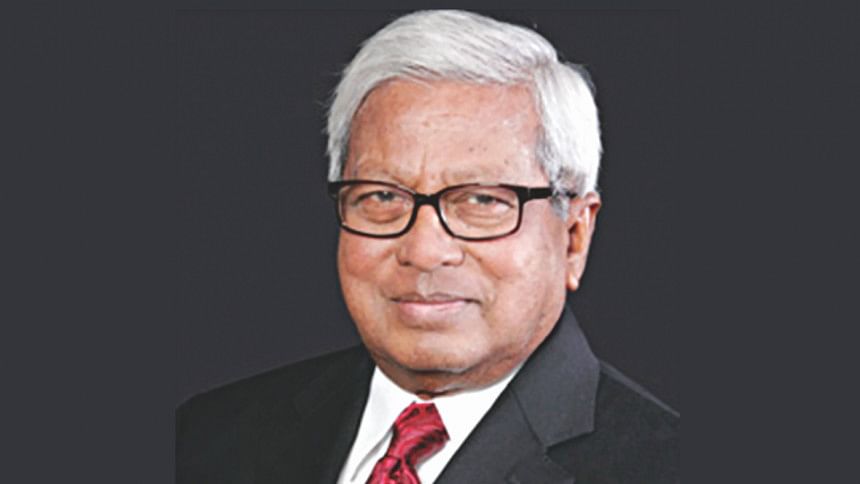 Tributes poured in from around the world for Brac founder Sir Fazle Hasan Abed, who breathed his last at a city hospital on Friday night.  
Former US president, Nobel laureates and leading economists were among the people who expressed profound shock at the death of Sir Fazle Abed, the champion of the deprived people. 
In his condolence message, former US president Bill Clinton said Sir Fazle Abed's life was a great gift to humanity. 
"His nearly 50 years of visionary leadership at Brac transformed millions of lives in Bangladesh and beyond, and changed the way the world thinks about development. Driven by an unwavering belief in the inherent dignity of all people, he empowered those in extreme poverty to build better futures for themselves and their families," Clinton said. 
Nobel Prize-awarded couple Abhijit Banerjee and Esther Duflo, in their message, said, "How often do we see people like Sir Fazle Hasan Abed? His absence has left a great sense of loss in all of us." 
Melinda Gates, co-founder of Bill and Melinda Gates Foundation, recalled Sir Fazle Abed's contribution in her message saying, "We were saddened to hear of his passing and will forever draw inspiration from his work, as will the rest of the world, which he left so much better than he found." 
Former World Bank President Jim Yong Kim said, "The scale and impact of what he has done, and yet the utter humility with which he has done everything, is a lesson for every single one of us." 
WHO Director General Tedros Adhanom Ghebreyesus said Sir Fazle Abed's passion and work in alleviating poverty and empowering the poor inspired many. 
"My thoughts are with him and his family and friends," he added. 
Unicef Executive Director Henrietta H Fore said, "All of us at Unicef will miss his ideas and advice. We will never forget the example he set." 
Pulitzer Prize winner Nicholas Kristof, Save the Children UK Chief Executive Kevin Watkins, UK's Department for International Development and the Australian government's Department of Foreign Affairs and Trade also mourned the passing of the visionary leader. 
Brac Bangladesh Chairperson Hossain Zillur Rahman said Sir Fazle Abed succeeded in establishing the world's largest development organisation with a simple conviction that a person, even in his most disadvantaged situation, has the potential to change his fate. 
"At this painful moment of departure, his warm smile still gives us the confidence that we must tread further ahead, holding on to his values of empathy, responsibility and labour. Adieu in respect and love," he said. 
Wahiduddin Mahmud, a renowned economist of Bangladesh, said he was deeply saddened at the demise of Sir Fazle Abed. 
"I had once the privilege of sitting beside him at a dinner event and we were discussing about some public health and poverty issues. At one point I remarked that good development ideas in Bangladesh travel fast because of population density, and he immediately quipped: so does diarrhoea; such was his presence of mind and awareness of development issues!" 
"Incidentally, one of his important contributions was to spread the idea of home-made oral saline through Brac's one of many effective social campaigns".  
"Today, Bangladesh is a global leader in reducing child mortality, which is to a great extent due to the reduction of child death from diarrhoea through the widespread adoption of the oral saline technology. This is just one example of his so many innovative development ideas," Wahiduddin said. 
Ahrar Ahmad, director general of Gyantapas Abdur Razzaq Foundation, said, "While he [Sir Fazle Abed] had distinguished himself, and was internationally acknowledged, for his life-long devotion to the principles of fairness and inclusiveness, and his compassionate, determined and innovative approaches to improving the quality of life of people with particular attention to the "left behind", the marginalised, the "others", he was no less an imaginative entrepreneur of education pursuing his vision of excellence in pedagogy, research, and the development of an enlightened citizenry."
Former caretaker government adviser CM Shafi Sami, former Bangladesh Bank governor Salehuddin Ahmed, Unicef Representative in Bangladesh Tomoo Hozumi, ASA president Shafiqual Haque Choudhury, cricketer Shakib Al Hasan, expressed grief at the death of the development champion. 
Different political and socio-economic organisations, NGOs also mourned the death of Sir Fazle Abed. Jatiya Samajtantrik Dal (Inu), Oikya Nap, Centre for Policy Dialogue, Ain o Salish Kendra, Bangladesh Mahila Parishad, Gonoshasthaya Kendra, Federation of NGOs in Bangladesh, Sammilita Samajik Andolan, Bangladesh Garment Manufacturers and Exporters Association, Dhaka University, Jahangirnagar University also mourned the death. 
His body will be kept at the Army Stadium premises in the capital today from 10:30am to 12:30pm to allow people from all walks of life to pay their last tributes. His Namaz-e-Janaza will also be held there at 12:30pm. He will be laid to rest at the graveyard in Banani, Dhaka on the same day. 
CONDOLENCE BOOK
Brac will open a condolence book in memory of Sir Fazle Abed at Brac Centre in Mohakhali at 2:00pm today. 
Brac University, all outlets of Aarong and Brac Bank will open condolence books on Monday and all regional office of Brac will open similar books on Tuesday.