Sir Abed laid to rest
Brac founder Sir Fazle Hasan Abed was laid to eternal rest at the Banani graveyard in Dhaka after Zohr prayers today.
Abed was buried at the graveyard around 1:40pm after the last namaz-e-janaza there, our staff correspondent reports from the spot.  
Earlier, tributes and condolences poured in from all quarters for Brac founder Sir Abed, who passed away at a hospital in Dhaka on Friday night.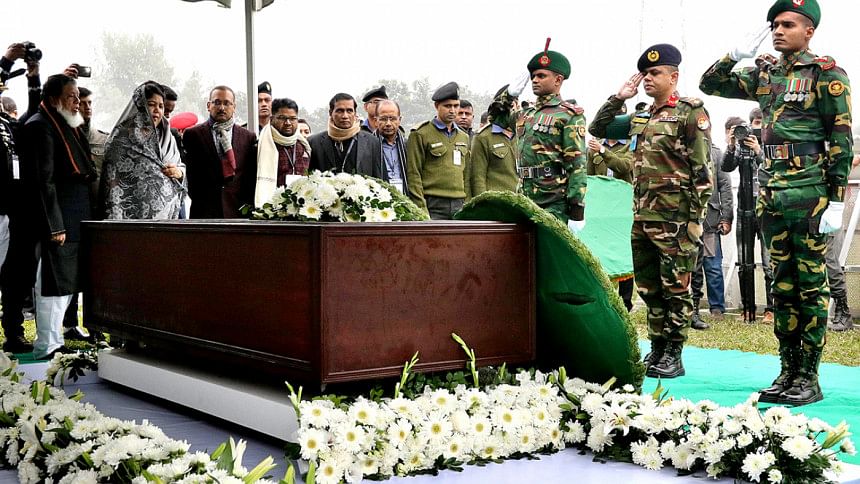 His body was taken to the Army Stadium premises in the capital around 10:30am.
Delegations on behalf of President M Abdul Hamid and Prime Minister Sheikh Hasina and Awami League General Secretary Obaidul Quader placed wreaths on his coffin.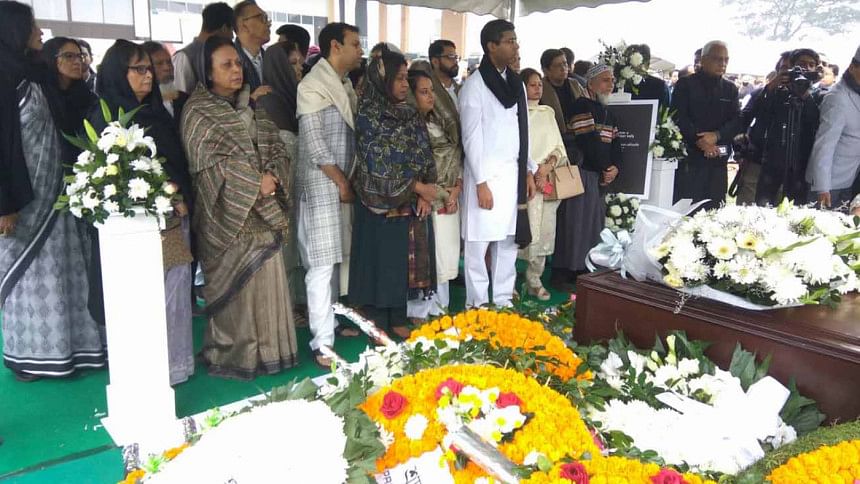 Speaker Shirin Sharmin Chaudhury, Deputy Speaker Fazle Rabbi Miah, Chief Election Commissioner KM Nurul Huda, Dhaka North City Corporation Mayor Atiqul Islam, former CEC ATM Shamsul Huda and Nobel Laureate Dr Muhammad Yunus paid rich tributes to Sir Abed.
Besides, members of different NGOs including Brac, Manusher Jonno Foundation, Sajida Foundation and activists of Gonoshasthaya Kendra and Bishwa Sahitya Kendra, among others, were present there to pay rich tributes to Abed.
Around 12:45pm, his first Namaz-e-Janaza was held at the Army Stadium premises.
Yesterday, tributes poured in from around the world for Brac founder Sir Fazle Hasan Abed. Former US president, Nobel laureates and leading economists were among the people who expressed profound shock at the death of Sir Fazle Abed, the champion of the deprived people.
Sir Abed had been undergoing treatment at the hospital for brain cancer.
Sir Fazle founded Brac in 1972, at the age of 36, and served as its executive director until 2001.
At 65, he retired as executive director and was elected the chairperson of BRAC Bangladesh. Later, he was also elected as the chairperson of Brac International.