187 women raped in last 3 months: ASK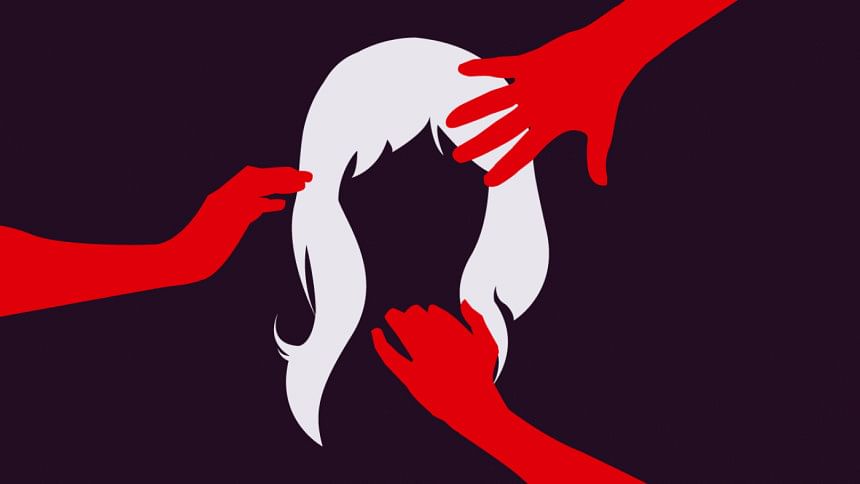 At least 187 women were raped and 29 women faced sexual harassment across the country in last three months, according to human rights body Ain o Salish Kendra (ASK).
Among the rape victims, 19 women were killed and two committed suicide after rape, the ASK said in a press statement today.
- 187 women raped 

- 422 children killed or tortured

- 46 reported cases of extra-judicial killings
Of the 29 women who faced sexual harassment, one committed suicide and two male persons were killed while protesting such incidents, the report said.
"Crimes like rape have been increasing in the society on regular basis," it said.
The ASK said that killing and torture of children in different parts of the country was "alarming" as 422 children were either killed or tortured in the three months since January. Of them, 71 children were killed, 26 committed suicide, it mentioned.
The rape and murder of Beauty Akter in Habiganj's Shayestaganj upazila and rape of a Marma girl in Rangamati's Bilaichari upazila were mentioned in the ASK statement.
Sister of the Marma girl was also harassed sexually "by state force" while Yan Yan, the queen of the Chakma circle, was assaulted over the issue, it also mentioned.
At least 46 people were killed in "crossfire" with law enforcement agencies in the last three months, it added.
Of them, 16 were killed in "crossfire" with Rab while 19 with police, five with Detective Branch of police and the rest were killed in "crossfire" with other agencies, it said.
The rights group said plainclothes men identifying themselves as law enforcers picked up four people in the period. Two of them returned while one was shown arrested. The law enforcement agencies, however, denied the allegations.
At least 25 people including Chhatra Dal leader Zakir Hossain died in jail custody, it said.
According to the ASK report, 11 people were killed and 1,488 were injured in the incidents of 109 political violence in the three months.
At least 65 journalists faced torture, harassment, threat and obstruction while discharging their duties in this period, it said.
Body of a journalist named Suman Sikder was recovered from his flat in Jatrabari, it mentioned.
Five houses of Hindu community were vandalised and torched while 17 idols and temples and Puja mandaps were attacked in last three months, it said.
At least 19 people were injured in the incidents, it said adding that a priest was killed at his home in Pabna.
The report added that three persons were tortured to death by BSF while several others were injured and three were abducted. Sixteen people were killed in mass beating, it mentioned.
The rights body has prepared the report based on its own findings and reports published in eight leading national dailies.