Landslide in Bangladesh: Death toll jumps to 133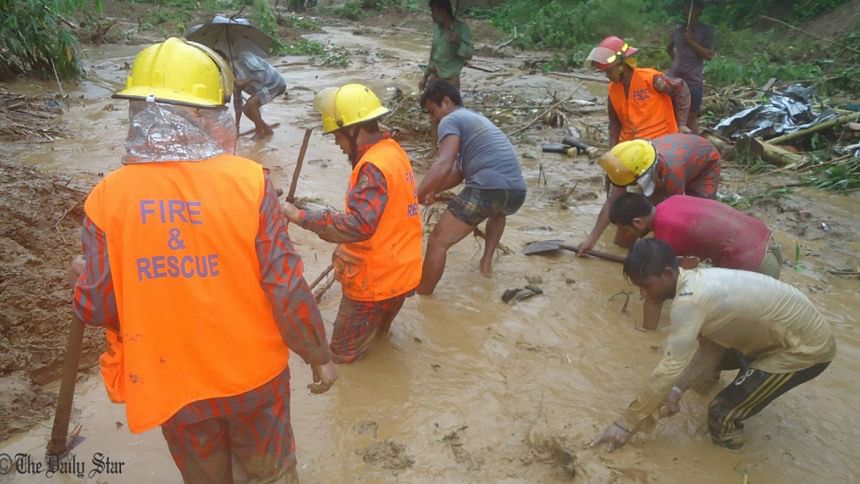 - 100 killed in Rangamati

- 26 killed in Chittagong

- 7 killed in Bandarban

- 4 army men killed

- Women, children among dead

- Many injured

- Death toll may rise

- Rescue operation on
At least 133 people, including four army men and a number of women and children, were killed in landslide in the hilly districts of Bangladesh, after yesterday's daylong rain caused by a depression in the Bay.
READ more: 4 army men among dead in landslides: ISPR
In Rangamati the death toll is 100 while in Chittagong 26 and Bandarban seven, our local correspondents report. Four members of Bangladesh Army including two of its officers are among the deceased in Rangamati, said Inter Service Public Relations (ISPR).
The death toll from the incidents of landslide may rise as rescue operation was going on till 9:30pm. A number of people were also injured in the incidents.
Also SEE: Deadly landslide in pictures
In Rangamati, 100 people, including four army men, were killed in separate incidents of landslide in different upazilas, Iftekhar Uddin Arafat, assistant deputy commissioner, told our local correspondent.
Of them, 45 were killed in Manikchari, Bedbedi and Reserve Bazar areas of Sadar upazila.
According to ISPR, four army men including two officers were killed and 10 others injured in a landslide in Manikchari.
Five of the injured are stated to be in critical conditions. Besides, another army man remained missing. The army men fell victim when they were trying to clear up the mud on Manikchari-Chittagong road following a landslide.
Meanwhile, 23 people were killed in Kawkhali while 18 in Kaptai, three in Bilaichhari and two in Jurachhari upazilas.
Dozens of people were also injured in the district. Many of them were admitted to local hospitals.
The identities of all the deceased could not be ascertained. Ruma Akhter, 25, her child Nuri Akhter, 3, Hazera Begum, 33, Sonali Chakma, her son Amiyo Chakma, 33, Mintu Tripura, Liton Mallik, his wife Chumki Mallik, and son Aiyush were among those deceased in Rangamati Sadar upazila.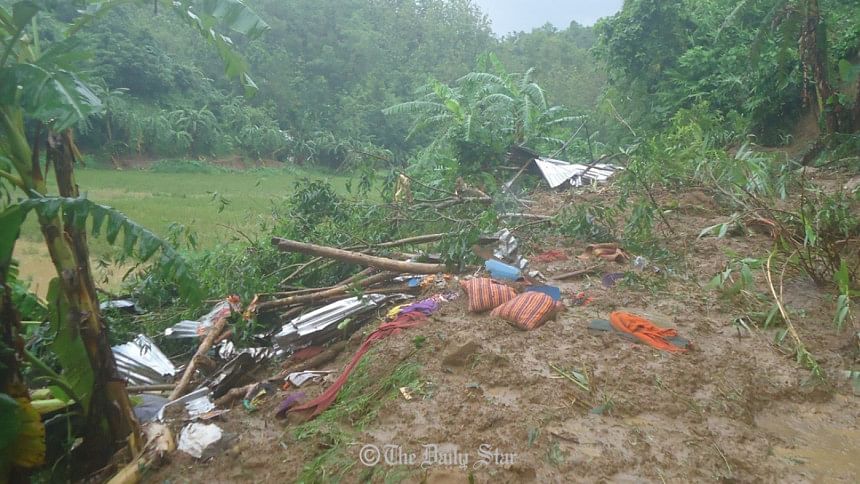 In Chittagong, at least 22 deaths were reported from three separate places in Rangunia upazila, our local correspondent reports quoting Md Tawhidul Islam, executive magistrate of the district's administration.
Of the victims, eight people of two families were killed in Rajanagar union while 14 were killed in Islampur union, said Shamsul Alam Talukdar and Iqbal Hossain Chowdhury Milton, chairmen of UPs respectively.
Four more died in Chandnaish upazila, said Mafiz Uddin, assistant superintendent (Anwara circle) of police in the district, told The Daily Star.
Keucha Kheya Khiyang, 10, Memau Khiyang, 13, Mekhang Khiyang, 50, and Mahiya, 3, of Dhopachhari area in the upazila, are among the deceased.
The upazila's road communication has been cut off by flooding, the UNO said.
Meanwhile, five people died in separate incidents in Rangunia and Chandnaish upazilas of Chittagong. Of them, two drowned, one died by lightning, one in wall collapse and another died after being electrocuted, Executive Magistrate Tawhidul said.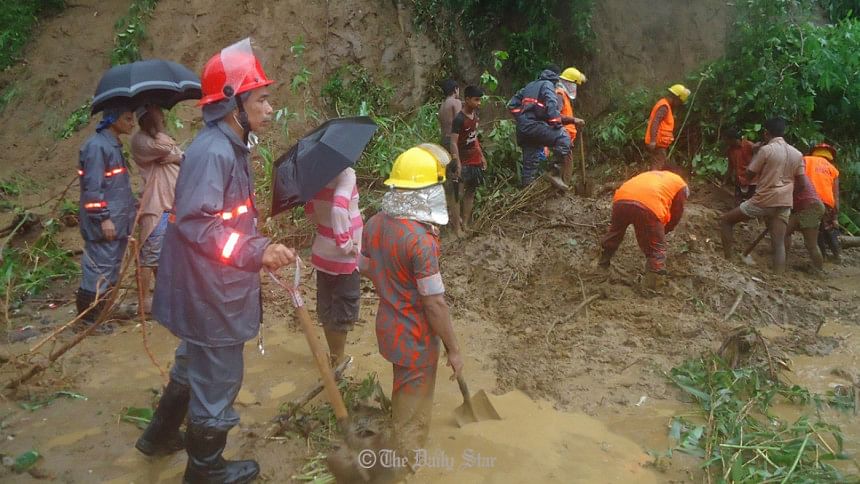 In Bandarban, seven people were killed in Lemujuri and Kalaghata areas, said Tarikul Islam, station master of Bandarban Fire Service and Civil Defence. Two were still missing.
The deceased were: three siblings Setu Barua, 10, Hridoy Barua, 7, and Lata Barua, 2, and Moka Khiyang, 55, his two grandchildren Mamra Ukhiyang, 13, and Keosa Khiyang, 9, and Reba Tripura, 22.
Until last reported, two others – Kamarunnesa Begum, 45, and her daughter Sukhiya Begum, 12 – were still missing. Firefighters were carrying out rescue operation amid rain.
Yesterday's depression in the Bay of Bengal influenced the weather all over the country and brought about incessant rainfall all day long. It inundated different areas in Dhaka and Chittagong cities.