Young, experienced makes the difference
The combination of experience and the spirit of youth could become good partners, whether in building society or running any organization. I have seen many successful examples built with this combination. A few days back, I went to see a wonderful initiative at Kachina village in Mymensingh's Bhaluka upazila. Four visionary youths and three experienced farmers have joined hands to build an integrated farm. Such agricultural initiative is now an example of success to many. They have a project to cultivate malta, lemon and fish on 20 acres of land, combining agricultural experience of three pro-farmers and four tech-savvy young men.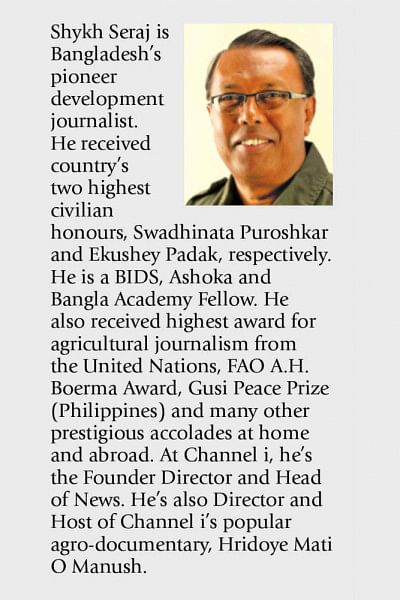 "While studying, we always thought about how our higher studies in computer science would have an impact in our lives and we could stay close to the nature as well," shared one of the youths. "Your agricultural reports on YouTube opened our eyes and we thought cultivating high-value fruit crops can be a great option," added another young entrepreneur. "We had the indomitable will and knowledge to use technology for the betterment of farming," said another entrepreneur Shariful, who was talking to me while working on a laptop. I felt good that intelligent youth are coming closer to the soil. Finally, their initiative started in 2017.
Shamsul Haque Suruj, aged around 60, is also a part of this initiative. "I have been working in the farming sector, especially paddy, jute, wheat and sugarcane, for many years now. But, I never thought I would join these boys and cultivate malta and orange. It was new to us. The young boys showed us your YouTube videos and we learned everything very fast. The video on the malta orchard of Shakhawat Hossain of Chuadanga inspired us a lot," Suruj said.  
"After visiting Shakhawat's orchard I bought 1,700 malta saplings," Suruj said. Besides, the government's agriculture department first gave them 120 saplings and guidelines and later provided them another 300 saplings. "We bought another 230 saplings and extended our cultivation on one acre," Suruj added. Let's talk about the harvest. They sold about three tonnes of malta. Usually, the yield comes low in the first year. During the second harvest they got a bumper yield. "We sold 18 tonnes of malta and after all the expenses, we made a profit of Tk 15 lakh (USD 17492)," he added. They do not use pesticides, instead they use sex pheromone traps that costs only Tk 5000 (USD 58) a year. Sometimes they all stay at the farm, because it is a dream for them.
 Now farming has become technology-based. It can be said that technology is the foundation of such entrepreneurs. Another entrepreneur Engineer Moazzem Hossain Badal left his job opportunities in the IT sector. Now he is contributing his ICT skills in farming. His main goal is to build a modern farm, not just a conventional one. He wants to bring the world's most advanced high-yielding crops into production. Badal said, "We decided to cultivate organically, because currently the world has a huge market for organic agricultural products.
Although local malta prices are half that of the imported ones, they are not unhappy with the price, compared to their production costs. Shariful Islam is working on the price, market policy and strategy. He said more fruits are sold online. He, however, mentioned some problems. Many people order for five or ten kilogram of malta, but there is no opportunity to deliver such a small amount online. The same happens during the mango season. Now, there are many courier services available for mango delivery and it would be nice to have a year-round service available. Shariful's words seemed to suggest another possibility.
Last year, they sold malta worth about Tk 43 lakh. This time, they are expecting to harvest at least 40 to 50 tonnes of malta and believe the profits would be much higher than the previous seasons. Another member of the team Mojibur Rahman, who has been engaged with farming for long, thinks integrated farming initiatives are gradually becoming more successful. He has seen a new life in diversified crops, especially high-valued crops like malta and other fruits. Now he's looking at farming in a different way.
 If you hold on to take any farming initiative with courage and devotion, one day you will find the path towards success. Today, agricultural projects of young entrepreneurs are the evidence of such success. Success in farming at Kachina village is an example. The hard work of educated youth, mixed with experienced farming brains, is just a perfect match. Successful aspects of technology-based organic farming practices are becoming popular now. I believe this will play a vital role in overall agricultural development in Bangladesh.