Development project chokes canal
Boro cultivation uncertain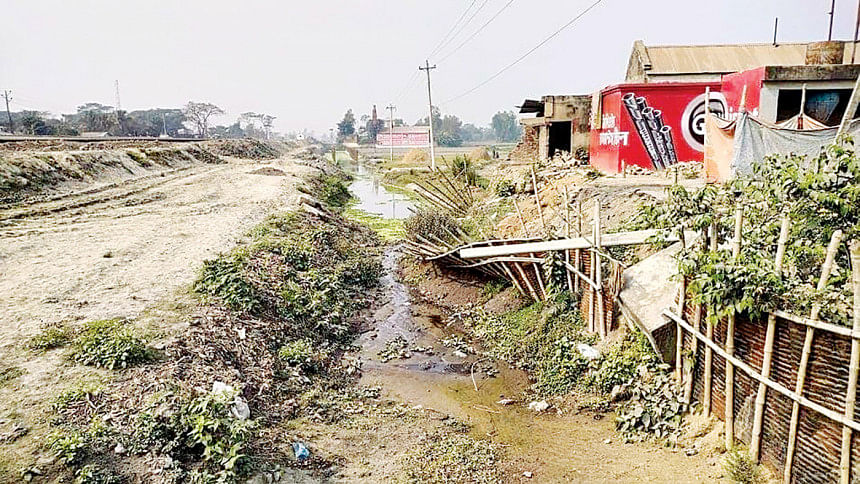 Cultivation of Boro on about 5,500 hectares of land in the current season seems uncertain due to the filling up of an important canal for a development project in Sarail upazila of Brahmanbaria.
Due to the up-gradation of 50.58 km-long road from Ashuganj river port to Akhaura land port to four lanes, 11km-long canal from Ashuganj to Sarail Bishwa road intersection has been filled up resulting in complete cessation of water supply to 5,500 hectares of land.
As a result, 20 thousand farmers of 15 villages in the upazila have been spending their days amidst grave uncertainty over Boro cultivation.
Consequently, it was not possible to release water from 'Ashuganj Sabuj Prokolpo', one of the largest irrigation projects in the country. The water of the project, which would reach the farmlands through the canal, used to be released at the beginning of January every year.
Due to lack of water, seedbeds are turning red and paddy saplings are drying up, farmers said.
The irrigation crisis is hampering their Boro cultivation as water has not come to the canal though the cultivation season is about to over, they said.
They alleged that the contracting farm of the development project--Mumbai-based Afcons Infrastructure Limited-- did not dig an alternative canal although it had been stipulated in the contract.
Devdas Singh Roy, president of Bangladesh Krishak Samity, Sarail upazila unit, said the possibility of Boro production in the upazila this year is thin.
The poor farmers have been worst hit due to the cessation of irrigation, he said, adding that a memorandum was submitted to the deputy commissioner in this regard.
In 2021, water flow was so low that one month into planting paddy cracks appeared in the dried up lands.
Farmers incurred losses last year and this year the situation is worse, they said.
While visiting the area, it was seen that the trace of the canal was difficult to locate.
Sudhan Mia, a farmer of Shahbazpur village, said "Time is running fast but still we are not getting water. Thousands of bighas of land are lying barren due to lack of water."
Aftab Mia, a resident of Islamabad village in the upazila, said, "There is no water in the canal yet. I am in big trouble as the seedbed is becoming dry."
Upazila Agriculture officer Ekramul Haque said, "If seedlings cannot be planted within the next 10 days, the seedbeds will be damaged. Farmers can't install shallow power pumps in such a short period."
Rubayed Foysal Al Masum, executive engineer of the Bangladesh Agricultural Development Corporation (BADC) in Brahmanbaria said the contracting firm has choked the canal.
"We are digging the soil with excavators. Farmers may avail water in the next four or five days, but the flow will be low. Next year, an RCC canal having 4.5 meters width and 2.5 meters height will be constructed to keep the water flow normal," he assured.