Most of iron bridges in a shambles
Movement through the ramshackle bridges on Charkhali-Mathbaria road poses risk of accidents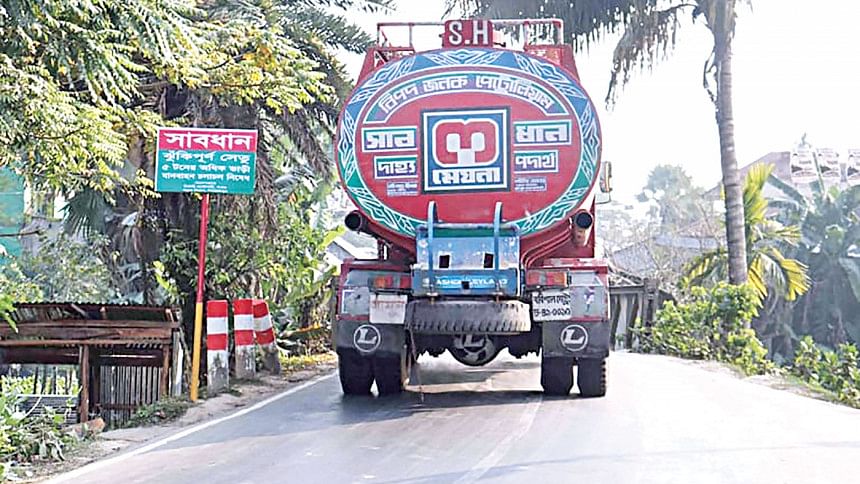 The Roads and Highways Department (RHD) in Pirojpur has hanged signboards on both two sides of each iron bridge on Charkhali-Mathbaria road in the district saying that it is risky.
But there has no system to monitor it.
Though the longevity of an iron bridge is ten years, they have been in use for around 35 years.
Of the 20 iron bridges, four were replaced with RCC girder bridges last year. But the rest are now in a sorry state. As the 38-kilometre-long road is very busy, the repair work does not last long.
Mohammad Ibrahim, a bus driver, said they have to cross the old iron bridges through serious difficulty.
"When we get onto the bridge it begins to swing," Ibrahim said adding that they have to wait at one end of the bridge until another vehicle comes from the other side as two vehicles cannot simultaneously cross an iron bridge.
Another bus driver of the road Mohammad Kalu said that they have to cross the iron bridges amidst fear of collapse as four to five iron bridges on the road collapsed in the past failing to bear heavy loads.
"But while crossing a concrete bridge, we do not have to face such a problem," he said.
On the other hand, drivers of small vehicles also have to face untold sufferings while crossing the iron bridges.
"As there are big holes on the iron plates of the bridge, sometimes wheels of our vehicles get stuck," said a motorcyclist, Imam Hossain Masud who most often goes to Mathbaria traversing the road.
Locals said that every day huge trucks loaded with wooden logs, stones, bricks and other materials move along the road. As there is nobody to check the load of the vehicles, they (truckers) cross the iron bridges easily risking their lives and others.
Ali Akber, a sub-assistant engineer of RHD in Pirojpur, has admitted the fact that the iron bridges on Charkhali-Mathbaria road are in shambles.
"We have included 17 bridges and 29 culverts in the development project proposal (DPP) to be constructed from Bhandaria upazila's Charkhali to C & B Bazaar of Mathbaria upazila in the district," he said adding it will cost around TK 350 crore.
"We hope that the project will be passed by the Executive Committee of the National Economic Council (ECNEC) soon," he added.