Heartbreaks; hope for herd immunity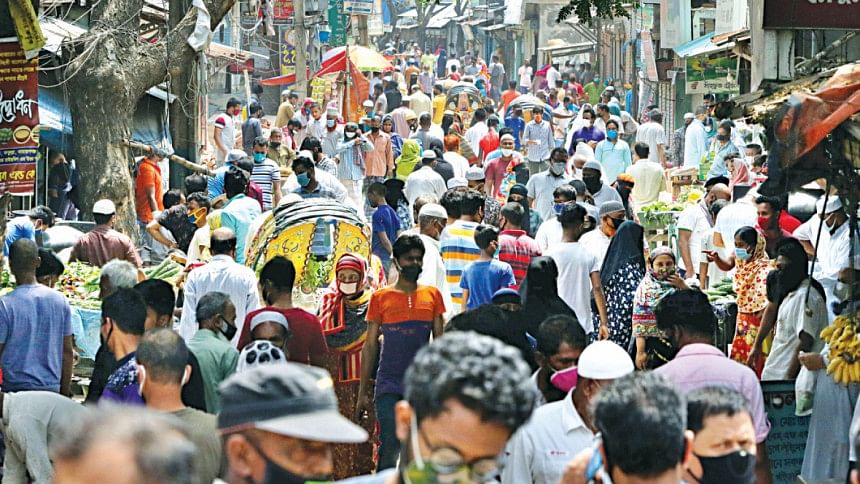 "Herd immunity" is the ultimate answer to any pandemic, and Bangladesh, by no choice of its own, is rushing towards it to keep coronavirus at bay.
Eureka (found it)! Shouldn't we all exclaim like Archimedes, the great Greek scientist who ran through the streets naked after discovering the law of buoyancy while taking a bath at his home? No, we're no Archimedes and we've found no remedy. Rather, we're ending up with the lone solution after exhausting all other options.
Too much of stress and tension for the last couple of months! And there seemed to be no respite from the pandemic that brought the world to a grinding halt, claiming over 2.86 lakh lives already. Now, the 17 crore Bangladeshis can clutch at the "herd immunity" straw and try hard to survive.
All past pandemics in the world ended through herd immunity. In lay explanation, we have to become immune to the infectious disease either through natural immunity or vaccination. Vaccine should be off our list for long, as, according to media reports, at least one year would be required for its discovery and subsequent trials before going into long-haul production for 800 crore vaccine for the global population. Following the powerful-countries-first order, vaccine is unlikely to be available in Bangladesh in two years.
---
ALSO READ:   'Are we doing enough to combat the coronavirus pandemic?' 
---
So, we're practically left with the only one survival option: natural immunity. What we all have to do now is to contract the disease en masse, get defence mechanism of the body react to it and in time build up an immune response to the invaders.
Sounds surreal?
It's hard to predict things in a pandemic, as situation changes on a daily basis due to the mostly unknown characteristic of virus and world's medical incapacity to prevent it. But it was quite easy to predict consequences of the responses of government and people in general to the contagion over months. Like it or not, our collective responses had all but sealed our fate: infection is inevitable for most of us.
Our social-distancing gap is now being bridged! Bangladesh is gradually wiggling out of restrictions it imposed about 48 days back on March 26, a week after the first death from Covid-19 was recorded in the country.
Garment factories reopened on April 26, mosques on May 7 and shopping malls on May 10. Waiting to go are the countrywide lax lockdown (national holiday) till May 15, and the shutdown of educational institutions till May 30.
"Survive by yourself" is the unspoken message as the government shifts its focus on jacking up the grounded economy. Shutdown has turned all economies, big and small, upside down in a couple of months. Truly, the government has a lot to worry about export, remittance, revenue, start-ups, small and medium industries, and looming food crisis.
But why should we be this vulnerable following lockdown for nearly 50 days?
---
ALSO READ:   'Is Bangladesh ready to manage the risk of a coronavirus outbreak?' 
---
Haven't we gone through each of the measures that all other countries had in their fight against the coronavirus? Yes, we had our share of awareness campaign for safety regulations, PPEs, testing, contact tracing, home isolation, institutional quarantine, shutdown of economy, stimulus, safety net programme for the poor, and locked down before hurrying on to reopen.
The government was slow to react, but it certainly took almost all the right decisions that any other efficient governments had taken under the circumstance.
Problem was not much with measures, but with the way measures were carried out. An army of invisible enemies exposed the grave weaknesses in the governance, political and healthcare system as well as people's mixed-up priorities.
The highest leadership is found to be mostly firm and far-sighted, with the leaderships below showing symptoms of all ailments.
The major challenge in the first part of the war on contagion was to prevent community transmission of the virus by slowing down the pandemic, isolating the infected, providing treatment to critical patients and feeding the poor, no less than two crores in number, during lockdown.
And, we gallantly wasted the first part.
---
ALSO READ:   'Breaking the chain of Covid-19' 
---
A good two-month Bangladesh had got to prepare against the contagion that ran havoc in Wuhan, the Chinese province from where the Covid-19 broke loose in January before rampaging through Europe in February and the US in March, killing close to 1.85 lakh people.
Sadly, most of the influential ministers, political leaders and the government machinery were found to be doing what they're good at: sycophancy, inefficiency and intolerance to critical voices.
When people looked to them for reassurance, they heard boasting like: "Awami League is more powerful than coronavirus." "Coronavirus would not come to Bangladesh." "The country is free from corona under the competent leadership of the prime minister." "Bangladesh is better prepared to prevent coronavirus than developed countries," and so on.
The power of coronavirus was completely misunderstood by the people in power. It should have been a full scale medical war, with doctors, healthcare staff, scientists, engineers, law enforcers, members from welfare organisations and volunteers operating like a single disciplined force under one chief of health staff. For lack of it, no measure, no order, no directive and no wisdom seemed to have worked ever since the first coronavirus infection was reported on March 8.
---
ALSO READ:   'Tackling the economic fallout of COVID-19' 
---
Truly, almost all the countries struggled with the battle plan. But we had the time to take a serious lesson from Vietnam, a country with dense population, economy and healthcare system like Bangladesh. It showed the whole world how to take the fight to coronavirus and win the first part of the war in less than 30 days of lockdown.
Zero death and recovery of 249 out of 288 infected people spoke volumes for Vietnam that instituted rigorous quarantine policies, and carried out complete tracing of all people who came in contact with the virus.
As Vietnam did not afford mass testing like South Korea, they stuck to contact tracing and quarantine. They also meticulously kept track of second, third and fourth levels of contact to infected persons, and placed all of these people under successively stringent levels of movement and contact restrictions.
Sadly, our story is of corrupt culture and mixed-up priorities. Contact tracing was completely missing, testing way too inadequate, quarantine or home isolation a mockery and treatment at hospitals a big whimper. There are many heart-warming stories of the frontline bravehearts -- doctors, police and volunteers, but those were lost on a mass madness.
Even when our existence is threatened by the contagion, we could not break away from our pre-contagion sorry selves and continued to make shocking headlines: corona test by handheld infrared thermometer for passengers on arrival from coronavirus source countries, quarantine formalities done by verbal instruction for "14-day home isolation" to about 7 lakh expatriates who flew in, substandard PPEs supplied in the name of N95 quality, doctors-nurses not getting PPEs but admin officials wearing those, traders arrested over selling used gloves and masks, thousands of people rushed to Cox's Bazar for holidaying as soon as the government declared nationwide shutdown, 54 chairmen-members arrested for stealing rice for the poor, over 1.5 lakh people attended janaza of a preacher violating lockdown, devotees in mosques packed like sardines during Juma prayers while social-distancing was in full force, human-jam at kitchen markets during lockdown, 11 journalists-activists sued under the Digital Security Act over corruption reporting and critical views, victim of alleged enforced disappearance photojournalist Shafiqul Islam Kajol "showed up" after 53 days, only to be arrested legally, handcuffed on the Press Freedom Day etc.
These are a few snapshots of the first part of our war on coronavirus, which, judging the scale of infection 45 days into community transmission elsewhere in the world, is believed to have gone very deep into the bedrock of population by now.
The war's not won for sure, but also not lost, as yet.
Though no scientific research is done, a number of natural factors is likely to be working in our favour. We're quite immune to six other strains of coronavirus that cause seasonal flu. Factors of heat, our strange immune system developed surviving against plethora of microorganisms and pollutions over decades, comparatively low death number (269 with coronavirus and a few hundred others with symptoms) and the gene that drives us to fight against adversities all the time hold out hopes for herd immunity.
The road to herd immunity is expected to be dotted with deaths, but at the end of the road most of us should survive through a lot of sufferings. With survival of life, comes in the struggle for a living, the part two of our war on contagion.