BGMEA issues reopen timetable
RMG workers from some areas returning to factory hubs on their own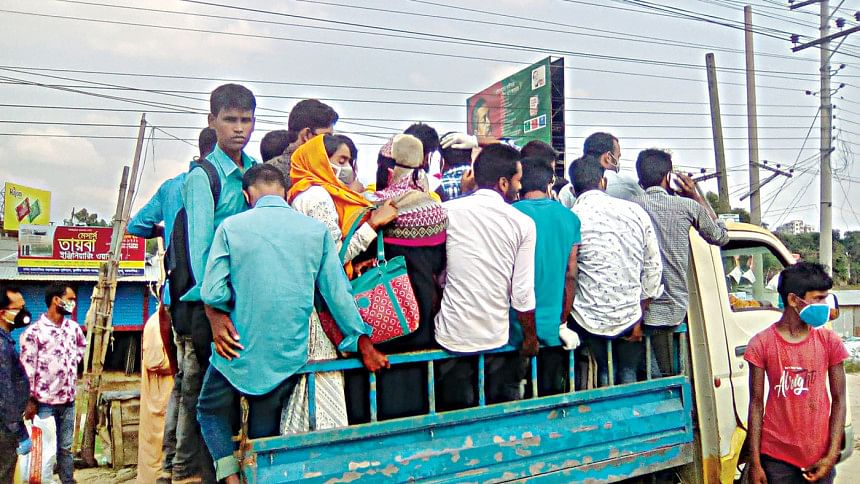 Ignoring the risks of contracting and spreading the coronavirus, hundreds of garment factory workers left their villages yesterday on foot or jammed into whatever vehicle they could get to join work in Dhaka and its outskirts.
The race to the cities began after a section of owners announced that they would open the factories from today.
This has happened although the Bangladesh Garment Manufacturers and Exporters Association (BGMEA) directed all of its members not to ask their workers, who are currently at their villages, to return to Dhaka until a concrete decision was taken about reopening of factories.
"To keep the economy running and considering the overall situation, the BGMEA will advise you on opening of factories," it said in a general directive to its members on Friday, reports UNB.
Mentioning that a zone-wise staggered approach will be adopted to open the factories in a limited capacity, the association advised asking only the workers who are living near the factories to join the factories.
Besides, it called for not retrenching any worker on humanitarian grounds.
Meanwhile, scores of men and women were seen walking on Dhaka-Tangail highway for hours or hitchhiking to their workplaces since daybreak yesterday.
Social distancing, which is crucial in preventing the spread of coronavirus, was not maintained as they got on trucks, pickups and other passing vehicles.
This is the second time in a month that the workers had to scramble to their factories in Savar, Ashulia, Dhaka, Gazipur and Naraynganj for the same reasons.
In Mymensingh's Bhaluka and Gazipur's Sreepur upazilas, groups of men and women arrived yesterday mainly from villages in Sherpur, Jamalpur, Netrakona and Kishoreganj districts.
Al Mahmud Adnan, in-charge of Bhoraduba Highway Police Outpost in Bhaluka, said the main rush started really early and fewer people were seen by midday.
"We are trying our best. We are urging them through loud speakers to maintain social distancing as they walk," he said.
Another officer told The Daily Star: "It is our duty to check the movement of vehicles, but it is saddening to see people walking on the road for hours."
Thirty-year-old garment worker Pranto Mia said he left his village in Netrakona's Mohanganj upazila for Bhaluka early in the morning. By 2:30pm, he spent about Tk 200 and was still about 15-km from his factory. He said he walked most of the time and got on passing vehicles when he could.
"We don't want to lose our job. I wish the management provided us with transport," garment worker Aysha Begum told our correspondent in Mymensingh.
Sub-inspector Mujibur Rahman of Mymensingh Sadar Police Station said he saw workers on the streets until the afternoon.
There are some 49 garment factories in Bhaluka. Of them, 35 confirmed as of 4.00pm that they would open, said Noor Nabi, assistant superintendent of Industrial Police in Bhaluka.
Meanwhile, workers demonstrated in Kaliakoir and Sreepur upazilas demanding arrears and blockaded Dhaka-Tangail and Dhaka-Mymensingh highways.
Nearly 1,000 workers of Haesong Bd Ltd took to the street at Baroipara of Kaliakoir demanding three months arrears.
Police managed to disperse them around noon, said Rezaul Karim, inspector of Industrial Police-2 in Gazipur.
Long tailbacks of mostly trucks and lorries were seen on the highway, reports our Gazipur correspondent.
Workers of ATS Sweater demonstrated at Joina Bazar in Shreepur demanding arrears.
Authorities of two factories in Savar's Ashulia sacked over 1,100 workers citing Covid-19 fallout, according to labour leaders.
One of the factories, Sigma Fashions Ltd in Ashulia's Tajpur, sacked about 709 workers and said in a notice that all orders from international buyers were canceled.
Mamun, a sacked worker, said, "We do not accept the decision. We want to get back our job . The prime minister said no worker will be sacked…. We will have to starve."
The other factory, Aswad Composite Mills Ltd, in Kobirpur area sacked around 400 workers in the last couple of days, claimed workers.
Contacted, Alam Khan, assistant superintendent at Dhaka Industrial Police-1, said they were asking factory owners not to sack employees, but the workers kept reporting that they were being sacked, reports our correspondent in Savar.
Many garment and other factory workers were returning  to Dhaka as crowds of people were seen on Paturia-Daulatdia river route and Dhaka-Aricha highway.
Many of the people in the crowd told our correspondents that the factories would open from today.
Traffic Police Inspector Rasal Arafath in Manikganj said the crowd of Dhaka-bound garment workers had been seen since Friday night.
Mohammad Hatem, vice president of Bangladesh Knitwear Manufacturers and Exporters Association, said the garment factories were reopening gradually. However, Hatem suggested that the workers in remote areas should not travel to the city.