Is Bangladesh ready to manage the risk of a coronavirus outbreak?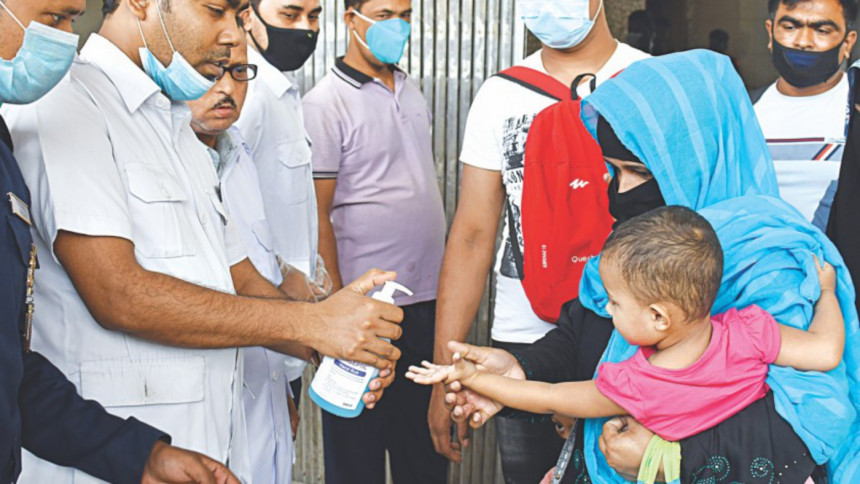 As of March 19, Bangladesh has confirmed 18 cases of the novel coronavirus, called severe acute respiratory syndrome coronavirus 2 (SARS-CoV-2) which causes the disease COVID-19. The infected had reportedly either returned from other countries or come in contact with infected returnees. This may indicate that a wider person-to-person transmission of the coronavirus is inevitable in Bangladesh. This puts the country at high risk, and as such, experts have expressed concerns that an outbreak of COVID-19 will be extremely damaging for Bangladesh which already has a questionable reputation for managing outbreaks (recall the 2019 dengue outbreak).    
So how prepared is Bangladesh to tackle a coronavirus epidemic? This question can be answered in light of our handling of the dengue outbreak in 2019, the risk factors for a COVID-19 outbreak, and the existing preparedness, measures, and gaps.
What can we learn from how Bangladesh handled the dengue outbreak in 2019? 
Bangladesh's capacity to deal with an epidemic can be assumed from its handling of the dengue outbreak in 2019. According to the US-based Johns Hopkins University, in terms of tackling the outbreak of a disease, Bangladesh ranked the worst among South Asian countries in the 2019 Global Health Security Index. The report added that Bangladesh's ability to combat the outbreak of the disease was zero (Prothom Alo, November 2, 2019). The lack of coordination, accountability, clear descriptions of roles and activities of government bodies, healthy decision-making and command protocols, the poor monetary support, irregularities, inadequate preparedness in the health sector, as well as poor health infrastructure together compounded the dengue situation in Bangladesh.
As a result, according to an estimate, dengue took 104 lives and infected some 85,000 people across the country in 2019 alone. Bangladesh's poor record in the fight against the dengue outbreak may question its capacity to resist the threat and potential outbreak of another infectious disease in the country.
Risk factors for COVID-19 outbreak
Bangladesh has all the potential for a fast spread of COVID-19. Its close economic and educational ties with some key affected countries such as China, India, South Korea, and Italy, the huge population size, low-quality healthcare infrastructure, insufficient laboratory testing facilities, rural-urban difference in access to healthcare facilities, insufficient personal protective equipment, inefficiency of healthcare workers with regard to managing laboratory specimens taken from patients, as well as inadequate surveillance and contact-tracing facilities—all these factors, together with a general lack of knowledge and awareness, can fuel a change from the current limited number of confirmed COVID-19 cases to a sudden outburst in the country.
Scientists warn that the number of COVID-19 cases may double about every one week. It is predicted that if one percent of the total population becomes infected with SARS-CoV-2, Bangladesh will see approximately 1.7 million people infected, including doctors and healthcare workers, which may increase twofold within seven days. This burden of COVID-19 will undoubtedly collapse and overwhelm the capacity of the current healthcare system in Bangladesh.
Existing preparedness, measures and gaps
The Institute of Epidemiology, Disease Control and Research (IEDCR) claimed that Bangladesh is ready to tackle an outbreak of COVID-19. Recently, the country has undertaken a four-level emergency plan to prevent the spread of the virus. Nevertheless, public health experts worry about Bangladesh's present preparedness, measures and healthcare facilities for its people. They are questioning whether Bangladesh can cope with the potential outbreak of the coronavirus. According to the IEDCR, Bangladesh has undertaken various safety measures including temporarily cancelling visa-on-arrival services for passengers from Mainland China and most European countries. However, the country has not yet entirely banned travellers from the heavily infected countries including Italy, Spain, Iran, and South Korea.
Additionally, the actions of the government range from setting up thermal scanners and screening facilities in airports, the provision of health declaration forms containing information about passengers' recent travel history, whether they have symptoms of COVID-19, and self-isolation for 14 days, free testing facilities and follow-ups, multiple hotline services for passengers, and mass campaigns for the prevention of coronavirus. IEDCR has also claimed that it has taken necessary preparations for setting up thermal scanners at all land ports and isolation units at public hospitals of all districts in order to halt the deadly coronavirus.
However, concerns prevail since measures to screen all passengers entering Bangladesh are not scientific and adequate. More importantly, steps are yet to be taken to establish thermal scanners at all seaports in the country. Furthermore, while all public hospitals at the district level are, according to IEDCR, preparing isolation units to quarantine patients for 14 days, so far the government has only prepared two hundred beds at the Kuwait-Bangladesh Friendship Government Hospital and established two isolation units at Kurmitola General Hospital and the Dhaka Infectious Disease Hospital. However, the government has not involved any private hospital in this battle against the virus.
Importantly, the testing facility for the coronavirus is still centralised and available only at the IEDCR laboratory. And, it may take more than two days to collect specimens from rural patients, send those to Dhaka for testing, and prepare the testing results. The situation may become worse due to the inequitable healthcare system in Bangladesh, which often favours the wealthy and discriminates against the poor. As such, concerns remain that many poor and disadvantaged patients may go undetected and unattended if an epidemic happens in Bangladesh. This discriminatory nature of the healthcare system, characterised by the questionable process of conducting tests combined with a lack of screening, comprehensive testing and treatment facilities, is suited to the spread of coronavirus infections which can grow exponentially and double in every seven days, even without showing any symptoms.
What all these suggest is that Bangladesh's response to the threat of the coronavirus is inadequate. And, the country is not fully ready to tackle an impending epidemic. Therefore, the government should strengthen its preparations for screening, testing, isolation, and treatment of people infected and affected by the coronavirus. Also, Bangladesh should allocate special funds to reduce the many associated risks of an outbreak. Otherwise, the new coronavirus may potentially inflict much more damage than the dengue outbreak did in 2019.
Md. Nazmul Huda is a PhD candidate and an academic in the School of Public Health and Community Medicine at the University of New South Wales, Australia. Email: nazmulsoc2008@gmail.com