Namaz-e-Janaza: Thousands gather, ignoring lockdown
Police, admin watch on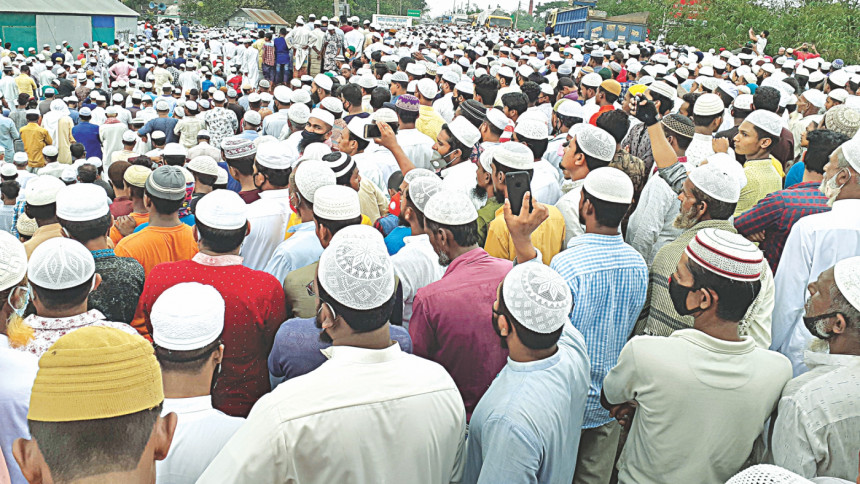 Defying government orders to maintain social distancing and self-isolation, thousands of people from different areas flocked to Brahmanbaria's Sarail yesterday to attend the namaz-e-janaza of the leader of an islamic organisation.
Maulana Jubaer Ahmed Ansari was nayeb-e-ameer or vice president of Bangladesh Khelafat Majlish, an islamic organisation.
The mass gathering happened although the entire district has been under lockdown since April 11, when one person died from coronavirus and seven others detected positive in a day.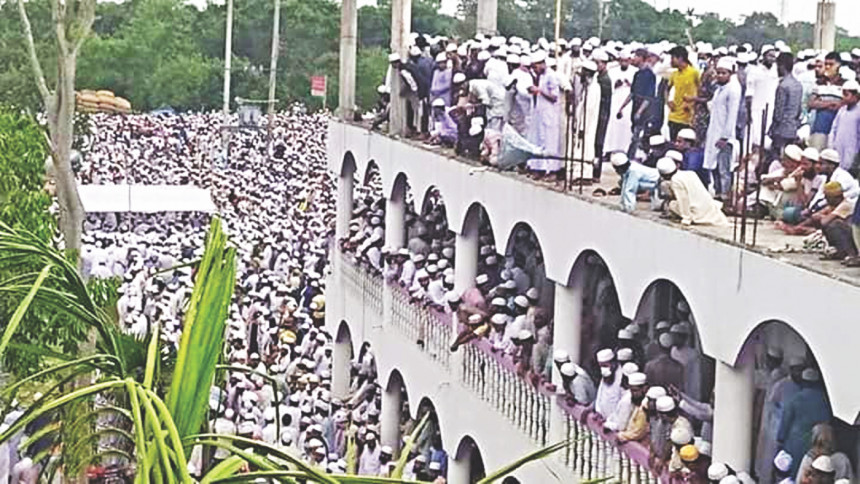 From Jamia Rahmania Madrasa at Bertola village, where the funeral was held, the crowds spilled over the surrounding areas and a 14-km stretch of Dhaka-Sylhet highway.
Some people went to the roofs of nearby buildings to participate.
The authorities in the evening ordered people of Bertola and its surrounding areas to obey the lockdown rules.
The prayer started around 10:00am and went on for over an hour. The large number of people defying social distancing rules have created fears of further spread of coronavirus among many.
"People around the world are maintaining safe distance to combat coronavirus. But people in this area made a huge gathering," said RAM Obaidul Muktadir Chowdhury, lawmaker from the area and president of district Awami League.
"I guess, they gathered there to invite the virus," he told The Daily Star.
Shahdat Hossain Titu, officer-in-charge of Sarail Police Station, said, "People have come here from different parts of the country including Dhaka. We had no idea such a large number of people would gather here... Actually, we had nothing to do when the people started pouring in."
Deputy Commissioner Hayat-Ud-Dwolla Khan said the district administration contacted the family members of the deceased leader on Friday evening to urge them not to hold a large funeral.
The family members assured officials that the namaz-e-janaza will be held in the presence of a few people, he said.
"But today, we saw a different picture. We did not know such a huge number of people would be here. We are investigating the matter," said the DC.
The Islamic preacher died at his home in Markzpara area of Brahmanbaria area Friday evening. He was 56.
On March 22, Shah Alam, civil surgeon of Brahmanbaria, was made an officer on special duty gatherings at his daughter's wedding.