. Confusing battle fought so far
Confusing battle fought so far
Porimol Palma with Syed Abdur Rouf
Confusion reigns over the way formalin is detected, and permissible level of the chemical in food, as adulteration goes on unabated with no food safety standards in place.
The situation is hurting growers, traders, consumers, and above all the country's image internationally as a food exporter, said experts.
Take, for example, the anti-formalin drive launched by Dhaka Metropolitan Police (DMP) at eight entry points in the capital in early June. It used imported Formaldehyde Meter Z-300 to detect formalin in fruits, mostly mangoes and litchis.
Within a few days, Bangladesh Agricultural Research Council (Barc) came up with the view that the device could also identify chemicals from aldehyde, ketone or hydroxyl groups that are abundant in nature.
Imported by the Department of Fisheries two years ago without any scientific assessment, the machine is mostly used for measuring formalin in the environment, said Barc.
Also, the way the device is used is unscientific. During the drives, officials put it in polythene bags containing food items to detect formalin.
Monirul Islam, director (nutrition) at Barc, said, "If fruits, fishes or vegetables are packed in polythene bags, polyethylene glycol can leach into the food from the bags. This might affect the accuracy of the formalin detection machine."
Despite the findings of the           government agency, the DMP        has not suspended the use of the device.
During its drives, it also followed the method of the US-based Association of Analytical Chemists. Under this testing standard, fruits are washed in water, and some chromotrophic acid is dissolved in it. There will be purple colour (ring) in the solution boundaries if there is artificial formalin in fruits, said Kamal Prashad Das, director of Bangladesh Standards and Testing Institution (BSTI).
The test, however, only detects formalin in food, not its level.
Masudur Rahman, deputy commissioner (public relations) of the DMP, said the authorities followed the World Health Organization's (WHO) permissible level of 0.15 ppm formalin for foods.
DMP Assistant Commissioner (operations) Noor Alam, however, said they stuck to the Pure Food Ordinance, 1959, which has no mention of any permissible limit of formalin in foods.
"As per law, formalin is a highly toxic substance. So, we are destroying fruits containing any level of formalin," he noted.
There is no mention of any permissible limit of formalin in any WHO documents, claimed Noor Alam.
PERMISSIBLE LIMIT
WHO says fruits and vegetables typically contain 3–60 mg (microgram) formaldehyde per kg, milk and milk products about 1 mg, meat and fish 6–20 mg and shellfish 1–100 mg.
"The daily intake of formaldehyde is difficult to evaluate, but a rough estimate from the available data is in the range of 1.5–14 mg a day for an average adult, most of it in a bound and unavailable form," according to a report of the WHO regional office in Europe.
A Barc study says there is a certain amount of formaldehyde in the human body which is vital for metabolism. If consumed within the permissible limit, formaldehyde transforms into less toxic formic acid and gets out of the body through urine. Some part of formaldehyde also transforms into carbon dioxide and gets out through the respiratory system.
However, the authorities concerned are yet to conduct any research on it to fix a permissible limit for formalin intake.
The BSTI, said Kamal Prashad Das, has no idea about the permissible limit of formaldehyde. Recently, it came to know that formaldehyde existed in some foods naturally.
"If this was true, we've to fix a permissible limit," he pointed out, adding that he was not aware of the DMP using the formaldehyde  meter.
Agriculture ministry officials said they oversee the production of fruits, but the DMP did not consult them before launching such a major drive when tonnes of fruits were destroyed.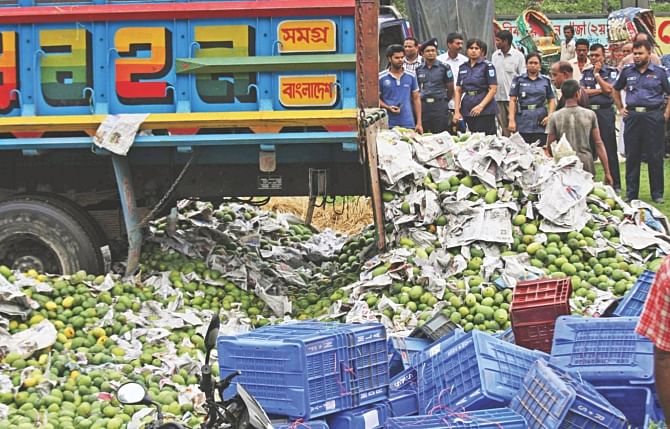 TRADERS HIT HARD
Amid such chaos, fruit traders have been counting huge losses from anti-adulteration drives.
A trader at Haripur, Pabna, Tofazzal Hossain said he invested Tk 12 lakh in business, but would not be able to recoup it.
"I bought mangoes at Tk 1,200-1,400 a maund, but had to sell them at Tk 800-1,000, whereas the selling price was Tk 2,200-2,900 last year," he told The Daily Star.
Abdul Wahed, president of Chapainawabganj Chamber of Commerce and Industry, said though mango traders faced huge losses, consumers in the capital and other cities had to buy the fruit at prices between Tk 90 and Tk 120.
Mohammad Sanaullah, president of Dhaka Metropolitan Fruit Traders Association, said they had incurred huge losses from the destruction of fruits at police check-posts.
"I had bought a truckload of litchis at around Tk 3 lakh which were destroyed. My brother too faced similar losses," he added.
Many more traders lost their capital due to the DMP drive though they did not treat fruits with formalin, claimed Sanaullah. He, however, admitted that growers sprayed pesticides on fruits well before harvesting.
CONSUMERS SCARED
Shusmita Khan, an NGO official in Dhaka, said as she was scared of buying fruits at city markets, she brought some from her village in Manikganj.
Prof Nazma Shaheen of the Institute of Nutrition and Food Science at Dhaka University said, "What good the anti-formalin drives have done to all is not clear, but it has caused panic around. Many have stopped eating fruits."
The claim made by some so-called experts that there should not be any permissible limit of formalin in foods is not right at all. The questions raised about the formalin detection method must be resolved immediately, she insisted.