Old formalin in new bottle
Old formalin in new bottle
Refayet Ullah Mirdha with Mahbub Morshed
Taking advantage of loopholes in the existing law, a section of traders is importing chemicals like paraformaldehyde that can be used as a substitute for formalin.
Though import of formalin, a highly toxic chemical solution, has dropped drastically in recent times, import of chemicals similar to formalin has spiked after restrictions were imposed on formalin import.
In March last year, the government amended the import policy 2012-15 and put restrictions on the import, use and storage of formalin to check its widespread use in food items. 
But only formalin's name was mentioned in the amendment, leaving out the other harmful chemicals similar to it.
Cashing in on this, traders imported 10,397 tonnes of paraformaldehyde in fiscal 2012-13, according to the National Board of Revenue.
At least 7,833 tonnes of paraformaldehyde were imported in 2011-12 while the amount was 7,268 tonnes in 2010-11, as shown in NBR data.
"Paraformaldehyde is used as an industrial raw material. There is no legal obstacle to import of this. So, we release this material from the customs in line with the import policy," said Mohammad Masud Sadik, commissioner of customs house in Chittagong by phone.
But a section of traders turn this paraformaldehyde into formalin, he said.
"Though we are well aware of the abuse of paraformaldehyde, we cannot bar its release from the customs, as the import policy does not say anything to that end," he continued.
"We check a lot of documents regarding import of formalin as the government has imposed restrictions on import of this chemical in the amended import policy."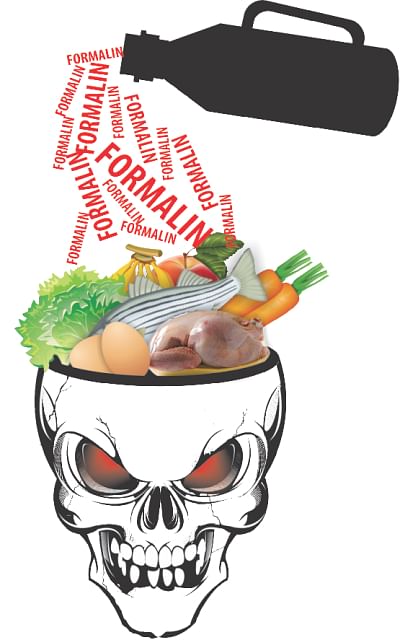 The restrictions have surely had a deterrent effect on the formalin importers, as only 19 kilograms of the chemical was imported in the last five and a half months, Sadik observed.
Last year, 10,923.45 kg formalin was imported, while the figure was 1.28 lakh kg in 2012 and 1.64 lakh kg in 2011, according to Chittagong Customs House.
"Sales of paraformaldehyde and similar chemicals increased at Mitford Market following imposition of restrictions on formalin import," said a chemical wholesaler at the market in Old Dhaka, asking not to be named.
"Formalin or similar chemicals are no longer sold openly," the trader added.
ABM Faroque, professor of pharmaceutical technology at Dhaka University, said, "Formalin is entering the country under other names."
"I have so far identified 25 types of chemicals that can easily be transformed into formalin," said Faroque, who has been working on the impact of formalin on the human body for a long time.
Of the 25 chemicals, paraformaldehyde has been imported in large amounts after the imposition of restrictions on formalin import. Paraformaldehyde can be turned into formalin with 37 percent water solution, the expert said.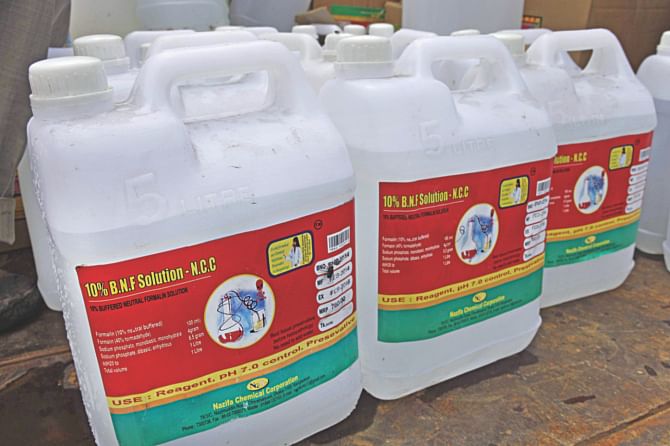 According to his estimate, Bangladesh needs 100 tonnes of formalin a year for academic and medical purposes. But more than 500 tonnes of formalin were imported a year before the restriction was imposed.
"So, we previously consumed 400 tonnes of formalin a year, and now we are consuming formalin under the name of paraformaldehyde," he said.
Formalin is a solution in water of the gas formaldehyde (CH2O).
Apart from being used at labs in educational institutions and hospitals, it is used in pharmaceuticals, and plastic and furniture industries.
Formalin is not produced in Bangladesh or even in neighbouring India. The demand for the chemical is met through import mainly from China, he said.
In fact, a section of traders at Mitford Market imports formalin from China, he said.
Faroque said an action plan should be devised to check the abuse of this poisonous chemical.
He urged the government to continue its drives to stop use of formalin in food. "The police should be well-equipped to carry out drives."
The expert also suggested making the Trading Corporation of Bangladesh the sole agent for import and marketing of formalin. And sales of the chemical should be limited to licensed users such as hospitals and educational institutions.
The government should maintain a record of the import and use of formalin, and engage mobile courts in markets to check sales and use of the harmful chemical, he said.
"Handing down exemplary punishment to the culprits could be the best way to check abuse of formalin," said Faroque.
Admitting that there are loopholes in the existing law, Ruhul Amin Sarkar, additional secretary (imports) at the commerce ministry, said, "When we amended the policy on formalin import, we did not include the names of other chemicals similar to formalin."
He said the ministry had already taken an initiative to impose a ban on import of all types of chemicals that could be used as substitutes for formalin.
Abul Hossain Mia, director general of National Consumer Rights Protection Department, said poultry and fish hatcheries were the biggest users of formalin.
"A section of traders is using formalin or similar types of chemicals not only in fruits but also in other food items," said the chief of the Department tasked with ensuring adulteration-free foods.