Licence of lies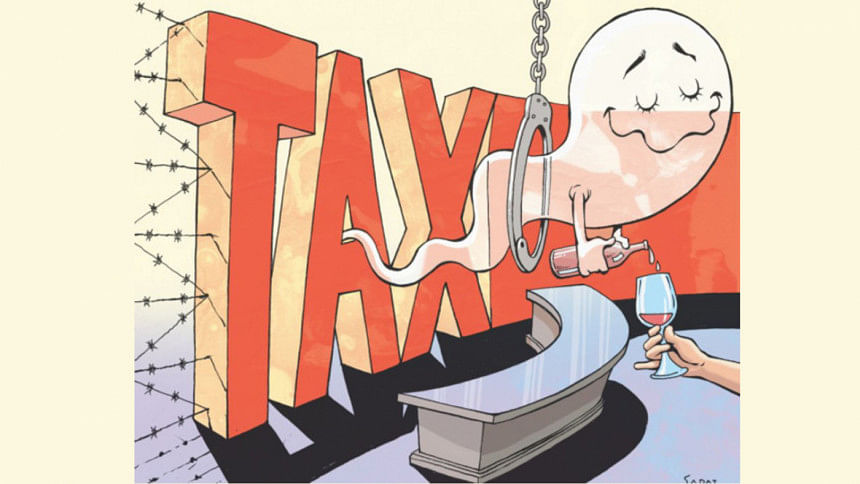 It is a piece of paper full of lies and yet it is the legal government document that allows a person to drink alcohol in Bangladesh.
In 1950, a legal provision styled East Bengal Excise (foreign and country liquor prohibitions and restrictions) Rules was made which authorised the Department of Narcotics Control to give people drinking permit.
The paper authorises a person to possess and consume liquor after a government doctor certifies that the person needs to consume liquor on "medical grounds".
The certificate permits a person to consume up to seven units of foreign liquor a month. A unit of foreign liquor means one quart (1.14 litres) bottle of any kind of spirit, including liquor, or three quart bottles of wine.
If someone wants to avoid being harassed by the police, all he has to do is go to a bar or licensed vendor of alcohol and pay the legal fee of Tk 2,000 and some additional money. The certificate will be ready within a few days with the doctor certifying that you have a "medical condition" for which you need to drink.
It is now ubiquitously recognised that alcohol is always harmful to health and yet Bangladesh law permits a person to drink on medical grounds.
Alcohol may cause cancer, liver disease and damage kidney. It also leads to hypertension. The UK's chief medical officers say new research shows any amount of alcohol can increase the risk of cancer.
Once it was thought in the UK that a man could safely drink 21 units a week. But it was reviewed in 1995 and a new guideline said a person whether a man or a woman could take up to 14 units a week. Fourteen units mean 14 single measures of spirits or seven pints of average-strength (4%) lager beer.
According to the UK's National Heath Service (NHS), a study of almost 600,000 drinkers showed that people who drank more than 12.5 units (100g) of alcohol a week were likely to die sooner than those who drank no more than this amount.
And yet Bangladesh allows a person to drink only on "medical condition".
Such an archaic law perhaps exists nowhere in the world except in India and Pakistan as a legacy of the 1909 Bengal Excise Act.
Based on this law, the Pakistan government had issued the drinking permit guideline in 1950. Later in 1990 a new Narcotic Control Act was made which said no Bangladeshi Muslim person will be given the permit to drink alcohol without the written prescription of a civil surgeon or an associate professor of medicine of a medical college.
The doctor must mention in the prescription the disease for which alcohol is required to drink.
Anybody drinking without licence will be punished up to two years in jail or a fine of Tk 5,000 or both.
However absurd this law may sound, it is being used both to harass people politically or to make money out of the drinkers by the police.
Former communication minister Anwar Hossain Monju was jailed for five years and fined Tk 10,000 during the last army-backed caretaker government for possessing 21 bottles of foreign liquor in 2007. Similar charges were brought against BNP leader Moudud Ahmed during the purge against politicians. Moudud was arrested for possessing illegally a few bottles of wine and canes of beer in his residence. He was even placed on remand in this case.  
But many people The Daily Star talked to have said they are often subjected to extraction of money by police at check posts if they do not carry the permit.
According to officials at the Department of Narcotics Control, around 13, 000 people have permit to drink foreign liquor while 28,000 have permit to consume local liquor. But the size of liquor market suggests the number of people who drink alcohol is many folds bigger than the number of permits. This questions the effectiveness of the system of permission.