Tonu murder: Striking student bodies to lay siege to home ministry
Students observing strike at DU
Protesting murder of college student Sohagi Jahan Tonu and demanding punishment of killers, Progressive Students' Alliance and Anti-Imperialist Students Union will lay siege to the home ministry on April 7.
They will march towards the home ministry from Aparajeyo Bangla of Dhaka University campus at noon on that day, Ashraful Alam Sohel, convener of Progressive Students' Alliance, said at a press conference today.
They came up with the announcement when students at Dhaka University under the banner of General Students are observing a daylong student strike.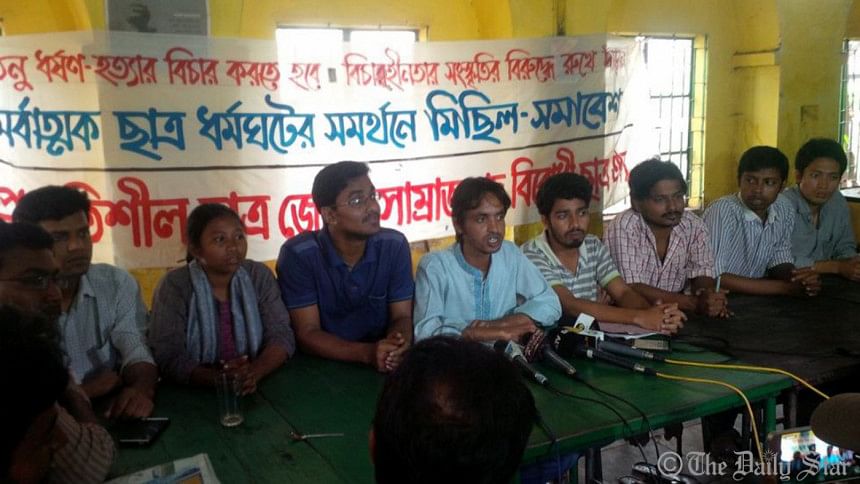 Previously, Students union, Progressive Students' Alliance and Anti-Imperialist Students Union also expressed solidarity with the strike.
The Higher Secondary Examinations that started today will be out of the purview of the strike, Bangla daily Prothom Alo reported.
Protest rallies and demonstrations are being held at the Dhaka University campus supporting the students' strike.
Classes and examinations in a few departments are going on at Dhaka University campus.
The students expressed anger and frustration over the lack of progress in arresting the killers of Tonu, a second year history student at Comilla Victoria Government College who was found murdered in the night of March 20.
Tonu's murder has brought forth once again the question of women's safety in society and created a huge public anger across the country. Students, teachers, socio-cultural activists, professionals, and general people took to the streets demanding a speedy trial of the perpetrators.