Students call off demonstration till March 28
It could not be immediately known whether the other protesting students agreed upon the decision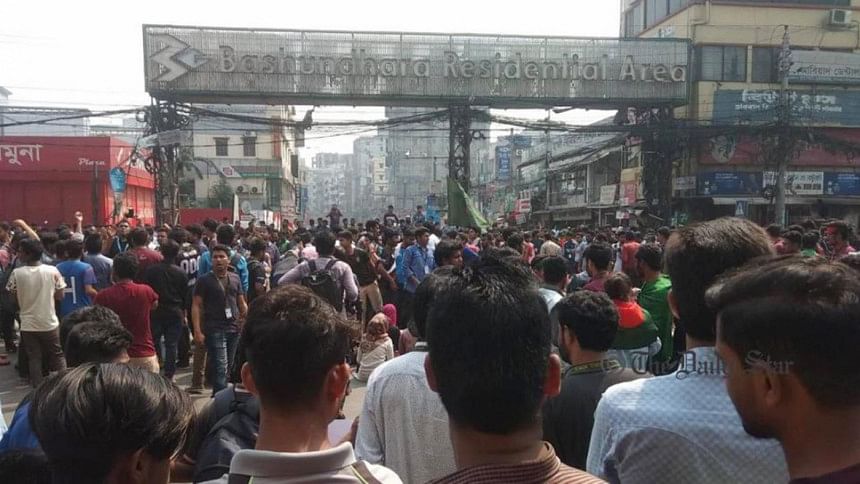 A section of students, who were staging demonstrations demanding justice to one of their fellows killed in a road crash in Dhaka, has announced to postpone the ongoing agitation till March 28.
A 10-member students' representatives came up with the announcement after a meeting with Dhaka North City Corporation Mayor Atiqul Islam this afternoon.
However, despite their announcement, the agitating students were continuing their demonstration in Bashundhara area till filing the report around 5:30 pm. It could not be immediately known whether the protesting students agreed upon the decision of the representatives.
After the meeting, a student of the 10-member team said they took the decision as the DNCC mayor assured them of meeting their demands.
Their demands include ensuring the highest punishment of the arrested driver in the shortest possible time; withdrawing all buses having no fitness certificate, and constructing footbridges, underpasses and speed breakers at all vulnerable points.
Later, addressing a press conference at Bashundhara residential area this evening, the representative team said they have given a 7-day ultimatum to the authorities concerned. They also threatened to resume their demonstration if the authorities do not take steps with the deadline.
Earlier in the afternoon, the students who were agitating in different area of the capital including Shahbagh and Science Lab areas called off their demonstration for today.
"We are calling off today's agitation considering public sufferings, however, we will take position in front of our respective educational institutions tomorrow if the authorities don't come up with a fruitful solution to the issue by tonight," Shahriar Hasan, a student of Dhaka University's Finance department said at Shahbagh minutes before the announcement of the 10-member students' team.
Shahriar is among the students who were leading today's demonstration at Shahbagh intersection and the agitating students started to vacate the busy intersection around 3:30 pm, our staff correspondent reports from the spot.
Echoing a similar statement, Tahmid Shamim, a student of Mohammadpur Model School and College, also announced to postpone the agitation programme at Science Lab.
The blockaders on the gate of Bashundhara Residential, where the university student was run over by a bus yesterday, were unmoved till last reported.
"We Want Justice", the slogan that reverberated through the city during the teen movement for improved road safety in August last year, has been resurrected this time also.
Today, blockades were reported at Science Laboratory and Dhanmondi 27 on Mirpur Road. Snarling traffic was seen on Mirpur Road, Dhanmondi and Satmasjid Road, causing huge suffering to the commuters since this morning.
The students also blockaded Shahbagh and inside Tejgaon Industrial area. Students tried to block Farmgate in the morning hours, but withdrew within a short while.
At Shahbagh and Science Laboratory, students were seen maintaining traffic on roads and checking driving licenses and registration papers of vehicles.
WHAT AND WHY ARE THEY PROTESTING OVER?
A university student was run over by an unruly bus of 'Suprabhat Paribahan' which was reportedly on a mad race.
Abrar Ahmed Chowdhury, himself a road safety campaigner, met this tragic end while Dhaka Metropolitan Police was observing traffic week to bring discipline on the city streets.
Son of Brig Gen (retd) Arif Ahmed Chowdhury, he was a first-year honours student of international relations department at Bangladesh University of Professionals (BUP). He was the elder of two brothers.
Police and fellow students said Abrar was crossing the road through the zebra crossing to catch a bus for his university around 7:30 am. He was crushed under the wheels of a bus racing with another, according to witnesses.
The students are demanding capital punishment of the driver responsible for student's death yesterday, shutting down Jabal-e-Noor and Suprabhat buses, and foot over-bridges near all educational institutions.