Advance train tickets to be sold at four locations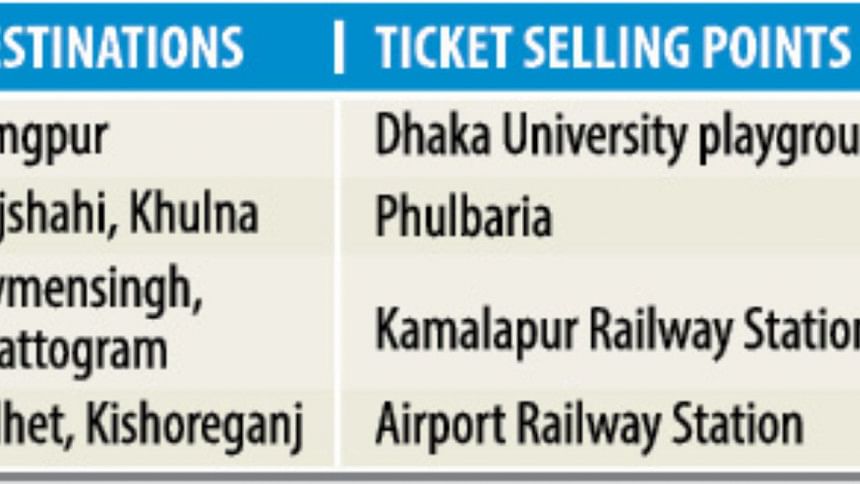 Bangladesh Railway (BR) would begin advance ticket sale from May 22 to ensure hassle-free journey of Eid-ul-Fitr holidaymakers.
For the first time, BR would sell the tickets at four different locations in the capital -- instead of only Kamalapur Railway Station -- to ease the ticket-buying process and prevent excruciatingly long queues, Railways Minister Nurul Islam Sujan said.
Meanwhile, railway will launch a new train service with only three stoppages on the Dhaka-Panchagarh route prior to the upcoming Eid.
BR will also launch a direct train on Dhaka-Benapole route after Eid, the minister told this newspaper at his office yesterday.
Trains are a popular mode of transport for homebound people ahead of Eid, as traffic congestion on the highways and overpriced bus tickets make journey by road difficult. Many spend sleepless nights at Kamalapur Railway Station to get their hands on advance train tickets.
Against the backdrop, the authorities decided to sell advance tickets for different routes from several locations in Dhaka, the minister said.
Advance tickets for inter-city trains for travelling on May 31 and June 1, 2, 3, 4 would be sold on May 22, 23, 24, 25 and 26 respectively, he said.
The dates have been set considering that Eid would be celebrated on June 5, he added.
Advance tickets for six trains that connect Dhaka to Rangpur division would be sold at Dhaka University playground while tickets for six other trains to Rajshahi and Khulna divisions would be sold at Phulbaria.
Tickets for 12 trains to Mymensingh and Chattogram divisions would be sold at Kamalapur Railway Station while tickets for seven trains to Sylhet and Kishoreganj would be sold at Airport Railway Station.
NEW TRAIN TO PANCHAGARH
The railways minister said they have completed all preparations to launch the new train between Dhaka and Panchagarh before May 22.
The train will have only three stoppages at Parbatipur, Dinajpur and Thakurgaon.
Currently, two trains -- Dutojan and Ekota Express -- are being operated on Dhaka-Panchagarh with stoppages at many stations.
The minister said they will send five names, including Banglabandha Express and Himalaya Express, to Prime Minster Sheikh Hasina after she returns to the country.
The prime minister will select a name from the five or recommend a new one and set a date for launching the train service with new carriages imported from Indonesia.
Bangladesh Railway launched a nonstop intercity train -- "Bonolota Express" -- on Dhaka-Rajshahi route last month, aiming to boost rail connectivity with the northern district.
It is the third nonstop train; two such trains are plying the Dhaka-Chattogram route.