Long wait at Kamalapur
Many spend sleepless night at the railway station for advance train tickets
Many ticket seekers came to Kamalapur Railway Station at the stroke of Thursday midnight. Some of them took sehri before the closed ticket counters. They all wanted to grab advance tickets for their journey home ahead of Eid.
By the time the counters were opened at 8:00am yesterday, several thousand people had already queued up.
Among them was Delwar Hossain who reached the station around 5:00am from the city's Lalmatia area. He was in the 31st position in the queue for tickets to Chittagong.
"This is not something new for me. For collecting tickets, I usually wait for hours before the counter. Demand for tickets goes up ahead of Eid. What can we do but come here early for tickets?" he said.
The railway authorities yesterday sold advance tickets for June 10. At the start of the sales, people had to wait for a few minutes due to a technical glitch in the server.
Abdul Wadud, a student of Jahangirnagar University, seemed better prepared. He came to the station with a plastic chair to buy tickets for a trip to Rajshahi.
"From my previous experience, I was aware that I will have to wait for a long time to get tickets. So I came here with the chair," he said.
Queues before the ticket counters for northern districts were relatively longer than others.
"I think this [long queue] is because of the poor condition of highways, mainly the Dhaka-Tangail highway. The road is in a bad shape due to the ongoing development work," Wadud added.
Every year, tens of thousands of people leave the capital to celebrate Eid with their near and dear ones in village homes. But they often get into difficult experiences, mainly due to traffic jam, overpricing of tickets and delays in bus and train schedules.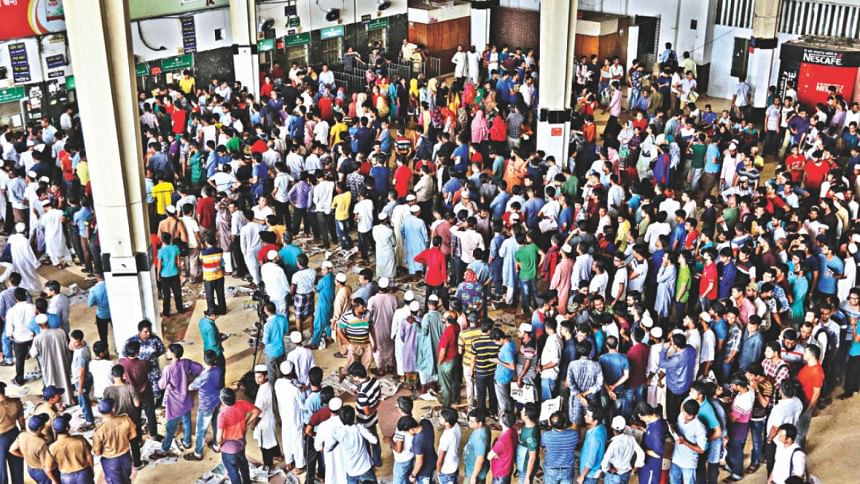 As many as 23,514 advance tickets of 31 trains from Kamalapur Railway Station were up for sale yesterday, said Station Manager Sitangshu Chakraborty. The number was 22,122 last year.
Besides, 25,000 tickets of mail, express and local trains were being sold at the station daily, he said.
"There was a crowd before the counters in the morning. However, everybody is getting tickets," he told reporters around 10:30am.
Tickets were being sold at 26 counters, including two for women, up from 23 last year.
Sixty-five percent of the tickets were sold at Kamalapur and 25 percent online. Also, five percent each were reserved for VIPs and railway employees, said Sitangshu.
However, several passengers said they didn't get access to the website to buy tickets. Rakibul Hassan, a Rajshahi University student now doing an internship in Dhaka, was one of them.
"I used to buy tickets online. I tried in vain to buy tickets online from 2:30am yesterday as the server was down. So I had to come to the station," he told this correspondent.
He said he faced a similar problem before the last Eid-ul-Azha.
Asked about the problem in online sale of tickets, the station manager said there might have been some problems, but those were fixed.
About the allegation that passengers did not get AC tickets even after coming to the station very early, he said there was a shortage those tickets.
Besides, passengers seek AC tickets for some stations which have no allotment for such tickets, he added.
He said the railway would add 3,890 advance tickets to the 23,514 as five special trains would be operated from three days ahead of the Eid-ul-Fitr.
Amzad Hossain, director general of Bangladesh Railway, yesterday visited Kamalapur Railway Station to witness the sales.
"We are trying our best within our limit to ensure tickets for everyone," he told reporters.
Advance tickets for journeys on June 11, 12, 13, 14 and 15 would go on sale on June 2, 3, 4, 5 and 6 respectively.
Return tickets for June 19, 20, 21, 22, 23, and 24 will be sold on June 10, 11, 12, 13, 14, and 15 respectively at Rajshahi, Khulna, Rangpur, Dinajpur and Lalmonirhat train stations.