Homegoers suffer as trains run late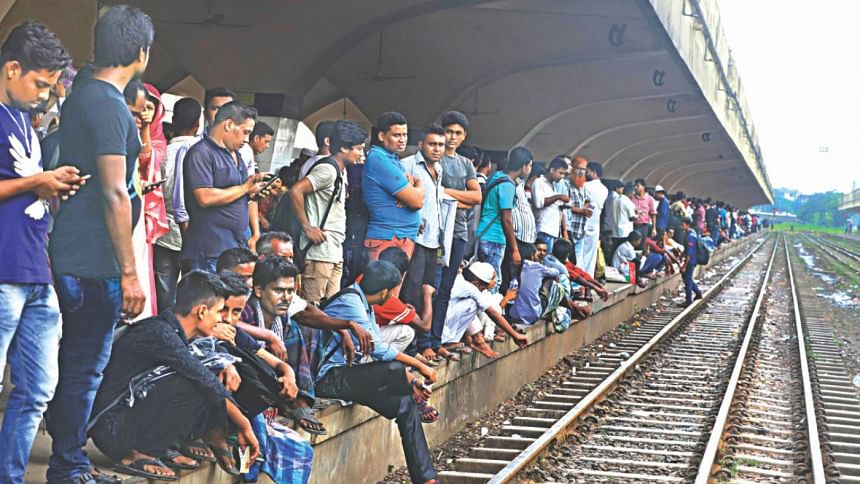 Safiur Rahman arrived at Kamalapur Railway Station from Keraniganj at 7:30am yesterday to catch a special train to go to his home in Kurigram for Eid holidays.
The train -- Lalmoni Eid Special -- was scheduled to leave at 9:15am but it had not even reached until 1:30pm.
"I bought the advance ticket after waiting for 11 hours. Now I have already waited for six hours but the train has not come yet. I don't know when we will reach home," said Safiur, an honours student of Kabi Nazrul Government College.
The train finally arrived at the station but did not depart even after 3:00pm.
Like Safiur, thousands of holidaymakers had to wait for hours at the country's biggest railway station, as around a dozen trains were delayed by one to six hours.
Fortunately, bus services were relatively better yesterday as there were no major tailbacks either at the exit points of the capital or on the highways.
Additionally, the situation at Shimulia-Kathalabari ferry terminal improved, easing pressure on the Paturia-Daulatdia ferry route.
However, some major bus operators reduced the number of trips to the southern districts due to delays at the Daulatdia end. The delays were caused as cattle-laden trucks were given priority.
SUFFERING AT KAMALAPUR
People, who bought advance train tickets standing in queues for hours a few weeks ago, started to arrive at Kamalapur in the morning. Many went their hours before their schedule departure.
Tula Mia, a rickshaw-puller from Tangail, went to the station around noon to catch the Chapainawabganj-bound Rajshahi Express, which was scheduled to leave at 12:30pm.
But the train had not reached the station until 3:00pm.
"We came here as bus service is expensive and takes more time. But the train has not come even after two hours. When will we go home?" Tula Mia told this correspondent.
Nur Mia, a mason, had arrived at the station in the morning by a night coach from Gopalganj, where he worked, to go to Dewaganj. But his train had not reached the station until 2:30pm.
He, however, could not remember the name of the train he was waiting for.
"I don't know anything about the train but my friend knows about it. We have been waiting for a train since morning," he said.
Rajshahi-bound Silk City Express, which was scheduled to leave at 2:40pm, had not reached until 3:00pm.
Sitangshu Chakraborty, manager of Kamalapur Station Railway, said 30 trains had left Dhaka until 2:30pm and six of them were late.
Rajshahi-bound Dhumketu Express left one and half hours late while Khulna-bound Sundarban Express was two hour and 25 minutes late.
Nilphamari-bound Nilsagar Express was delayed by two hours and 45 minutes; Rangpur Express by two hours and 40 minutes and Dinajpur-bound Ekota Express was 65 minutes late, he said.
Lalmoni Eid Special was running four hours behind schedule, Sitangshu told reporters at 2:30pm.
A railway official said only seven trains had left the station on time until 2:30pm.
The railway does not consider a train late unless it is 30 minutes late, he said, adding that most of the trains were between 10 and 30 minutes late.
Sitangshu was not ready to term the situation a "collapse of schedule".
"Delay of only six trains among 68 trains [the total number of trains which will ultimately leave the station] should not be called 'schedule collapse'. We call it a delay," he said.
He said trains were taking relatively more time to pick and drop passengers at stations due to the huge rush. This meant that the trains were arriving late and thus their departures were delayed.
They had not been able to recover the delays made on Saturday since no trains have days off during the Eid rush, he said. On Saturday, a train had broken down at Tejgaon for over an hour causing delays to other trains. 
"We are trying our best with our limited resources," he said.
Many passengers were seen asleep on the floors of the platform while others fought to get into trains that arrived. Many were seen climbing the roofs of carriages.
Inspector General of Police (IGP) Javed Patwari yesterday visited the station around 3:00pm and talked to passengers there.
Speaking to this correspondent, he said they had taken all necessary arrangements to ensure security of passengers and the overall situation was good.
When his attention was drawn to illegal travel on train roofs, he asked that the reality of the situation be taken into consideration as the number of passengers was so huge.
BUS SERVICES
Bus services were relatively smooth yesterday as no major traffic congestion was reported on any highways.
Ferry and launch services on Paturia-Daulatdia ferry terminal almost reached normalcy yesterday as the pressure of vehicles had lessened.
Around one hundred vehicles, including 25 long-route buses, were seen lined up at Paturia Ghat around 5:30pm yesterday, Abdus Sattar, manager (marine) of Bangladesh Inland Water Transport Corporation (BIWTC) at Paturia office told our Manikganj correspondent.
On the other side, 150 vehicles, including 90 buses, were seen at Daulatdia Ghat around 6:00pm, Shafiqul Islam, manager (commerce) of BIWTC at Daulatdia terminal office, said.
On Saturday, people heading for the southern districts suffered a lot as buses got stuck at Paturia and Daulatdia, which was the only route for heavy vehicles since Shimulia-Kathalabari ferry service was partly operative.
But yesterday, Shimulia-Kathalabari ferry service improved.
Shah Md Khaled Newaz, assistant general manager of the BIWTC, said they ran 14 to 16 small and medium ferries to transport light vehicles and a large ferry to transport buses.
However, the situation was yet to be normal as they could operate ferries through one way only, he told our Munshiganj correspondent, adding that each ferry had to wait to make way for another, resulting in 20 to 25 minutes of delays.
Romesh Chandra Ghosh, managing director of Shyamoli Paribahan Ltd, said passengers had not suffered much yesterday as no major tailback was reported on highways.
"However, we have to start each bus about one to two hours late as buses are reaching late due to the huge pressure of vehicles, especially cattle-laden trucks," he told The Daily Star yesterday.
Korban Ali, the Dhaka-Barisal route manager of Hanif Paribahan, said yesterday's situation was better than that of Saturday.
He, however, said each bus had to wait three to five hours at Daulatdia to make way for cattle-laden trucks and that was why they had to cut down the number of trips to avoid delays.
LAUNCH SERVICE
More holidaymakers gathered yesterday at Sadarghat Launch Terminal to go home.
A total of 98 launches left on Saturday while 75 launches left until 8:45pm yesterday, Alamgir Kabir, joint director of Bangladesh Inland Water Transport Authority (BIWTA), told The Daily Star last night.
"We are expecting 35 more launches to leave the terminal until midnight," he added.
Meanwhile, Shipping Minister Shajahan Khan yesterday visited the terminal and gave several directives to officials to ensure safety of passengers.
Bangladesh Jatri Kalyan Samity yesterday said passengers had to pay extra and faced harassment while using all types of transports ahead of Eid.